Looking for a new challenge? We prepared a selection of 10 amazing art competitions for artists from around the world and all disciplines. Check out the list and apply right now.
>> Allegro Prize
Prizes: A total prize of 50,000.00 PLN available for 3 winners (35,000, 10,000 +5,000) + 10 portfolios will be published on the Contemporary Lynx Weekly Online
Entry Fee: Free
Eligibility: Visual artists; neither age nor territorial restrictions apply
Deadline: 10th November 2020
Allegro and Contemporary Lynx are proud to announce the first edition of the Allegro Prize competition with a total prize pool of 50 000 PLN. The aim of the Allegro Prize competition is to support and promote visual artists. We hope to find fresh talent, provide the most gifted artists with financial aid and offer them opportunities for presenting their work on an unprecedented scale. As a result, art enthusiasts, curators, collectors and gallery owners from all around the world can meet up-and-coming visual artists.
Visual artists of all disciplines are eligible for the competition, including artists who are students and graduates of fine arts academies/schools; as well as those with a documented art practice who don't have higher level education in the arts. Neither age nor territorial restrictions apply.
---
>> CGTrader Digital Art Competitions
Prizes: A total of $60,000.00
Entry Fee: Free
Eligibility: Open to only Computer Graphics artists globally
Deadline: 30th September 2020
CGTrader is an online marketplace that is well-renowned for providing 3D models that are used for computer graphics, virtual reality, and computer games. They're calling CG artists (both 3D and 2D) from all around the world to take part in this digital art competition.
This free art competition consists of 6 categories for the submissions, namely: object design, concept art, environmental concept art, environment illustration, character illustration, and object concept design. Winners of each category can get their hands on exciting prizes such as a GT-221 PRO Pen Tablet Monitor ($1,150), as well as several graphic software licenses. Each participant is allowed to submit a total of 6 entries maximum.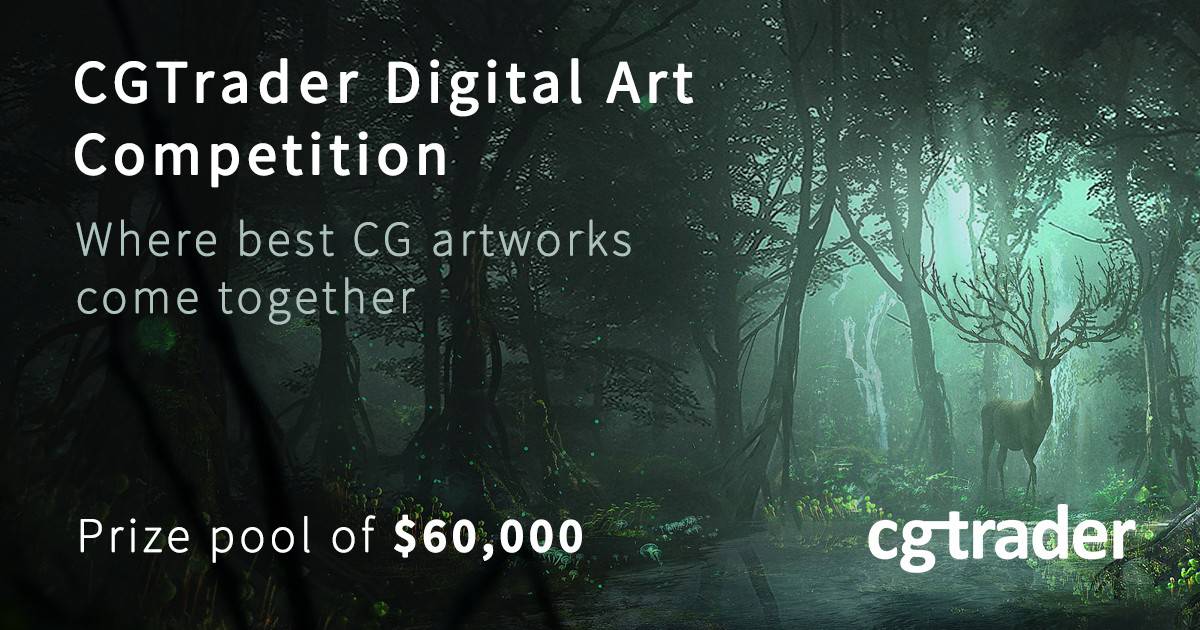 ---
>> Arte Laguna Prize
Prizes: €7,000.00 institutional prizes for every category, artist residencies in Spain, Italy, Belgium, Taiwan, and many more. Winners will also be offered to collaborate with artistic or business projects, and opportunities to exhibit their works in numerous festivals
Eligibility: No restrictions; is available for artists worldwide
Entry Fee: Starts at €65 for each artwork
Deadline: 27

th

November 2020
With fourteen years of history the Arte Laguna Prize gives the opportunity to join the huge network of collaborations worldwide, exhibit in the breathtaking location of the Arsenale of Venice, win cash prizes and much more.
Artistic disciplines: design, digital graphics, installations, land art, painting, performance, photographic art, sculpture, short films, video art, virtual art, urban art.
---
>> The BP Portrait Award
Prize: £35,000.00 for the first prize, and £74,000 for the total prize fund.
Entry: £40.
Eligibility: The competition is open to artists all over the world for ages 18 and above.
Deadline: soon
The BP Portrait Award, sponsored by BP, is deemed as the most prestigious competition in the genre of portrait painting. The winning artists will have an opportunity to exhibit their paintings at the globally-renowned National Portrait Gallery in London.
All the submissions are required to be made predominantly in acrylic, oil, or tempera on a board or a canvas. No works on paper, watercolours, or pastels will be considered as a participation in this award. Each artist has to be 18 years or above in age and will be granted a single entry for their artwork.
---
>> NordArt International Exhibition of Visual Arts
Prizes: Works will be displayed at NordArt and a winner prize cash of €10,000.
Entry Fee: Free
Eligibility: No requirements, the competition is open to artists globally.
Deadline: Postponed to 2021
Since 1999 the NordArt has established itself as one of the largest exhibitions of contemporary art in Europe which takes place annually in the summer months. More than 200 international artists, selected by a jury, present a comprehensive panorama of contemporary art.
Rules – The participants must submit their work in mediums such as installations, paintings or sculptures. Three winners are usually selected for the Public Choice Award where each of the winners is awarded with a thousand Euros. 10 artists are selected to attend the NordArt Symposium where they can create their work.
---
>> Taylor Wessing Photographic Portrait Prize
Prizes: First Prize – £15,000
Entry Fee: £20 per photo (max 6)
Eligibility: Each photographer can submit up to six photographs. Previous first prize-winners, since and including 2008, are not eligible to enter the competition. Photographers must have been 18 years of age or over on 1 January 2019.
Deadline: 22

nd

September 2020
International contemporary portrait photography competition hosted by the National Portrait Gallery with the first prize of £15,000.
This year's prize will be displayed as a virtual exhibition on the National Portrait Gallery's website, in order to reach a wide international audience and ensure that the competition is able to continue as planned during the current Coronavirus pandemic. To ensure the safety of panel members and Gallery staff, judging for the 2020 competition will be completed digitally.
---
>> animago Award
Prize: € 3,000.00 for the first prize winner
Eligibility: open to production companies, studios, as well as artists worldwide.
Entry Fee: None
Deadline: next edition: autumn 2021
Venue – Munich, Germany
The competition is organized by Germany's prestigious magazine, Digital Production, which aims to bring together artists and experts of the digital art world under one roof to not only brainstorm concepts but to also build a dedicated community for the years to come.
A world-renowned digital art contest held in Germany, the animago AWARD has been going strong for the past 21 years with submissions from various parts of the world. The award competition also consists of a conference program where international and national experts, as well as creatives, discuss various topics and an exhibition as well where companies and individuals present product portfolios and works.
Rules – There are no such rules of this free art competition.
Categories: CG character, Virtual Reality, Still, Visual Effects, 3D Animation, and Advertising Production.
---
>> VIA Arts Prize
Prizes: First Prize: £2000 (1st, 2nd and 3rd award winners will receive a £2,000 cash prize); People's Choice Award: £1000
Entry Fee: No entry fee
Eligibility: UK artists
Deadline: 27

th

September 2020
The VIA Arts Prize is the UK's only Ibero-American-themed arts prize. Artists of any nationality residing in the UK are invited to submit an original artwork specifically inspired by Ibero-American arts and culture. VIA is hosted annually at the Embassy of Brazil in London, in partnership with ACALASP (the Association of Cultural Attachés of Latin America, Spain and Portugal), supported by Instituto Cervantes and People's Palace Projects, and sponsored by Itaú.
Medium: Painting, Sculpture, Photography, Mixed Media/ assemblage, Collage, Drawing, Engraving, Digital print (non-photographic), Textiles and tapestry.
The 2020 edition of the VIA Arts Prize will take on a special format. The 30 shortlisted works will be exhibited online at the VIA Arts Prize official website from November 2020.
---
>> ING Discerning Eye Exhibition
Prizes: ING Purchase Prize: £5,000; Founder's Purchase Prize: £2,500; Chairman's Purchase Prize: £1,000; Meynell Fenton Prize: £1,000; Humphreys Purchase Prize: £750; DE Original Print Prize: £250; DE Sculpture & 3D Prize: £250; Regional Prizes: £250; People's Choice Award: £1000;
Entry Fee: £10 per work (max 6)
Eligibility: UK residents only; Any 2D/3D media
Deadline: 1

st

October 2020
The ING Discerning Eye is calling for entries for a brand-new edition in 2020. The show gives artists the opportunity to showcase their work in a unique virtual exhibition and win a range of prizes, including the ING Purchase Prize, worth £5,000.
A virtual gallery will open on 19 November and run until 31 December 2020 showcasing the artists' shortlisted. All exhibiting artists will be included in a fully illustrated print catalogue.
---
>> Royal Institute of Oil Painters Annual Exhibition
Prizes: Phyllis Roberts Award: £2,000; Alan Gourley Memorial Award: £1,000; W&N Young Artist Award 1st Prize: £1,000; W&N Young Artist Award 2nd Prize: £600; W&N Young Artist Award 3rd Prize: £400; Stanley Grimm Prizes: £700 (£400 & £300 prizes from visitor votes); Tony Merrick Memorial Prize: £250; ROI Emerging Artist Prize: £250
Entry Fee: £18 per work (max 6, £12 if under 35)
Eligibility: UK & international artists
Deadline: 2

nd

October 2020
Artists are invited to submit work for exhibition alongside members of the Royal Institute of Oil Painters at their Annual Exhibition 2020.
This year's mini-theme is 'Reflections', which can be interpreted literally or otherwise, "giving the artist an opportunity to create a site-specific painting or perhaps a piece that has a more contemplative focus" (Tim Benson, ROI President). Selected works on the theme will be hung together as a special display within the show. N.B. The theme is optional, one aspect of a larger exhibition, to which oil paintings of all subjects, in any style, are welcome for consideration.
---