Check our Facebook Group: 'Open calls/Residencies/Opportunities for artists
New year – new opportunities! Plan your career now and make your dreams come true. See the list of art residency programmes for artists and authors from around the world that can change your career.
>> IMAGINING LOW-CARBON FUTURES (THE NETHERLANDS)
As climate impacts are becoming increasingly visible, the need to transform towards a low-carbon future is now more evident than ever. We need more compelling imaginaries of what such a low-carbon future may look like and what possible pathways towards this future may be. The Urban Futures Studio (Utrecht University) initiates an art-science collaboration centred around imagining low-carbon futures.
In a 6-months collaboration starting in March 2022, the selected artist will work closely together with academic researchers towards an artistic intervention. Rather than 'communicating science', we aim to explore new ways to configure artistic and scientific approaches to imagine low-carbon futures that could incite a more meaningful climate debate.
Application deadline: 9 January 2022
How can apply:
Artists based in the Netherlands with an interest in and knowledge of the climate emergency and its (social, geopolitical, economical) effects are eligible to apply.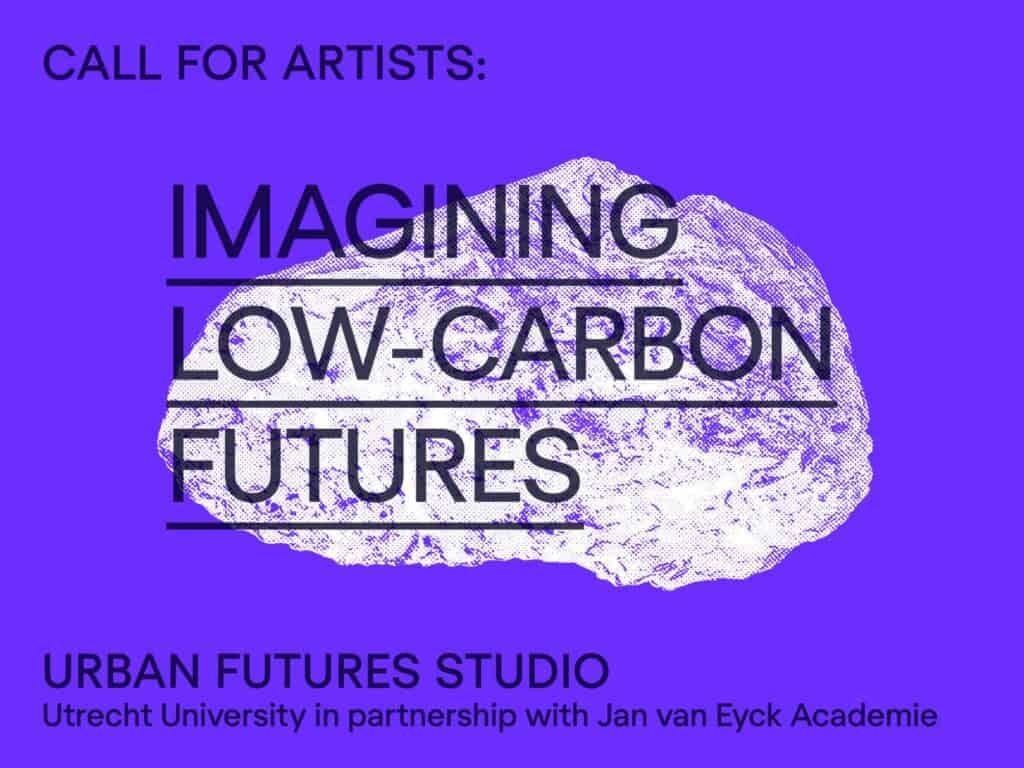 ---
>> OPEN SITES (BELGIUM)
Cross-border event of modern creation that questions artists on the social, economic, cultural, historic, industrial and landscape footprints of 3 territories either side of the French-Belgian border.
Application deadline: 10 January 2022
Support:
€ 1,250 per selected and completed project. The allowance is paid after the event, based on an invoice issued by the artist.
The organisers reserve the right either to reduce or to cancel the allowance if the project is not completed.
Also paid by the organisers: accommodation, breakfast and lunch from Monday till Friday
---
>> THE COLLECTION – ARCHIPEL.EU SPECIAL EDITION
It is required that:
▪ The proposals are created with professional actors of the sector concerned (programmers, labels, distributors, publishers, platforms, museums, art centres, festivals, biennale, etc)
▪ The proposals guarantee remuneration (fees/contracts/copyright) for the artists involved (to be included in the provisional budget)
▪ The proposals include training, knowledge transfer or exchange of best practices: artistic and professional meetings with local partners (master classes, workshops, conferences, professional seminars, interventions in schools or universities, etc). In addition, during assessment of projects, the committee will pay particular attention to proposals that promote gender equality as well as to offers that incorporate an eco-responsible approach. Proposals that will result in a regional and/or continental European dissemination will be favoured.
Who can apply:
Public or private cultural structures and organisations based in the 9 ORs and 13 OCTs (museums, theatres, choreographic centres, contemporary music venues, festivals, companies, artistic agencies, production offices, show producers, publishers, labels, etc) wishing to propose existing works to promote their dissemination beyond their territory of origin.
What are the disciplines?
Performing arts, music, visual arts, design, architecture, digital creation.
Application deadline: 13 January 2022
Support:
Budget dedicated to The Collection – Archipelago.eu Special Edition: €150,000.
Amount of grant awarded in the framework of this call: maximum €20,000 per project.
---
>> POET-IN-RESIDENCE, VILLA WALDBERTA / LYRIK KABINETT, MUNICH (GERMANY)
The Munich-based Stiftung Lyrik Kabinett poetry library and ARTIST IN RESIDENCE MUNICH, Villa Waldberta, are offering a joint three-month poet-in-residence position. The poet-in-residence will be based at Villa Waldberta and will work on a writing project, translation project or poetry-related theoretical project, making use of the collections held at the Lyrik Kabinett poetry library. Theory-based proposals are expected to explore discursive approaches in a broader sense rather than follow strictly academic purposes. With view to increasing the public visibility of poetry and furthering local exchange, the resident writer agrees to give a reading, workshop, or seminar at Lyrik Kabinett. They also agree to participate in at least one public event held at Villa Waldberta.
Application deadline: 14 January 2022
Support:
the writer-in-residence will receive a monthly stipend of €1200.
rent-free accommodation (incl. their own kitchen and bathroom) by the City of Munich;
they will be reimbursed for the use of a monthly pass for public transport in Munich.
travel costs to and from Munich (economy / 2nd class) will be covered by Lyrik Kabinett,
the resident writer will receive a fee for the reading, workshop, or seminar given at Lyrik Kabinett.
---
>> 2022 DEAF ARTISTS RESIDENCY (USA)
The application deadline for the 2022 Anderson Center Deaf Artists Residency Program is Saturday, January 15, 2022 at 11:59 p.m. CST. Applications must be submitted on or before the deadline in order to be considered in the jury review period. There is no fee for applying to this residency program.
Jury review will take place in late January and early February. Selected artist residents, wait-list and runners-up will be notified by March 2, 2022 at the latest.
For the 2022 season, the Anderson Center is only offering month-long residencies in June. Two-week residencies are not an option for the Deaf Artists Residency.
Application deadline: 15 January 2022
Support:
artists selected to participate in the cohort will receive a $1,100 stipend for the month;
reimbursement of up to $500 in travel costs, art-making resources, lodging & studio space, groceries, and chef-prepared communal dinners.
---
>> OPEN CALL: ARTIST RESIDENCY IN FLORENCE (ITALY)
The European Roma Institute for Arts and Culture (ERIAC) has joined forces once again with the Villa Romana (Florence) residency programme to offer an artistic. This exciting initiative draws upon the ground-breaking work, expertise, and vision of both institutions to realise a unique opportunity for young artists and marks a significant step in recognition of the importance of Roma contemporary art practice today.
Who can apply:
1-month Artist Residency for 2 Roma Contemporary Artists. Visual artists with self-declared Roma identity, whose work provides a special contribution to contemporary art production.
Please send in your CV and a portfolio (if possible digital) by 14 January 2021 to eriac@eriac.org and to office@villaromana.org with the subject line "2022 residency application"
Application deadline: 16 January 2022
Support:
2 artists will be provided with a guest room in the Villa Romana for a period of 1 month.
Each selected artist receives a monthly scholarship in the amount of 1000 Euro;
Travel expenses are covered.
---
>> MANIFESTA 14 PRISHTINA INVITES PROPOSALS FOR KOSOVO PROJECTS (KOSOVO)
Who can apply:
Project proposals from Kosovar artists, curators, professionals, cultural organizations and institutions in Kosovo. You must be a resident of Kosovo to apply.
The proposed projects should respond to at least one of the themes proposed by the Creative Mediator Catherine Nichols and relate to Manifesta 14 's curatorial concept It matters what worlds world worlds, how to tell stories otherwise or to Commons Sense, the urban vision created by CRA-Carlo Ratti Associati.
All the selected projects will take place in Prishtina and will be integrated into one of the primary venues of Manifesta 14; The Grand Hotel, the Brick Factory or the Hivzi Sulejmani Library. Site-specific projects, preferably located in Prishtina, will also be considered. 
– Announcement of successful proposals: February, 2022
– Projects start of production: February-March 2022
Application deadline: 19 January 2022
Support:
a preliminary budget of € 5000 for each of the selected projects.
---
>> REGULAR ARTIST RESIDENCY – ARTISTS AND AUTHORS (CANADA)
This residency program is open to professional visual artists, whether established or emerging, from Québec, Canada, and other countries. The eight-week residencies host:
– four artists per season;
– authors from Québec, Canada, and other countries whose work concerns ideas, practices, or issues in contemporary visual and media arts – one author per season.
They include an honorarium, lodging, work spaces, logistical support, and access to the centre's technical and documentary resources.
Residency periods:
Spring: April 18 to June 10, 2022
Summer: July 4 to August 26, 2022
Fall: September 19 to November 11, 2022
Winter: January 30 to March 24, 2023
Application deadline: 20 January 2022
Support:
Residency honorarium of CAD $1,560
Access to an individual studio-workshop to be used for work and lodging
Access to specialized equipment (wood, metal, ceramics)
Access to a documentation centre (books, magazines)
Access to local resources
Technical and logistical support
Access to a bicycle in season/occasional local transportation in winter
* Materials, travel fees and other living charges are at the residents' expense.
** Due to the pandemic, the residents and employees will have to follow a sanitary protocol put in place by ENE.
---
>> RSA RESIDENCIES FOR SCOTLAND (SCOTLAND)
The RSA Residencies for Scotland is an artist-led scheme which provides valuable research and residency opportunities for artists. It forges important networks with centres of artistic excellence across Scotland, ranging from traditional residency venues to specialised production facilities.
Open to visual artists at all stages of their careers, the emphasis is on enabling a period of research, development and production, as well as on the acquisition and exchange of new skills and experiences. Artists can apply for funds of up to £5,000 and are responsible for managing their own residency, in discussion with the partner venue(s).
Who can apply:
Open to artists currently living and working in Scotland for at least the past 3 years, or Scottish by birth.
Artists should no longer be in full-time education at the time of applying.
Application deadline: 23 January 2022
---
>> KÜNSTLERHAUS BÜCHSENHAUSEN (AUSTRIA)
Künstlerhaus Büchsenhausen invites once a year visual and media artists, art critics, theorists, and curators to apply for a fellowship. The competition for a fellowship is usually held during the months of November until April. Candidates can apply for a five-month fellowship.
Application deadline: 28 January 2022.
Support:
a money award of EUR 3,700;
an individual studio for working and living, furnished with a large shared kitchen;
a production budget for the realization of the submitted proposal;
a budget for inviting experts to Büchsenhausen for the purpose of professional exchange;
a budget for (at least partially) covering the own travel costs (in relation to the Fellowship Program);
the opportunity to present the produced work in a curated group exhibition at the end of the fellowship;
free access to the 'Lab', the project/gallery space;
free use of the available multimedia production equipment in the 'Lab';
free Highspeed-DSL/WLAN Internet access;
professional artistic advice;
technical advice if required.
---
>> SAC INTERNATIONAL CURATORIAL RESIDENCY PROGRAM (SPAIN)
SAC International Curatorial Residency Program 2022 is the residency program at Barcelona's Sant Andreu Contemporani, in collaboration with Fabra i Coats – Fàbrica de Creació and Institut Ramon Llull, available to international curators. As part of the program, we are announcing an open call for proposals to choose an international curator who will be part of the Miquel Casablancas Prize for the Visual Arts' jury in 2022, and will later develop a curatorial project with a selection of catalan artists chosen from applicants to the prize. The project must be presented at the country of residence of the curator or in another international venue that she/he decides. The purpose of the open call is to offer the curator personal knowledge of the art context through involvement in the jury of the Miquel Casablancas Prize, and to foster, in the context of young art talent, future collaborations between local and foreign cultural actors.
The registration period to send the application is going to be from October 1st, 2021, to February 1st, 2022. The submission form will be available at the website until midnight, February 1st, 2022. No applications will be accepted after this time. In case of incidents with the online registration, the required documents should then be sent by mail before midnight, February 1st, 2022.
The selected applicant will be announced on February 10th, 2022.
Application deadline: 1 February 2022.
Support:
the residency covers the expenses of jurying the prize and for the curatorial proposal (1,700 € subject to applicable taxes);
for the production of the exhibition (2,000 € subject to applicable taxes);
accommodation and travel.