All Over the World: Lynx Prize 2019
May 7, 2019

-

June 9, 2019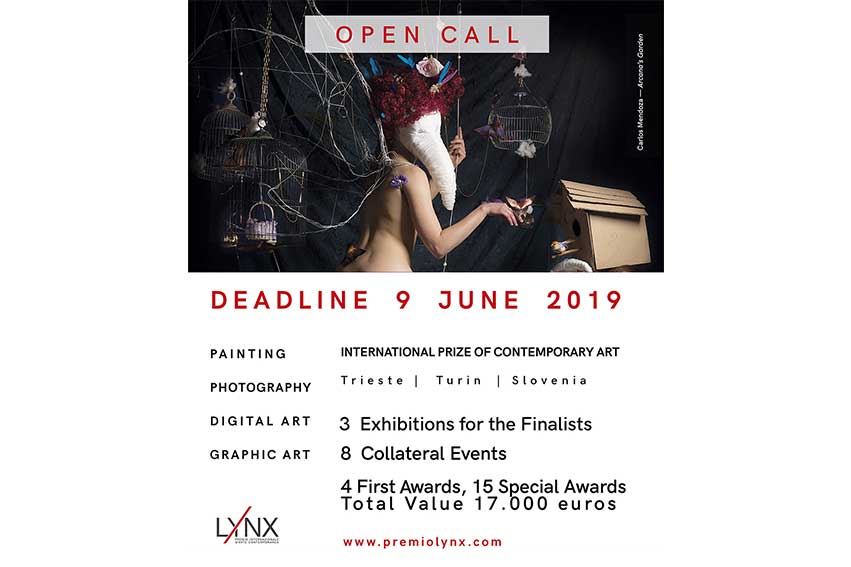 LYNX PRIZE 2019
REGISTRATIONS ARE OPEN
Registrations are open for the 2019 LYNX Prize, the international prize of contemporary art promoted by the Associazione Culturale Il Sestante (Trieste, Italy).
After the last three editions, which saw the participation of about 50 countries involved in a series of events, this year edition will select 70 artworks which will be exhibited at the Tivarnella Art Consulting Gallery in Trieste, at MIIT (Museo Internazionale Italia Arte) in Torino and Galerija Lokarjeva in Ajdovščina (Slovenia).
Once again this year, artists will be able to enrol in 4 categories: painting, photography, digital art and graphic art. The closing date for registration is June 9, 2019. In addition, there will be a special section dedicated to Under 23 artists with dedicated fees.
The best works will be shortlisted by an international jury composed by 12 experts, such as gallery owners, collectors, curators; the best works in each category will be rewarded with a money prize (total amount of the prizes: €7.000,00).
Also, there will be a prize dedicated to the Under 23 artists and 12 special exhibition prizes.
It is also possible to enrol at www.premiolynx.com/en/