Cologne: Photography
September 16, 2014

-

September 21, 2014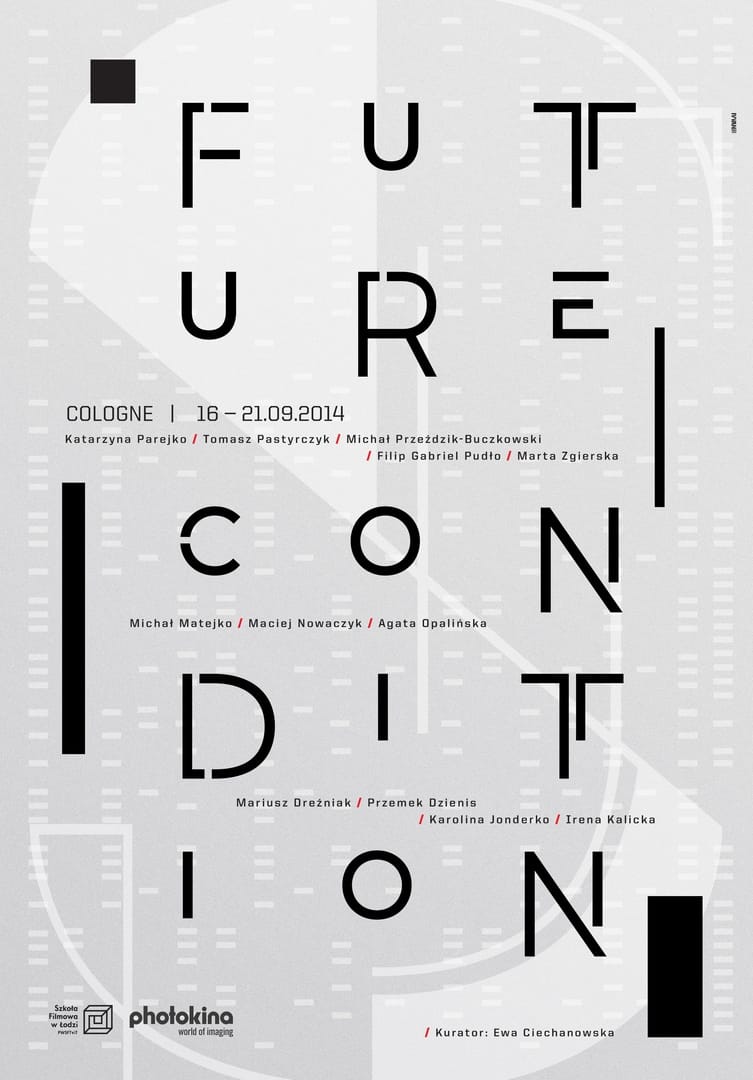 Future Condition
from reality to algorithm
Vision of the future begins in the present and is derived from our relation to reality.
We live in the world of excess. Data, images, things and possibilities are overwhelming and engage and stimulate us to participate actively. Everyone is now a producer of some contents, which increases the scale already impossible to comprehend.
What kind of living conditions does the world of excess and variables offer us?
The works presented in this exhibition are a response to the glut. Authors are increasingly less interested in depicting the world as such and produce new repetitive images. Their reflections and visions of the future pertain to intuitions, feelings and anxiety about how the world is and will be affecting them. Aggressive excess and immediacy stimulate them to seek other visions of the world and subjective response to the present. Here we have twelve alternative visual scenarios created by the students and graduates of Lodz Film School Department of Photography – ranging from events embedded in reality to mathematical algorithms.
Przemek Dzienis in his work 'I cannot speak. I'm sorry' creates a temporary unstable forms in which a human being seems to be sentenced to infinite existence in 'captivity'. These are installations in which a human being, unthinking or deep in thoughts shares some unique bond with objects, which seem to control him.
The cycle 'Isolation' by Michał Przeździk-Buczkowski consists of sophisticated formal portraits defragmented by contemporary space and situations. The artist confronts two worlds: natural and human made. On one hand the isolation pertains to the relationship between these two worlds, on the other it defines the method applied by the author to present the reality.
'Untitled' by Zgierska is a story about devaluation of vision. Vision of the future tends to cover the present, which seems to be a memory from the past. Subjective prophecies and states are the topic of 'Little feelings' by Agata Opalińska. Emotional images by Opalińska describe the state of falling apart, tearing and losing one's own integrity.
'Lost' by Karolina Jonderko is rooted in reality. Every year there are 15 thousand people reported to be lost in Poland. Rooms belonging to lost people are often left untouched for several months or even years. Intimate portraits of frozen life. This unusual body of work connects the future and the past. The future is here understood as time of waiting and believing, which is confronted with memories of the past and an attempt to maintain the status quo. Where can we find these people? Why are they out of our reality? Does their own reality exist? What happens when the future derives directly from the past?
'Trickster' by Irena Kalicka disorients the viewer. This provocative and surprising collection depicts a character of a joker opposing norms, breaking rules and maintaining the cycle of creation and destruction. Trickster's family album that we can see is both funny and scary, serious and frivolous. Photographs with grotesque frames present scenes which question the existing order and take our sense of security away. His tricks move borders, which provokes us to create a gap between us and the reality.
A somewhat different way to converse with conventions is chosen by Michał Matejko in his series 'Alien' and by Maciej Nowaczyk in 'Tetris'. Matejko exploits the game between belief and disbelief in extra-terrestrial life. Here, however, what is human, earthly and everyday turns out to be alien. It is thus a pretext to reflect on our cognitive abilities.
Aesthetic 'Tetris' shows a surprising life of ordinary objects. A sculpture made of openwork toilet paper rolls or a frozen sneaker is both a creation out of useless things and a play on artistic strategies, which the author borrows, imitates and parodies.
Tomasz Pastyrczyk and Mariusz Dreźniak also tell us about the world of unnecessary objects. Dreźniak annihilates them, while Pastyrczyk brings their memory back in his series 'Rejected'. By recording falling apart cars in large-format photographs he simply 'personifies' them.
The project by Filip Gabriel Pudło is a 'linguistic summary' of Operation Castle, a film documenting American nuclear tests conducted on Bikini Atoll in March1954. It is an attempt to analyse and describe moving images using available mechanical methods. In his found footage work Pudło takes up the subject of the influence of technology on image and information perception. What do we really see hear and understand? This experience also raises the question of contemporary and future automated analyses and their role in our life.
Katarzyna Parejko's work is about diversity of the reality rules. Complex algorithms promise to simplify our experience while they provide new dimension of complexity. Parejko uses 'Search by Image' function of Google. She examines how complex machine algorithm processes images and what details from images on the web are similar to the source image. The result of the computer process is a completely new story with its narration which is no longer coherent with our intuition. We know that these new narrations have logical sense as long as they are a product of scientific algorithm, but we are overwhelmed and lost while these new contexts are not based on human sense of order. However, the question remains – is there any other way in the accumulation of constantly increasing data? Can we find any other way?
The exhibition Future Condition contemplates living conditions in the world of excess, variables and liquid reality.
Ewa Ciechanowska