Geneva: Markul
March 19, 2015

-

May 7, 2015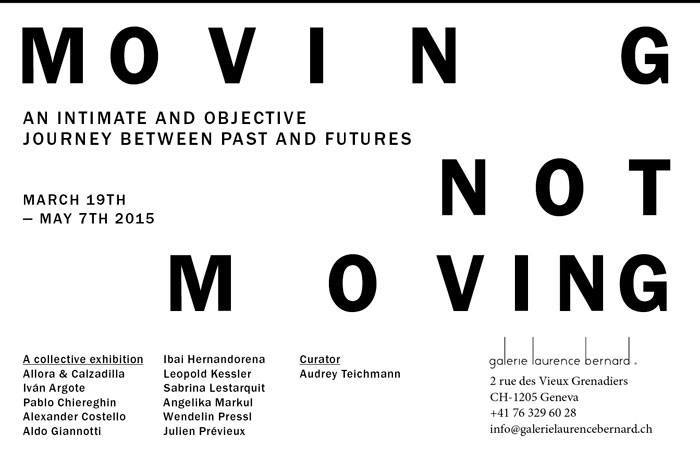 MOVING NOT MOVING,
An Intimate and Objective Journey between Past and Futures
‪
Group show with artworks from Allora et Calzadilla, Ivan Argote, Pablo Chiereghin, Alexander Costello, Aldo Giannotti, Ibai Hernandorena, Leopold Kessler, Sabrina Lestarquit, Angelika Markul, Wendelin Pressl, Julien Prévieux.
Curator : Audrey Teichmann
Preview March 19th, 6 – 9 p.m.
Galerie Laurence Bernard
2, rue des Vieux-Grenadiers
CH-1205 Geneva
Tues.-Fri.: 11 a.m. – 6 p.m.
Sat.: 11 a.m. – 5 p.m.
and by appointment
When you went this way
I went that way
Where are we going?
We're not moving
Not moving
DNA, Not moving
« We're interested in those moments in which the work "shows" at the level of form and content something that interrupts and alters its context and predetermined meaning: the ever-present possibility within a form or matrix of a future that could be something other than an extension of the present. »
Allora & Calzadilla
The Laurence Bernard Gallery is happy to present the group show Moving not Moving. The project will be confronting the practices of twelve international young artists through gradual works and video programming. Evolving over its seven-week demonstration in connection to its audience, the exhibit will thus be observing the principle of works turnover — translating a movement-related issue on a curatorial scale.
Composed from geographical, temporal, sociological, metaphorical, imaginary travels, from the question of standard and the possibility to keep distance from it, Moving not Moving accepts the eventuallity of inertia or rush. Places and contexts, postures and potentialities, stops and routes, form a moving geography whose theoretical restriction cannot resist intimate will. The planned ambiguity of the word "moving", which suggests movement as much as emotion, brings the planned obsolescence of the place and time of the exhibition together with the ability of the artist, the audience, the curator, to find a way around them. Connections to previous installations, ongoing or forthcoming actions form a path between the past and potential futures of the exhibit — an orthonormal grid which everyone is welcome to stray from.
Moving not Moving will be presenting a participatory installation by Aldo Giannotti, triggered on the opening night, initiating a work made at that time but showcased later on. The random nature of this production, which will be questionning the specific temporality of the exhibit, will resonate with previous installations by the artist, used to working in public spaces. This highly standardized territory and its pathways are also that of Pablo Chiereghin, another Italian plastic artist from the Viennese scene, attached to the issue of intimacy in circulation spaces. This part of individuality within globalization, called for in the opposition between geopolitical standards and territorial belonging, is at the core of an itinerant video by Allora and Calzadilla and a series of filmed explorations by Leopold Kessler. This journey, both prescribed and free, is the subject of some research videos by artists Julien Prévieux,
Ibai Hernandorena, Ivan Argote and Angelika Markul — burlesque, contemplative and eventually dramatic authors.
This "sensitive" wandering is what Alexander Costello refuses — a still character in a play of symbolic urban travel. The return to a standard gesture, reassessed and put in perspective through a mirrorring device, thus appears in Julien Prévieux and Sabrina Lestarquit's latest video works. Since movement is to be elsewhere, reality is substituted by stellar space in an installation and drawing by Wendelin Pressl. Set to an appropriate rythm, time is then distilled throughout the pages of a book — an "unbiased" testimony of a timed route. But that would be forgetting the last gasps of Moving not Moving: the presence of two works whose existence or non-existence will depend solely on the audience and its own willingness — or unwillingness — to move.
The assumption asserted by this programming — wherein randomness arises from structure— is that of an ever-evolving exhibition.