Basel: Liste Art Fair Basel – Contemporary Lynx, Maria Loboda, Gizela Mickiewicz
June 13, 2017

-

June 18, 2017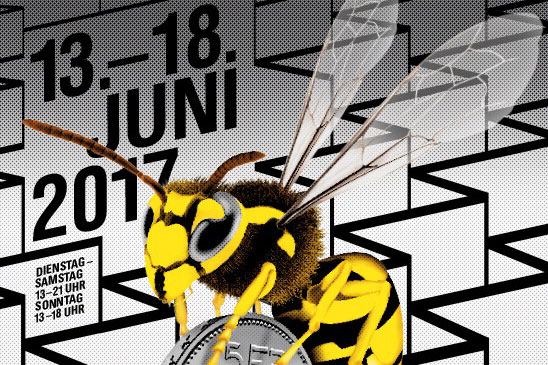 Contemporary Lynx Magazine — magazine section; MAISTERRAVALBUENA: Maria Loboda; Raster; Stereo Gallery: Gizela Mickiewicz
LISTE – Art Fair Basel,
The world's oldest and longest running promotion- and discoverer fair.
The 22nd edition of LISTE – Art Fair Basel will take place from June 12 through 18, 2017. LISTE will again serve as a meeting place for important collectors, distinguished museum people, and art lovers. The fair will host a very promising selection of contemporary, primarily young art with many new discoveries.
This year's LISTE will present 79 galleries from 34 countries with works by over 140 artists. This year, the galleries represented at LISTE hail from the United Arab Emirates, Argentina, Austria, Brazil, China, Czech Republic, Colombia, Denmark, Estonia, France, Germany, Greece, Great Britain, Guatemala, Holland, Hungary, Ireland, Italy, Japan, Kosovo, Lebanon, Mexico, Norway, Peru, Poland, Puerto Rico, Portugal, Romania, South Africa, Spain, Sweden, Switzerland, Turkey, and the US.
It is important to LISTE to present galleries from a broad variety of countries and cities – also fromregions far removed from art centers. The fair seeks to offer a platform in Basel to these galleries as well others from countries struggling under economically or politically trying conditions. LISTE is considered the most important fair for a young generation of galleries. Thus, all ambitious, international, young galleries apply to participate in the fair. The jury – composed exclusively of curators – selected the most important upcoming galleries of the younger and middle generation. Each gallery will bring an exciting and high caliber selection of contemporary artworks, among which we can expect many new discoveries. As a not-for-profit-oriented fair, LISTE – unlike any other fair – has consistently advocated for the promotion of new galleries since its founding in 1996. The fair strives to provide reasonable terms and conditions to galleries, thus easing their entry into the international art market.
As in every other year, LISTE's goal is to introduce the world's most promising new galleries in Basel. Peter Bläuer, Fair Director, is very pleased that of the 79 galleries, 15 will be represented at LISTE for the first time. Those galleries include Bianca D'Alessandro (Copenhagen), Emalin (London), Jenny's (Los Angeles), Antoine Levi (Paris), Lomex (New York), MadeIn (Shanghai), Madragoa (Lisbon), Marfa' (Beirut), Edouard Montassut (Paris), Öktem&Aykut (Istanbul), Société (Berlin), Southard Reid (London), Joseph Tang (Paris), WeissFalk (Basel) and Leo Xu (Shanghai).
The new gallery Bianca D'Alessandro (Copenhagen) will make its debut with a solo presentation by Amitai Romm (*1985, DK). In his artistic practice, this artist examines the study of symbols and cultural practices. Another solo presentation will be introduced by Emalin (London): Nicholas Cheveldave (*1984, CA) will show new wall sculptures as well as a multimedia installation. Julien Ceccaldi (*1987, CA), Mathieu Malouf (*1984, CA) and Eirik Sæther (*1983, NO) will exhibit mural reliefs, sculptures and drawings at Jenny's (Los Angeles). Antoine Levi (Paris) will present two artists, Alina Chaiderov (*1984, SE/RU) und Ola Vasilijeva (*1981, NL).
Alina Chaiderov's photographs and floor pieces are engaged in a dialogue with Ola Vasilijeva's large drawings. Lomex, from New York, will exhibit installative works by Robert Bittenbender (*1987, US) and Valerie Keane (*1989, US). The group exhibition at MadeIn (Shanghai) entitled Lucy includes installative works by Miao Ying (*1985, CN), Video- and animated works by Shen Xin (*1990, CN) and a video by Wang Newone (*1985, CN). Lucy refers to one of our oldest human ancestors while also dealing with the expanded technologies of human abilities and perceptions. The new gallery Madragoa (Lisbon) will introduce the young artist Rodrigo Hernández (*1983, MX) with a floor piece, and Luís Lázaro Matos (*1987, PT) with a wall installation. Saba Innab (*1980, JO) and Caline Aoun (*1983, PT) will be presented by Marfa' (Beirut). The young Lebanese gallery will show sculptures (Saba Innab) and a larger installation by Caline Aoun. Edouard Montassut (Paris) will present a solo exhibition by the young American artist Matthew Langan-Peck (*1988, US) – the gallery will show 10 floor pieces. Visitors will have the opportunity to discover two young Turkish artists, Elif Boyer (*1985, TR) and Lara Ögel (*1987, TR) at the Turkish gallery Öktem&Aykut (Istanbul). The artistic practice of both artists, who are engaged in a late/postmodern critical dialogue, includes video works, photographs and paintings. Digital native art will be shown, among others, at Société (Berlin), with new works by Bunny Rogers (*1990, US). In addition, abstract works by Ned Vena (*1983, US) will also be presented. Prem Sahib (*1982, GB) will present at Southard Reid (London). Sahib's works research formal and autobiographical themes.
Joseph Tang (Paris) will make its debut at LISTE with Carlos Reyes (*1977, US). The new Basel gallery WeissFalk will exhibit the young Swiss artist Timothée Calame (*1991, CH). Leo Xu (Shanghai) will present Liu Shiyuan (*1985, CN) with new video works, some of which are based on Don DeLillo's novella The Body Artist.
The jury attaches particular importance to curated presentations with selected artists. Thus, most galleries will introduce solo presentations or positions with one to three artists. Visitors will be treated to new works in painting, photography, sculpture, drawing, installation, performance, video, film, and multimedia as well as digital native art. This year, a total of 34 artists will be introduced in solo presentations. The younger generation of artists is focused on, among other things, current political developments: The young artist Daniel de Paula (*1987, BR/US) at Jaqueline Martíns (São Paulo) concentrates on diverse networks and their powerful influence. Juliana Huxtable (*1987, US), Melanie Gilligan (*1979, CA) and Morag Keil (*1985, US) at Project Native Informant (London) pose economic and genderspecific questions. Video works by Hannah Black (*1981, DE/UK), Maja Cule (*1984, HR), Hannah Quinla & Rosie Hastings (*1991, UK), and Amalia Ulman (*1989, ES/AR) – also known as one of the first Instagram artists – will present at Arcadia Missa (London). On Tuesday, June 13, James Hoff (*1975, US), who will be presented by Supportico Lopez (Berlin), will give a performance. In addition, the Swiss artist Franziska Lantz (*1975, CH) will present works dealing with research in the areas of the sound and visualization of global climate change. Hanne Lippard (*1984, RMS) will introduce an auditive work at LambdaLambdaLambda (Pristina).
LISTE lives up to its reputation as a discoverer fair not only with its young artists but also with older artistic positions: The New York gallery Bridget Donahue will introduce the British artist John Russell (*1963, GB), who will have his own solo show at Kunsthalle Zürich beginning in August 2017. With his films, books and images, the British artist addresses the fictions between anarchy, vacuum, and total hybridity. Works by Elisa Montessori (*1931, IT) at Monitor (Rom) examine the influence of Western and Eastern symbolisms in which nature places a central role.
We are very pleased that we will again be hosting a number of artists being shown at international exhibitions such as documenta 14, the Venice or the Whitney Biennale. Appearing at documenta 14 are, e.g., James Webb (*1975, ZA), represented at the art gallery blank (Cape Town), and Ahmet Ögut (1981, TR), who will be presented at the gallery KOW (Berlin). Both artists are part of the radio program "Every Time A Ear di Soun" at documenta 14. Lala Rukh (*1948, PK), represented by Grey Noise (Dubai), will exhibit current and earlier works at documenta 14 in Athens and in Kassel. Naufus Ramirez-Figueroa (*1978, GT), represented at Proyectos Ultravioleta (Guatemala) and Yorgos Sapountzis (*1976, GR), at Simone Subal (New York) are part of the exhibition, Viva Arte Viva, at the Venice Biennale – curated by Christine Macel. Erkka Nissinen (*1975, FI) made his debut at LISTE in 2016 with the gallery Ellen de Bruijne (Amsterdam) and will appear at the Finnish Pavilion in Venice.
Performance Project
Rehearsing Intra-Activity, the 13th edition of the Performance Project, curated for the third time by Eva Birkenstock, Director of Kunstverein für die Rheinlande und Westfalen, presents the works of artists, dancers and choreographers that are engaged in an expanded understanding of the concept of choreography. Instead of following a given script, they share an interest in creating transgressive situations that destabilize and subvert ascribed distinctions between the performer and the audience, actors and roles, human and non-human, material and discourse, politics and emotions, and the stage and its spatial, as well as socio-political condition. Adopting the strategies of proxies, callers, hosts, contemporary dance training methodologies, contra dance, abject matter or vulnerable bio-political bodies in rage, their contributions keep the status of a being in-the-making, of unfinished projects, of a working on the working—of rehearsals. Rather than pushing towards self-contained, masterly concluded stagings, they open performative, intra-active scenarios to challenge current subject positions, and activate alternative modes of perception and shared agency.
This year's Performance Project will host the following artists: the Swedish-British performance duo New Noveta – founded by Keira Fox (*1984, UK) and Ellen Freed (*1988, SE) -, a performer from Basel Sophie Jung (*1982, LX), the French choreographer and dance star Jérôme Bel (*1964, FR), Dana Michael (*NN, in CA), who lives in Montreal, Selina Grüter, of Zurich, (*1991, CH) & Michèle Graf (*1987, CH), Berlin resident Isabel Lewis (*1981, DO), and the artist Myriam Lefkowitz (*1980, FR/US).
Art Prize
The Helvetia Art Prize will be awarded for the 14th time. This coveted promotional prize is awarded to a graduate of a Swiss college or university majoring visual and media art. This year's prize, which includes a monetary award of CHF 15,000 and a solo presentation at LISTE, goes to Andriu Deplazes (*1993, CH).
Special Guests
Our guest at the print workshop is the Fotomuseum Winterthur with the format SITUATIONS. The presentation concentrates on the ideas of truth and representation in an age of alternative facts and examines the decisive role of photography as a medium. In addition, a variety of events and panels will be conducted during the week. Also a guest of LISTE, HeK – House of Electronic Arts Basel – will present a selection of artists using 3D-modeling and 3D-printers to examine the winding dialogue between the real and virtual worlds as well as to criticize the utilization of technology in today's neo-capitalism. Kasko will present "Stingray Editions" and "White Frame," two Basel initiatives working in cross-media who are developing precise and very diverse formats for collaborations and presentations and will stand out at the fair with their moving pictures and paintings and unique books. A complete list of galleries and artists as well as detailed information about projects and events can be found at www.liste.ch.