London: Zuza Golińska
October 1, 2018

-

December 23, 2018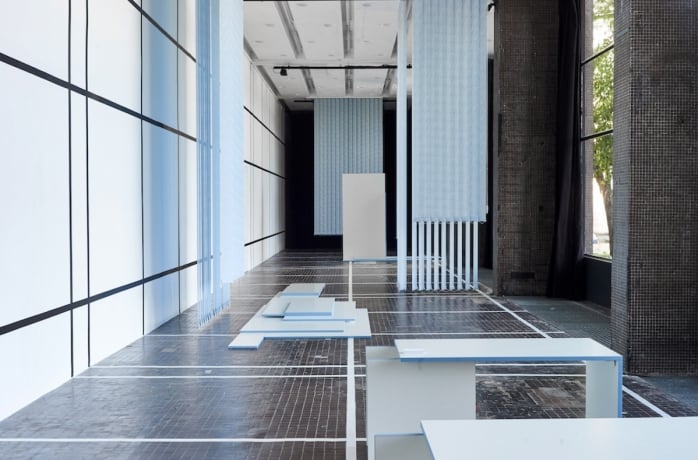 Zuza Golinska, The Office, 2018. Intsallation, Museum of Modern Art, Warsaw. Photo Marcel Kaczmarek. 
DELFINA FOUNDATION
Delfina Foundation is an independent, non-profit foundation dedicated to facilitating artistic exchange and developing creative practice through residencies, partnerships and public programming.
---
Zuza Golińska (Poland) deals with the relationship between humans, public space and architecture. Her work is strongly influenced by the way people behave and interact with the public realm. She focuses on how social discipline unveils itself through the space in urban planning, housing estates and working areas.
During her residency Zuza plans to do a lot of walking, as most of her research is done whilst exploring by foot: observing and recording how people move and use the space of the city on a daily basis.
Zuza holds a BA and MA from the Academy of Fine Arts in Warsaw. In 2014 Zuza was shortlisted for the Hestia Artistic Journey Award and received the first prize of the Gdańsk Art Biennale. She has been the recipient of scholarships from the Ministry of Science and Higher Education (2014) and the Ministry of Culture and National Heritage (2016). Between 2015 and 2018 the artist worked as a Teaching Assistant and Lecturer in the Studio of Spatial Activities led by Mirosław Bałka. Among the institutions where Zuza has exhibited works are Zachęta National Gallery, Museum of Modern Art in Warsaw, Delfina Foundation, and National Gallery in Prague.
In 2018 Zuza won the 2017 ArteVue ArtePrize for her installation Future Twice, winning US$15,000 and a residency at Delfina Foundation.