New York: Honza Zamojski
October 14, 2016

-

December 4, 2016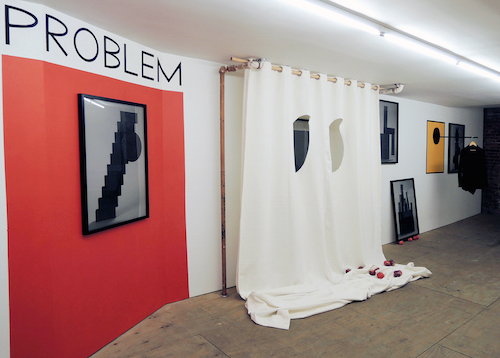 GHOSTISM
Honza Zamojski
For this compact installation, Honza Zamojski formalizes a new idiom, which is also the title of the exhibition: "Ghostism." The term refers to a haunting and crippling doubt instigated by inspiration and influence—a "negative reflection," says the artist, of spirituality. Zamojski's ghostism takes literal form in Curtain, 2016, a white floor-to-ceiling drape perforated by two large eyeholes through which we can partially view a picture of a brick wall constructed out of interlocking magnets.
This black-and-white photograph, along with seven others here, belongs to the artist's "Magnetic Sculpture" series, 2011–16, which depicts simple figures and architectural forms made out of magnets. The sculptures, only a few inches tall, are likely coursing with energy and constantly shifting—yet the photograph lends an illusion of monumentality and stability. Though Brassaï's photographs of Picasso's sculptures are cited as a reference, Zamjoski's images more directly share the leaden tones and matter-of-factness of Bernd and Hilla Becher's work, as well as the deadpan humor of Fischli and Weiss's "Equilibres" (Equilibria), 1984–86, another series of balancing acts performed for the camera.
As successful as these images are on their own, Zamojski undercuts them with destabilizing interventions. A photograph showing one column of magnets leaning against another is hung askew—"tilted" by a rock drawn on the wall—turning the leaning column into the supporting column. Another picture shows us a stepped structure installed in, quite literally, a problem area: a patch of wall painted red and labeled "PROBLEM." The only issue for Zamojski in this engaging exhibition, however, is trusting his instincts (or ghosts) enough to let his photographs speak for themselves.
— Chris Murtha