Playa del Carmen: Breguła, Buczek
January 15, 2015 @ 7:00 pm

-

11:00 pm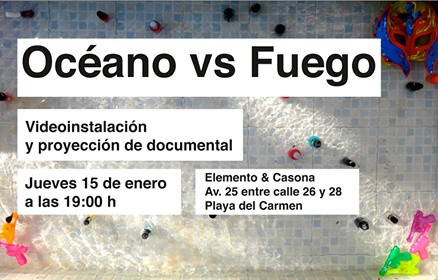 Karolina Breguła, Fire-Followers
Magda Buczek, A mermaid of South Dakota
Video installation and screening of a documentary
Elemento
Av. 25 norte entre calles 26 y 28, 77710 Playa del Carmen
Music by Disco Duro
Alan Ojeda & Xavier de María y Campos
Ocean is seductive, fire is frightening. Playa del Carmen is a place privileged yet stricken by tourism. Fires are vital to maintaining fully dynamic ecosystems. Ocean is marking the artistic desert.
Karolina Breguła, Fire-Followers
video mockumentary, 49'
2013 produced by TOUCHfilms & Atlas Sztuki
In this hysterical deadpan pseudo-doc, artist Karolina Bregula constructs a scenario in a fictional Northern European city plagued by mysterious fires throughout its history. As the town's peculiar inhabitants speculate about the cause of the fires, the way they may be prevented and the strange coincidence of where they occur, a possible conspiracy to destroy local art begins to emerge.
Magda Buczek, A mermaid of South Dakota
video and photo installation
2014
This is a story about a girl. She wanted to be a mermaid. She packed her five shiny mermaid fins and moved from South Dakota to the Caribbean. From a place without an access to the sea to a place that is fond of sirens. When mermaiding she likes to sing loud. In the end, it's a story about rock'n'roll, love for the ocean and female adolescent rituals.
Find out more:
Let's Talk About Justina, Baby!  – Conversation with Magda Buczek
Karolina Breguła Interviewed by Teodora Dinu
www.karolinabregula.com
www.magdabuczek.pl
www.vimeo.com/touchfilmstouchfilms