Texas: Kozieradzka, Mioduszewski
September 11, 2014

-

September 12, 2014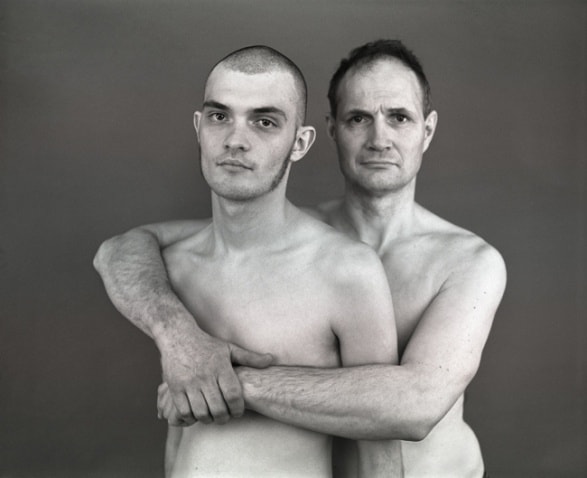 CYDONIA INAUGURAL EXHIBITION
EX-Y: REPRESENTATIONS OF CONTEMPORARY MASCULINITY!
DALLAS – CYDONIA
contemporary art gallery announces its inaugural curated exhibition entitled
EX-Y: REPRESENTATIONS OF CONTEMPORARY MASCULINITY
The Masculine Masquerade
Whatever masculinity is, any notions of it must be as richly complex as feminism and any division of the sexes is, as Roberta Smith declares, an "organic force" that "by its very nature bigger… is more far-reaching and life-affecting."
Ex-Y is about the alternative narratives of maleness. Instead of sweeping machismo gestures of their artistic forefathers, the show represents the latest generation of men, other men that declare their identity in different ways. !
Anchoring this exploration is Dorota Kozieradzka's Rodzinne / Family Portrait series. The main photo depicts her father in a bare-chested embrace with his son. Subconsciously attempting to repair the relationships in her life, Kozieradzka coerces
her own father and brother to set aside the barriers of manhood. The resulting image reveals a haunting, intimate humanity between man and his progeny. Instead of erecting a monument of strength representing himself, multi-disciplinary artist Jan
Mioduszewki portrays how he is only a part of his art. He is, specifically, an extension of his practice. Austin Eddy continues dialogues about painting in different directions. After painting's supposed death and inability to progress, Eddy moves backwards, removing all colors, using basic blacks, spray paints, and charcoals on raw, unprimed canvas. Eddy depicts loneliness and isolation and the realities of modern love. Brooklyn-based Alan and Michael Fleming pay tribute to conceptual deity Bruce Nauman, but they incorporate a hint of boy humor and fun. How has the meaning of being a man
changed?
Artists in the exhibition include: Austin Eddy, Ryan Burghard, Alan and Michael Fleming, Paul Knight, Dorota  Kozieradzka, Jan Mioduszewski, and John Douglas Powers.
Glasgow-based artist Sybren Renema was commissioned to write an essay for the catalog. Instead of a traditional didactic essay, Renema's essay is to be viewed as an individual work contributing to the concept of the show.
Cydonia is hosting a PRIVATE VIEW on THURSDAY, SEPTEMBER 11, FROM 6PM-9PM
Ex-Y
opens on Friday, September 12. The public is invited to attend a reception for artists Alan and Michael Fleming and Jan Mioduszewski from 6pm-9pm.
Warsaw-based artist Jan Mioduszewski will perform Reka on Friday starting at 7pm.
Cydonia has produced a catalogue to accompany the exhibition. The book is available for purchase. Stay tuned for more events related to the exhibition.