Vienna: Tomaszewski
December 27, 2014

-

January 23, 2015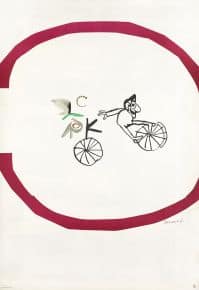 Henryk Tomaszewski
at Polnisches Institut Wien
A selection of thirty works by Henryk Tomaszewski, one of the founders of the Polish School of Poster, will be displayed in Vienna until 31 January 2015. The exhibition in the capital of Austria was prepared by the Polish Institute on the occasion of the artist's 100th anniversary of birth.
The exhibition at the Polish Institute in Vienna shows a change and development in the style of the Polish graphic designer. The works of Tomaszewski evolved from paintings to pared-down drawings as the means of conveying ideas and thoughts.
Vienna is a perfect place for the exhibition of works by the Polish artist since in 1948, at the first significant international poster exhibition after World War II, Henryk Tomaszewski won five 1st prizes there. It was this Vienna Biennial that foreshadowed the phenomenon of the Polish School of Poster.
The official opening of the exhibition at the Polish Institute in Vienna, held on 27 November, was attended by Filip Pągowski, son of Henryk Tomaszewski, and Bronisław Zelek, one of the artist's first assistants in the Warsaw Academy of Fine Arts currently inhabiting Vienna, a renowned graphic designer and painter. During the opening, the guests could watch documentaries about the Polish School of Posters: 'Druga strona plakatu' – directed by Marcin Latałło and 'Na Zamówienie: Sztuka Polskiego Plakatu Filmowego' directed by Simon Goodrick and Alicja Suszka-Fielder. Piotr Dąbrowski, the owner of the Poster Gallery in Warsaw, is the curator of the Vienna exhibition.
Henryk Tomaszewski was a distinguished graphic designer, illustrator and pedagogue. He began his adventure with posters in 1936 and in the same year established cooperation with the 'Szpilki' satirical weekly magazine. Many of his works are now considered a canon of world's poster art: among them theatre posters: 'Oedipus the King' (1961), 'Hamlet' (1962) or 'Witkacy' (1972); film posters: 'Pastoral Symphony' (1947), or 'Citizen Kane' (1948); exhibition posters: 'Moore' (1959), or 'Henryk Tomaszewski – Love' (1991).