Warsaw: International Art Fair
April 7, 2016

-

April 10, 2016

PLN14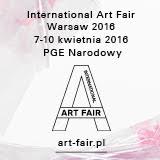 International Art Fair 2016
– the first international fair of 20th and 21st century art in Poland
Between April 7 and 10, the PGE National Stadium will host the International Art Fair Warsaw 2016. It is the first event of this scale organised in Poland, and it features not only domestic artists, but also many guests from abroad: Great Britain, Switzerland, Belarus, Ukraine, Germany, Austria, Romania and others. The fair will present several dozen works, from paining, to photography, to modern design.
IAFwarsaw will last for 4 days. Two initial days of the event will be dedicated especially to art collectors, interior designers, architects and representatives of the business world. The remaining weekend is when the PGE National Stadium will open its doors to all visitors interested in contemporary art. Artwork presented during the fair will include pieces created by several dozen artists from all over the world, selected by the programme council under the supervision of the curator Małgorzata Miśkowiec. Thus, IAFwarsaw is sure to be an interesting review of novelty in art, indicating what subjects and direction are currently dominant, and what challenges art presents to its creators.
When organising a fair on such a large scale, we particularly want it to contribute to the development of awareness of the most interesting events in contemporary art in Poland and in Europe. The visitors of the fair will be able to discover galleries and artists thus far little known or rarely present in Poland, as well as pieces by Polish artist, e.g. Igor Mitoraj, featured mainly in galleries abroad, says Beata Roszkowska, originator and director of IAFwarsaw 2016.
Artists featured in the fair include:
Robert Indiana, American artist involved in the pop art movement, creator of the iconic LOVE sign, and Igor Mitoraj, Polish sculptor, represented by the Contini Art gallery from Great Britain,
Patrick Fauck, German graphic artist and Joachim Lothar Gartner, Austrian artist using for his pieces universally available materials, represented by the gallery Artontour project by kunst#stücke from Austria,
Bogdan Vladut, Romanian artist creating photography, drawings and paintings, represented by Funnel Contemporary Art from Romania,
Rachel Libeskind, New York based multi-media artist, daughter of Daniel Libeskind, represented by Alludo Room Gallery,
Marcin Rząsa, sculptor from Zakopane, represented by Galeria 101 Projekt,
Bartek Węgrzyn, sculptor and creator of installations who uses an innovative art language, represented by the Turkish gallery Unlimited,
Andrei Siderski, abstract painter, represented by the Ukrainian gallery Post Modern.
IAFwarsaw 2016 is more than just a comprehensive exhibition programme; there are also numerous side events: meetings and movie screenings. Planned attractions include discussions about art in urban space, the history of collecting art in Poland, contemporary design, street art and video art, the art of collecting, relationships between fashion and art, and many more.
The distinguishing feature of IAFwarsaw will be its interdisciplinary character – we are the only event in Poland to combine visual arts with design. Apart from painting, sculpture and photography, the visitors will have the chance to experience modern design, represented, among others, by renowned Polish artists Oskar Zięta and Tomasz Rygalik. It is also noteworthy that the exhibition space was designed by a celebrated architectural team: Marlena and Marek Happach from the H2 Happach studio, the fair curator Małgorzata Miśkowiec explains.
Tickets are available: www.eventim.pl
The strategic partner of IAFwarsaw 2016 is Photo Culture. IAFwarsaw is also supported by cultural institutions, including: BWA Tarnów, J. Tarasin City Art Gallery of Kalisz
and Atlas Sztuki gallery from Łódź.
All information about the fair is available online at: www.art-fair.pl
Beata Roszkowska – originator and director of the International Art Fair Warsaw, art enthusiast, collector and promoter. Since 2010 she has been running Le Marchand art gallery. She has organised exhibitions and participated in art fairs organised in Warsaw. Outside exhibition-related activities, she is involved in 20th century art reaserches. For several years she has been the coordinator of marketing projects at the National Bank of Poland and official launches of commemorative coins. She was also responsible for marketing actions related to the promotion of NBP's educational projects. Roszkowska completed her MA in pedagogy with major in andragogy at the University of Warsaw. She is currently working on a research MA thesis about the educational activity of the Kapist painter Tadeusz Dominik at the Institute of Art History, Faculty of History, University of Warsaw.
Małgorzata Miśkowiec – curator of visual art spaces at the International Art Fair Warsaw 2016. Graduate of the University of Warsaw (art history) and Jagiellonian University in Cracow (international cultural studies). In the years 2011-12 she worked as an expert for the realisation of the international project "The Contemporary Art of the Nations of the Former Austrian- Hungarian Empire" in the BWA SOKÓŁ gallery in Nowy Sącz. Miśkowiec collaborated with the most prominent artists in Poland and abroad. She coordinated numerous exhibitions, including: "Lost stories" curated by Barnabás Bencsik, 2011, "Void" curated by Anda Rottenberg, 2012, "Galicia Mon Amour. Folly, Fantasy and Phantasm" curated by Danna Heller, 2012; Michael Riedl solo exhibition curated by Goschka Gawlik, 2013; "What remains" curated by Magdalena Ujma, 2013, "From the darkness" curated by Grzegorz Sztwiertnia, 2013.