When arriving in Berlin, you will find that there isn't just one centre to use as a starting point to explore the city. Due to its overwhelming size and never-ending alleys with massive residential blocks, the Berlin locals find comfort in operating around their neighbourhoods rather than the city as a whole. Some iconic landmarks, like the Berliner Fernsehturm (Television Tower) at Alexanderplatz or the Brandenburg Gate might act as some forms of centres, however in order to really get an idea of the city you should probably explore Berlin district by district, as each of them unveils a different side of this intriguing place.
The classics
One of the centres for "classical'' art that you will definitely find in all of the city guides, is the Museumsinsel – Berlin's Museum Island. The water-surrounded area is located in Mitte and consists of five historical buildings: Altes Museum that is the birthplace of all public museums in Berlin, Neues Museum, which houses an extensive collection of Egyptian art, including the famous Nefertiti which every now and then sparks political discussions on the ownership of artefacts, the majestic Alte Nationalgalerie that dominates the island's skyline, the Bode-Museum that is internationally known for a "DIY like" 100kg golden coin heist and the Pergamonmuseum, created as the last of the five large museums on the island.
Bode-Museum on Am Kupfergraben, Museumsinsel Berlin, Berlin-Mitte © Staatliche Museen zu Berlin, photo: David von Becker

Pergamonmuseum. Das PanoramaAm Kupfergraben 2, Berlin-Mitte © Staatliche Museen zu Berlin, photo: David von Becker

Alte Nationalgalerie on Bodestraße, Museumsinsel Berlin, Berlin-Mitte © Staatliche Museen zu Berlin, photo: David von Becker

Neues Museum on Bodestraße, Museumsinsel Berlin, Berlin-Mitte © Staatliche Museen zu Berlin, photo: David von Becker
Not far from there you can also see the Neue Nationalgalerie (New National Gallery), dedicated to twentieth-century art. Located along the busy Potsdamer street, the museum astonishes with its fluid, open plan glass pavilion designed by Ludwig Mies van der Rohe.
Towards the contemporary
Another must visit in Mitte is the internationally known Hamburger Bahnhof. The museum's name refers to the building's original function as one of the first terminal stations of the rail system in Germany. It opened back in 1846 as the terminus of the railway line between Hamburg and Berlin. Today the National Gallery's Hamburger Bahnhof – Museum für Gegenwart – Berlin division serves as a space for exhibiting contemporary art and is one of the largest and most significant public collections of contemporary art in the world.
Not far from there, surrounded by many small boutiques and cafes, you can explore the KW Institute for Contemporary Art. The goal of this institution is to approach the central questions of our times through the production, display, and dissemination of contemporary art. Since its inception more than 30 years ago KW has established itself not only as an institution but also as a dynamic and lively space for progressive practices within the Berlin art scene, as well as in an international context.
Following the Berlin Wall
A little further east, down the Spree river in Friedrichshain, stands the longest continuous section of the Berlin Wall still in existence. Immediately after the Wall fell, 118 artists from 21 countries began painting on the East side of it. Shortly after the spot became known as the East Side Gallery – a 1316 metre long open-air gallery. Alongside the famous 'Fraternal Kiss' by Dmitri Vrubel you will be able to see 'Test the Best' by Birgit Kinder, 'It Happened in November' by Kani Alavi or the 'colourful heads' painted by Thierry Noir. All of these murals comment in some way on the socio-political issues of the past decades.
When visiting the famous Checkpoint Charlie (the best-known Berlin Wall crossing point) at the edge of Kreuzberg, don't forget to check out Gropius Bau. From 1881, the Renaissance-style building served as the venue for various institutions and collections including the Museum of Decorative Arts. Today, the building (located along one of the many preserved strips of the Berlin Wall) is organised as an open framework for addressing a broad variety of artistic modes of thinking and their social implications. Until the 7th of August 2022, you can visit a solo show of an acclaimed Indian photographer Dayanita Singh titled 'Dancing with my Camera'.
For the photography lovers
For those interested in photography, a must visit is also the Helmut Newton Foundation, located on the East side of Charlottenburg, close to the Berlin Zoo. Established by Newton himself a few months before his death, the foundation is dedicated to the preservation and presentation of his own photographic works and those of his wife, June Newton. Each exhibition presents a selection of Helmut Newton's innovative, provocative images in dialogue with works by the very best photographers of our time. On the 2nd of June 2022, the Helmut Newton Foundation opened its new exhibition 'Hollywood' featuring works by Eve Arnold, Anton Corbijn, Philip-Lorca diCorcia, Michael Dressel, George Hoyningen-Huene, Jens Liebchen, Ruth Harriet Louise, Inge Morath, Helmut Newton, Steve Schapiro, Julius Shulman, Alice Springs and Larry Sultan.
C/O Berlin, located along the same street, is another great exhibition space for photography and visual media. In the past, this unique and internationally respected institution presented works by Annie Leibovitz, Martin Parr, Nan Goldin, Anton Corbijn, Peter Lindbergh and Irving Penn, as well as emerging talents. The bright blue building of the gallery, known as The Amerika Haus, once served as a cultural and information centre for the United States in Berlin.
Around this area you can also explore the Haus der Kulturen der Welt (House of World Cultures), a national centre for the presentation and discussion of international contemporary arts with a special focus on non-European cultures and societies. In June they will be organising among others an exhibition by artists Giulia Bruno and Armin Linke exploring the scientific and social conditions producing the new geological epoch, the Anthropocene. There will also be New Alphabet School, a programme where modern witches, artists, urban gardeners, storytellers and escapees explore these multidimensional spaces in lectures and workshops, inquiring how to address, create and use feral cartographies as liberating confusions. As a venue and collaboration partner, HKW has hosted multiple festivals including Transmediale. The building is located in the Tiergarten park, and directly neighbours the Carillon and the new German Chancellery, which was a gift from the United States formerly known as the Kongresshalle conference hall.
Unique exhibition spaces
Some of the art spaces in Berlin are worth visiting if only for their unique location. One of those is definitely the Boros Collection in Mitte – a converted bunker with 3000 square metres of exhibition space. The private collection belongs to Christian Boros, a German advertising agency founder and art collector born in Zabrze, Poland. During communist times his family moved from Poland to Cologne, West Germany. In 2003, Boros and his wife purchased a former Second World War bomb shelter, the Reichsbahnbunker. The space was then converted into a gallery by Casper Mueller Kneer, creator of White Cube in London. The art on show includes groups of works by international artists dating from 1990 to the present. Visits to the Boros Collection take place in small groups accompanied by one of their art mediators.
Another of these spots is the St. Agnes Catholic church located in western Kreuzberg. The Brutalist structure built in the 1960s stopped functioning as a church in 2005 and became a spot for cultural encounters including the house of Koenig Galerie. Their programme focuses on interdisciplinary, concept-oriented, and space-based approaches in various media. Recently, the gallery featured fascinating work by the Ukrainian artist Zhanna Kadyrova.
When visiting the culturally booming Kreuzberg don't forget to pass by Kunstraum Kreuzberg/Bethanien – an exhibition space for contemporary art with a focus on current social and cultural issues. Built in 1847 by Theodor Stein to function as a hospital, it continued to serve as such until 1970. The fight for Bethanien's survival began immediately thereafter; plans to demolish and replace the building with social housing were countered through occupation as well as by citizens' initiatives and conservationists. Since then, the building has offered space for cultural and artistic initiatives.
KINDL – Centre for Contemporary Art, located a little further south in the hip Neukölln, sees itself as a place for producing and discussing contemporary art within the most recent artistic developments. The exhibition projects are accompanied by an extensive programme of discourse and educational offerings that aim to contribute to the current debate. The art centre is located in a former brewery building with more than 1600 square metres of exhibition space.
The upcoming areas
Even further south, just at the edge of an old Nazi airport that has now transformed into a huge public leisure area called the Tempelhof Field, you can find Atelier Gardens, a space "where actors of societal transformation can do their work, healing the rifts of soil, soul and society". Located among the Berliner Union Film Ateliers (BUFA) – a place for creativity and storytelling for more than 100 years – Atelier Gardens organises workshops, events, screenings and more, all aiming at societal transformation with a special focus on the environment.
Despite the South-East being considered the most cultural and artsy area in town, the North-West of the city has plenty to offer as well including the art space SAVVY Contemporary that situates itself at the threshold of notions and constructs of the West and non-West. It gives space to reflect on colonialities of power and how these affect histories, geographies, gender and race.
Another such space is Galerie Wedding that aims to be a place for contemporary forms of artistic expression and forward-looking socio-political models. The works presented there think through the current crisis and how they can be used as an opportunity to think about new forms of cultural work, networking, ecology and civil as well as political engagement.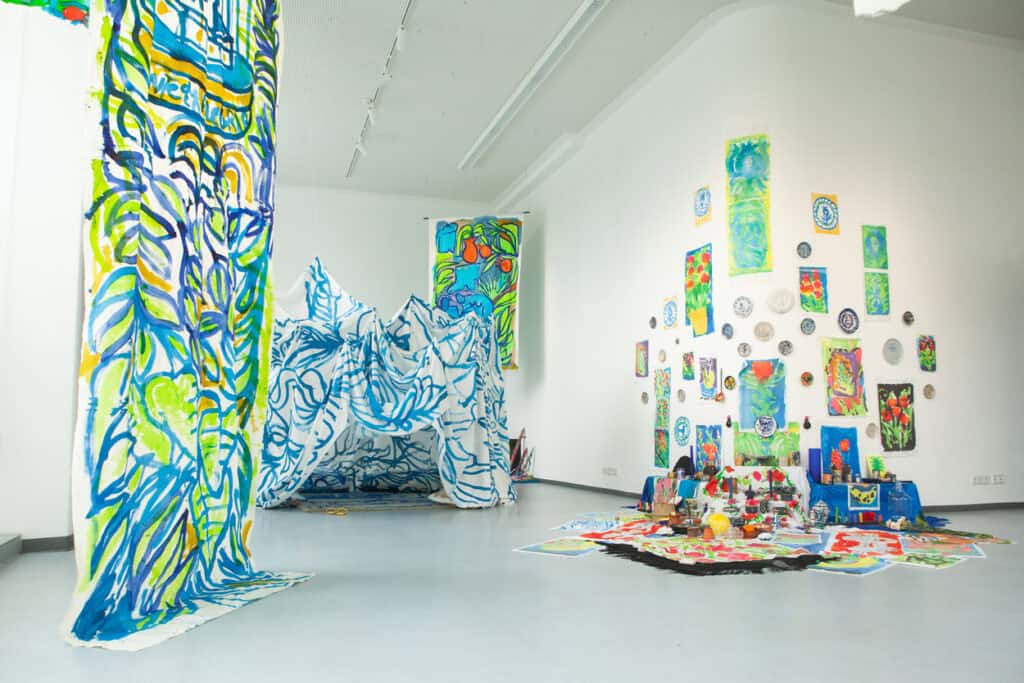 A paradise for bookworms
Apart from the above mentioned (and many more) art spaces, Berlin is also a great city to browse through some international book and magazine shops. In the above mentioned Wedding you will find ap – a bookstore oriented around art with a carefully-edited selection of publications that span a diverse array of disciplines, and which are presented in wildly different formats: from handmade, small-edition artists' books, to recent and classic poetry, theory and literature.
When strolling through the chic Prenzlaur Berg don't miss Bildband Berlin – a small gallery store dedicated to photography that stocks the greatest picture books, among others the newest pieces by MACK publishing. 
Located in a quiet corner on Auguststrasse in Berlin's Mitte do you read me?! is a perfect reader's escapade and quite often quite busy with people browsing the international assortment. The core stock of this bookstore are titles on architecture, art and design, in tandem with a large collection on fashion, literature, music, film, typography, photography, food, sports, and even some titles for children.
The internationally known Buchhandlung Walther König – publishing bookshop for art and art history, architecture, decorative arts, design, fashion, photography, film and art theory can be also spotten in a few of the Berlin museums, including the famous Museumsinsel.
On the well known street of Warschauer in Friedrichshain you can visit yet another great bookstore – the Prague originating Shakespeare & Sons. There, apart from a diverse selection of book titles, you can also enjoy a fresh bagel from the neighbouring bagel bakery run by the same owners.
Another independent publication store worth visiting is definitely Motto Berlin in Kreuzberg – a place dedicated to books, magazines, artists' publications and editions. Apart from selling books, Motto also hosts presentations, publication launches and exhibitions throughout the entire year.
The cosy BuchBund in Neukölln is a store that specialises in Polish books but hasa nice collection of German and English books as well. The friendly owner of the store always offers customers a helping hand, when looking for a gift or a new read for yourself.
Last but not least, Bücherbogen at Savignyplatz in Charlottenburg might overwhelm you with their international book selection. Those who set foot in this exceptional book and manuscript shop won't be in a hurry to leave! It might take two hours or more just to rummage around the many shelves with large format illustrated volumes from all art genres.
Last insider tips
Most of the gallery spaces are free to enter, however a ticket to a museum costs somewhere between 10-15 euros. The insider secret is the Museum Sunday every 1st Sunday of the month, where all museums in Berlin open their doors free of charge. With good weather a bike could come in handy, however considering the size of the city, it might be worth getting a day ticket for all public transport to explore the hidden corners of Berlin. In order to encourage people to use more public transport and in this way burn less fossil fuels, from the 1st of June a monthly ticket will cost only 9 euros. So grab your bag and come visit "Berlin, the greatest cultural extravaganza that one could imagine." – David Bowie.
read also
Although in the last few years the city changed a lot, got more expensive and suffers from a lack of apartments and studios, Berlin still seems like a perfect place for artists to live and work. Vibrant, full of galleries, project spaces and independent initiatives, Berlin has been chosen by many established as well as emerging artists from all over the world. It is not surprising that also a lot of artists of Polish origin decide to move in here.