This year 8 new countries are entering the official Biennale programme for the first time in 2022. These countries are Cameroon, Kazakhstan, Republic of Kyrgyzstan, Namibia, Nepal, Oman, Uganda and Uzbekistan.
Several of them, including Cameroon, Kazakhstan and the Kyrgyz Republic, have refused government funding to avoid having to "take political decisions into account" so that their artists can faithfully reflect the situation of their peoples. This is particularly important for the Kyrgyz, whose government has strong ties to Russia, and for Cameroon and Kazakhstan, which are still recovering from civil war.
Here's the Lynx's second part of the subjective guide to help you plan your visit to Venice this year.
Cameroon Pavilion
Il tempo delle Chimere/The Time of the Chimeras
Commissioner: Armand Abanda Maye
Curators: Paul Emmanuel Loga Mahop, Sandro Orlandi Stagl
Artists: Francis Nathan Abiamba (Afran), Angele Etoundi Essamba, Justine Gaga,Salifou Lindou, Shay Frisch, Umberto Mariani, Matteo Mezzadri, Jorge R. Pombo, NFT (Kevin Abosch, Joao Angelini, Marco Bertin (Berxit), Cryptoart Driver, Lana Denina, Alberto Echegaray Guevara, Genesis People, Joachim Hildebrand, Meng Huang, Eduardo Kac, Giulia Kosice, Julio Le Parc, Marina Nunez, Miguel Soler-Roig, Miguel Angel Vidal, Burkhard von Harder, Gabe Weis, Clark Winter, Shavonne Wong, Wang Xing, Alessandro Zannier, ZZH)
Venue: Liceo Artistico Guggenheim San Polo 2186 and Palazzo San Bernardo San Polo 2186
The Cameroon Pavilion at the Biennale, unlike most pavilions, is not funded by the Cameroonian government (although it was commissioned by the Cameroonian Ministry of Culture). The pavilion is supported by the Global Crypto Art collective DAO, who will be holding what is likely to be the first ever NFT exhibition at the Venice Biennale as part of the pavilion, and will showcase the work of four Cameroonian artists, including photographer Angéle Etoundi Essamba, who has previously exhibited at 1.54, and sculptor Justine Gaga, whose iconic totemic sculptures won the 2014 Dak'art Biennale.
Angèle Etoundi Essamba, A-FIL-LIATION 16, 2022, courtesy of the artist

Angèle Etoundi Essamba, A-FIL-LIATION 3, 2022, courtesy of the artist

Angèle Etoundi Essamba, A-FIL-LIATION 15, 2022, courtesy of the artist

Angèle Etoundi Essamba, A-FIL-LIATION 13, 2022, courtesy of the artist
---
Kazakhstan Pavilion
Lai-Phi-Chu-Plee-Lapa
Commissioner: Meruyert Kaliyeva
Curators/Artists: ORTA collective (Alexandra Morozova, Rusten Begenov, Darya Jumelya, Alexander Bakanov, Sabina Kuangali)
Venue: Spazio Arco, Dorsoduro 1485
Initially, Kazakhstan's pavilion at the Venice Biennale was to make its debut in 2019. Unfortunately, these plans were scrapped after severe budget cuts. This year, Venice will feature works by the ORTA collective, which intends to pay tribute to Sergey Kalmykov, a Russian avant-garde artist who created decorations for many theatre productions. The exhibition's curator, Meruyert Kaliyeva, highlighted that she did not seek government funding for the pavilion so as not to have to "take political decisions into account".
---
Pavilion of Kyrgyz Republic
Gates of Turan
Commissioner: Saltanat Abdyldaevna Amanova
Curator: Janet Rady
Artist: Firouz Farman Farmaaian
Venue: Hydro Space, Giudecca Art Center, Giudecca 211/B
The title of the exhibition: Gates of Turan comes from the Persian word Tūrān, meaning "land of the Turans" – a historical region encompassing modern Uzbekistan, Kazakhstan, Kyrgyzstan, Tajikistan, Turkmenistan and northern parts of Afghanistan and Pakistan.
Firouz FarmanFarmaian is a Persian-born nomad and international contemporary artist. Drawing on his shared tribal heritage with the Turanian nomads of Kyrgyzstan and his socially engaged practice, he has created an immersive post-tribal installation for the Kyrgyz Republic Pavilion to explore the experiences of contemporary nomadic communities in Kyrgyzstan. Gates of Turan will illuminate the very fabric of Kyrgyz tribal identity, tracing the thread of contemporary Kyrgyz memory back to shared tribal ancestors.
---
Namibia Pavilion
A Bridge to the Desert
Commissioner: Marcellinus Swartbooi, Senior Art Education Officer of the Directorate of Arts: Ministry of Education, Arts and Culture
Curator: Marco Furio Ferrario
Artists: "RENN"
Venue: Isola della Certosa
The Namibian Pavilion exhibition will feature a series of figures made of desert stone and iron, resembling human figures. Each is recognizable by an emblem with an engraved number and an expression suggestive of the speculative experience in which these figures seem to engage. These sculptures first appeared several years ago in the world's most secluded desert, the Kunene district of Namibia. Their creator or creators remain unknown to this day, although the curator has identified a creator-artist who has shared his theory with the world in this exhibition.
The main theme of the sculptures is the bond between humans and nature, with the latter being addressed in the desert. The figures represent human communities struggling to reclaim their experience, and ultimately hope for humanity to reclaim its place in nature.
Far gone, 2017, desert stones and Iron rod, © photo: RENN

My backyard, 2019, desert stones and Iron rod, © photo: RENN

Rain for shade, 2016, desert stones and Iron rod, © photo: RENN

Solo, 2016, desert stones and Iron rod, © photo: RENN
---
Nepal Pavilion
Tales of Muted Spirits-Dispersed Threads-Twisted Shangri-La
Commissioner: Chancellor Kancha Kumar Karmacharya (Nepal Academy of Fine Arts), Sangeeta Thapa (Founder Director Siddhartha Arts Foundation)
Curators: Hit Man Gurung, Sheelasha Raj Bhandari
Artist: Ang Tsherin Sherpa (also known as) Tsherin Sherpa
Venue: Castello 994
Tsherin Sherpa, skilled in the art of thangka painting, is today considered one of Nepal's leading contemporary artists. Collaborating with artists from across the country, the artist will draw on material from a shared history and use relationships encoded in oral cultures, languages and everyday rituals to portray an intersecting and intertwined past that problematises conflicting conceptualisations of Nepal and the wider Himalayan region.
"International understanding of Nepali art remains plagued by a Western conceptualization of the Himalayan region: a pervasive, romanticized vision that frames Nepal as static, pure and untouched by time and modernity," said Sherpa. "We need to create a space to reflect and re-evaluate these biases."
---
Oman Pavilion
Commissioner: Ministry of Culture, Sports and Youth, His Excellency Sayyid Saeed bin Sultan bin Yarub Al Busaidi
Curator: Aisha Stoby
Artists: Anwar Sonya, Hassan Meer, Budoor Al Riyami, Radhika Khimji, Raiya Al Rawahi
Venue: Arsenale
Oman's inaugural multimedia exhibition will feature the work of five artists: painter Anwar Sonya, often referred to as the 'godfather' of Oman's contemporary art scene; Hassan Meer, founder of experimental Omani art group The Circle; photographer and video installation artist Budoor Al Riyami; and Radhika Khimji, whose feminist work includes sculpture and textiles. In addition, recent works by the late sound installation artist Raiya Al Rawahi, who died of cancer in 2017 at the age of just 30, will be shown. The exhibition will be curated by Aisha Stoby, an art historian working on contemporary art from Oman and the Middle East.
---
Uganda Pavilion
Radiance: They dream In Time
Commissioner: Naumo Juliana Akoryo
Curator: Shaheen Merali
Artists: Acaye Elizabeth Pamala Kerunen and Collin Sekajugo
Venue: Palazzo Palumbo Fossati San Marco 2597
The first ever Ugandan pavilion will be titled 'Radiance – They Dream in Time' and will feature works by two Kampala-based artists, Acaye Kerunen and Collin Sekajugo, curated by Shaheen Merali, a Tanzanian-born, London-based writer and curator.
Kerunen creates wall decorations and installations from materials traditionally used by Ugandan artisans and craftsmen. The works take into account "the agency of women's work in Africa and acknowledge the role this art work plays in the climate ecosystem" – said Uganda's Ministry of Gender, Labour and Social Development in a statement announcing the pavilion. Sekajugo creates images of figures using stock photos, often depicting them in black tones to challenge Western assumptions about race.
Acaye Kerunen, Bamutenda!, 2021, mixed media, 275 x 118 x 40 cm, courtesy of Acaye Kerunen Studio

Acaye Kerunen, Ayera, 2021, mixed media, 210 x 155 x 28 cm, courtesy of Acaye Kerunen Studio

Acaye Kerunen, Kakare, 2021, mixed media, 370 x 860 x 50 cm, courtesy of Acaye Kerunen Studio

Acaye Kerunen, Ouganda, 2021, mixed media, 155 x 115 cm, courtesy of Acaye Kerunen Studio
---
Uzbekistan Pavilion
Dixit Algorizmi: Garden of Knowledge
Commissioner: Art and Culture Development Foundation
Curators: Studio Space Caviar (Joseph Grima, Camilo Oliveira, Sheida Gomashchi)
Artists: Abror Zufarov and Charli Tapp
Venue: Arsenale
The Dixit Algorizmi exhibition places particular emphasis on the concept of the algorithm – an invention responsible for much of the functioning of the modern world – and on its creator, the ninth century polymath, 'father of algebra' and 'grandfather of computing', Muhammad ibn Musa al-Khwarizmi. The word 'algorithm' comes from Algorismus, which is a distorted Latin transliteration of al-Khwarizmi. Al-Khwarizmi's influence in Europe led to the popularisation of algorithms, Arabic numerals, decimals and algebra. The title Dixit Algorizmi comes from the Latin version of his key text on algebra and translates as "Thus Spake al-Khwarizmi" (Thus Spake al-Khwarizmi).
The physical centrepiece of the pavilion, an interior installation reinterpreting the millennia-old formal tradition of Persian and Babylonian gardens, alludes to the place where al-Khwarizmi developed much of this major research: The House of Wisdom in Baghdad. Dixit Algorizmi's 'Garden of Knowledge' will be designed by Space Caviar.
read also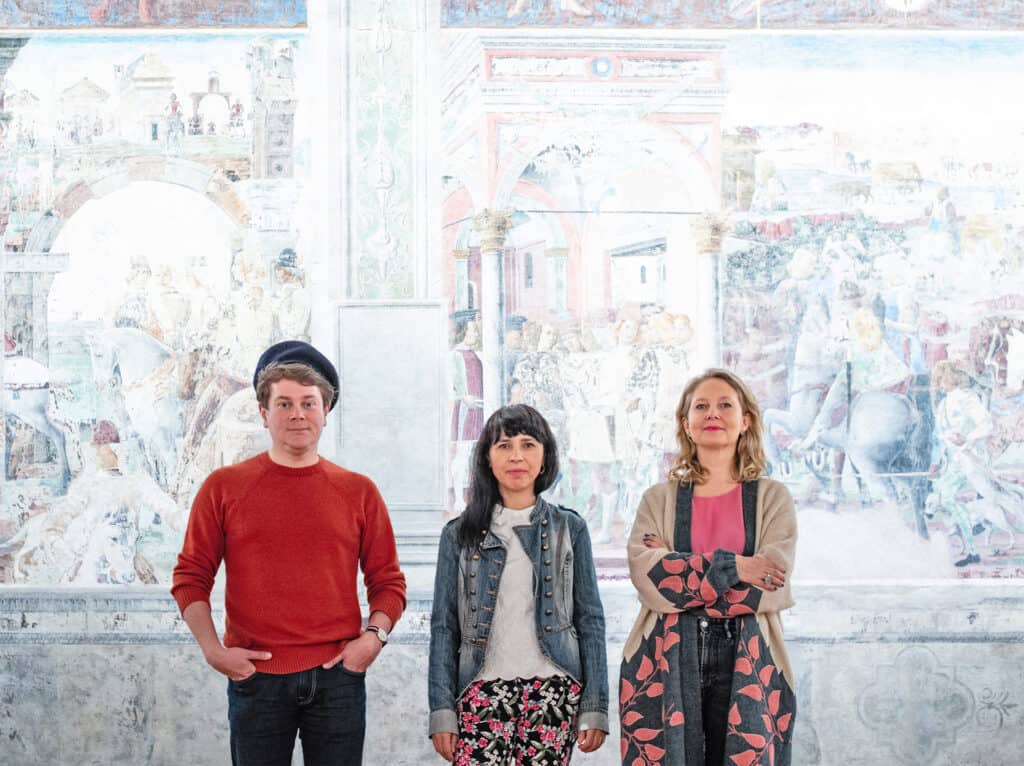 Another biennale is officially hitting the crowded art calendar – The Venice Biennale has announced its next edition! It will run from 23 April to 27 November 2022 (pre-opening on 20, 21, and 22 April). Titled "The Milk of Dreams" and curated by Cecilia Alemani, The 59th International Art Exhibition, La Biennale di Venezia is based on a wide range of discussions with artists that have taken place over the last few years. Here's the first part of our Guide To The Most Interesting Events In Venice 2022.