For London Design Biennale 2021, the Polish pavilion explores a variety of ways in which textiles are used to reflect the rhythm of seasonal changes in domestic interiors. 'The Clothed Home' recalls bygone rituals through a compelling installation, seeking inspiration for the contemporary climate-responsive design. Conceptually rooted in Polish domestic textile designs from pre-electric times and thoroughly researched by the architectural duo Centrala, the installation recalls domestic rituals that allow us to cultivate our relationship with the natural world and react more attentively to its continued changes. Artist Alicja Bielawska and Aleksandra Kędziorek, the show's curator, discuss our ever-changing relationship with nature, the notion of chronobiological architecture, the significance of different textures and colours in domestic interiors, and how contemporary design can help us tune into the seasons again.
Marek Wolynski: At the conceptual heart of the exhibition lies the notion of chronobiological architecture, which synchronises our inner, biological clock with the planetary cycles, the times of day, and the seasons. What part do textiles play in the chronobiological design of domestic environments? How do they contribute to the experience of domestic spaces?
AK: The notion of chronobiological architecture itself was introduced by Małgorzata Kuciewicz and Simone De Iacobis from CENTRALA, whereas our joint project "The Clothed Home", which centres on the works by Alicja Bielawska, corresponds with this line of thought. The chronobiological architecture is designed to connect us with the rhythm of times of day, seasons, and weather conditions. Textiles lend themselves perfectly to this task: they transform a house into a resonator pulsating with the cycles of nature, allow us to mould its space according to various seasons and experience more strongly even the most subtle shifts in our immediate surroundings.
AB: Textiles are this soft malleable tissue that you can change easily depending on the conditions outside, adjusting the interior to the exterior. With the use of textiles, we can respond to the seasonal changes in weather. And when we become more attuned to these changing seasons, we can start celebrating them and creating rituals, also with the use of textiles, which we wear or lose. Since textiles also stick closely to the skin, they provide us with a multi-sensory experience. I believe it's something we need that we realized profoundly during the pandemic. Our intention was to highlight the sensory aspect of the fabric by including a video in the exhibit that portrays the sheer intimacy of an experience. We made this video in collaboration with the choreographer Maria Stokłosa, who performed simple gestures demonstrating the richness of an experience, such as moving one's palm over a textile, walking barefoot on a rug, and feeling the volume of a curtain or gilet. These motions evoke potential seasonal or daily rituals involving taking on, putting on, pulling over, pulling off, and throwing on the fabrics. These activities can be imbued with mindfulness. Our project also speaks of this kind of mindfulness.
MW: Colours are an essential element of the exhibition. What's the meaning behind them, and what has influenced your decisions on selecting particular hues?
AB: Colours along the shapes and textiles build this exhibit. Thinking in colours is something very close to me personally, and hues represent a couple of different aspects of these works.
One of the aspects, which I wanted to highlight, is a perception of colour – how powerfully it affects our senses, our impression of temperature and atmosphere in a room.
Another one is the inspiration drawn from the landscape, my own observations and experience of nature. "The Clothed Home" deals with our own relation to nature and points out its fluctuations illustrated by changing colours. In order to capture this fluctuations, it's worth coming to a standstill and regard the landscape from one spot. For me, this spot is my parent's house by the Narew River in Podlasie, which overlooks the vast river valley. I took photographs from the same location, documenting the landscape changing throughout the seasons and times of day. Apart from the greenery, water and sky played a significant role in this landscape – their colours, such as bright blue of the summer sky and winter sunsets, are also representative of the seasons. Observation of nature and reflection on the perception of colours coalesced into one another and gave rise to the exhibit based on colour. Interiors can be warm or cool depending on the colour combination. For this reason, the selection of warm tones – yellows, oranges, and reds of chunky wool fabrics clothing the interior in autumn and winter – came to me organically. Whereas thin wool and light linens, which optically cool down a room and subtly filter the light, come in blue and green hues. Some objects are monochromatic, other designed by local artisans utilize interchanging colour effects and gradients that I was able to achieve by combining several threads in different colours or similar tones. This colour coding is epitomized by the centrepiece of our exhibit, namely "Wheel of the Year" depicting seasonal changes. It's a large-scale woollen kilim handwoven by Agata Król and Danuta Myśliwiec, weavers from the Koronka-Bobowa Spółdzielnia Pracy Rzemiosła Ludowego i Artystycznego. The embroidery of the names of twelve seasons was created by Jadwiga Śliwa. These twelve phenological seasonal patterns follow the biological life cycles dictated by plants' development. Selected seasons did or are fading away, and only old-time farmers are still familiar with such terms as spodzimek (late winter), polecie (early autumn) and pierwiośnie (early spring). This textile represents all subjects quintessential to the exhibit: nature's cycle, colour code, craftsmanship, natural materials, and the role of fabrics inside a house. In the 18th-century interior of the Somerset House, the kilim is hanging at a very symbolic place, directly over the fireplace.
MW: Have you focused solely on the Polish traditions and methods of dressing interiors, or have you also incorporated foreign influences and techniques?
AK: Polish textiles and traditional methods of clothing a house served as our main inspiration and point of departure. They allowed us to embed our investigations in a specific historic framework and connect our textiles with twelve phenological seasons typical of our climate zone. We never stayed within certain borders. We preferred thinking about Poland in multicultural terms – our research delved deep into the past, the borders were shifting, cultures blending together etc. That's why we found inspiration for instance in the Uphagen's House from Gdańsk, which at that time was a German city, or collaborated on our textiles with prof. Zenovia Shulha from the Lviv Academy of Fine Arts, who is one of the few people capable of weaving the so called liżnik huculski – a thick woollen blanket from Ukraine. Of course, a universal aspect of this subject mattered to us as well – textiles appear at houses from all kinds of places in the world. The Polish example illustrates a phenomenon which may offer inspiration in its different variations to seek out new sustainable design solutions. Who knows? Looking at the rapidly progressing climate change, we might soon exchange ideas and borrow solutions from a broader international repertoire.
AB: We examined how textiles were used not only inside the mansions and patrician houses, but also farmhouses and modernist apartments from the 1920s. It was fascinating to focus on this textile aspect of interiors, noticing it in the paintings, drawings, and photographs. An exquisite example of this kind of resource is "Zapis socjologiczny", a series of photographs by Zofia Rydet. Selected photographs from this extremely rich material are featured in a catalogue accompanying our exhibit (available at: https://iam.pl/en/london-design-biennale-2021-the-clothed-home-tuning-in-to-the-seasonal-imagination-catalogue ). In the end, we decided on several ways in which one could use fabrics in the interiors. The examples we chose were to resonate with today's times and needs, not just serve as reconstructions. First and foremost, we wanted to showcase the potential of textiles as such, their textures and colours. The collection of the Central Museum of Textiles in Łódź was an enormous source of inspiration for us. We could view handwoven textiles ourselves: liżnik, pasiak (folk striped fabric), blankets, rugs, bedspreads, kilims, as well as some jacquard coverlets, colour samples, pattern samples, and art deco kilims. I wanted to preserve this vast spectrum of colour and variety of textures in the objects included in "The Clothed Home". The majority of displayed textiles was created in collaboration with several artisanal workshops. Each has their own specialty: Koronka-Bobowa is steeped in the tradition of Cepelia, which unfortunately shut down last year. Folk Art Wijata specializes in traditional and regional folk textiles and clothing. Beata Wietrzyńska is a weaver with a keen eye for sublime pattern and colour combinations, while Zenovia Shulha, whom Ola already mentioned, has amazing knowledge about traditional Hucuły fabrics. The woollen yarn of her liżnik had to be dyed with the use of natural dyes, undergo fulling (cleansing and beating) as well as carding. Slow process of textile production influenced the creation of our exhibit, showed us another, more measured way of working, another approach to materials and manufacturing objects. If you grasp the significance of every thread for the entirety of a textile, then you gain a new perspective on your environment.
read also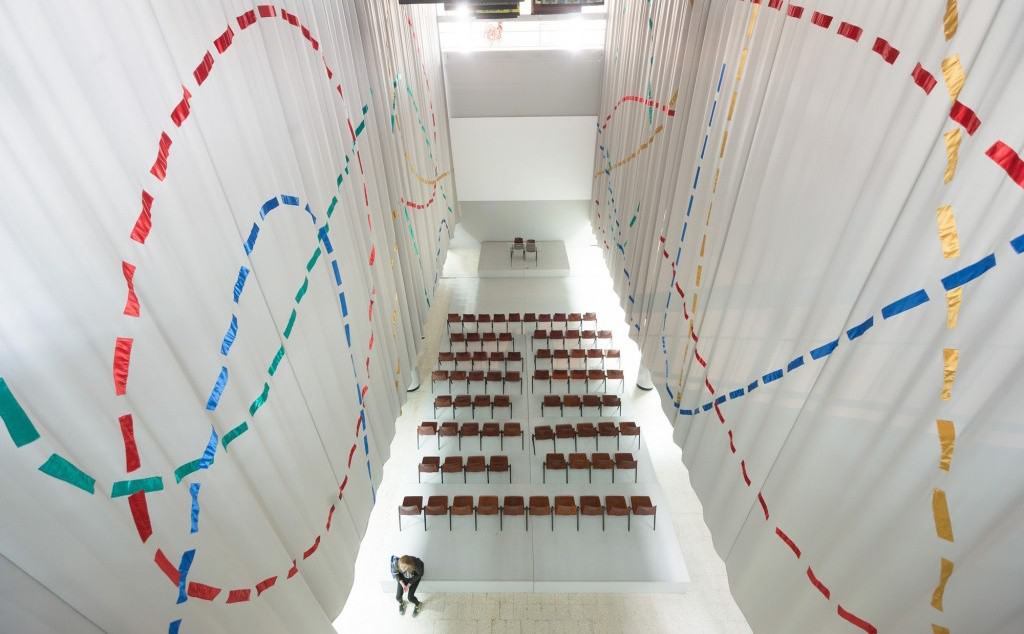 "I think all of the elements: scale, colour, shape, used materials and a performative element are interconnected. My regular practice consists of taking conclusions from previous works and to learn how to develop them."- says Alicja Bielawska
MW: Through tuning it to nature, the traditional process of clothing home would turn different interiors into living and evolving organisms. Nowadays, however, we live in a more homogenised world and our interiors do not adjust to particular seasons. Why is that?
AK: Living in the modern world, we got used to the fact that it is largely technology that ensures our well-being on a daily basis – we have central heating, plumbing, and often air conditioning. Regardless if we live in Warsaw or Dubai, we can still enjoy the optimal temperature of twenty-something degrees at our homes. Although it's clearly a great comfort, we encourage you to relinquish it at least partially. The change is similar to a person choosing seasonal diet – instead of eating strawberries in winter, we can abide by the nature's cycle and choose products ready for harvest in a given season. Dressing and disrobing our house according to the seasons will allow us to become more attuned to nature and its rhythm, to resonate more strongly with our surroundings.
AB: This approach is embodied by textiles displayed as part of the exhibit "The Clothed Home". For example, one of the pieces titled "Chodnik", which is made from recycled wool, denotes a variety of purposes attributed to textiles at home, as they are used in different ways. If they could no longer fulfil their utilitarian function, they were cut into striped pieces and sawn into a chodnik (rug).
MW: It seems that we've fallen more and more out of touch with the outside world. Do you think that parting ways with architectural design traditions supporting our bond with nature has deepened our desensitising to the climate change emergency?
AK: We have definitively dispensed with our inner barometer – it takes us longer to notice any changes in the environment if we're isolated from it by architecture. Traditionally, architecture based on low-tech solutions still harbours a plethora of compelling solutions, which might soon return to our graces. It's still inspiring to us and our new projects, such as a multi-material house in which each room is constructed from diverse materials, thus creating diverse microclimates to its inhabitants.
read also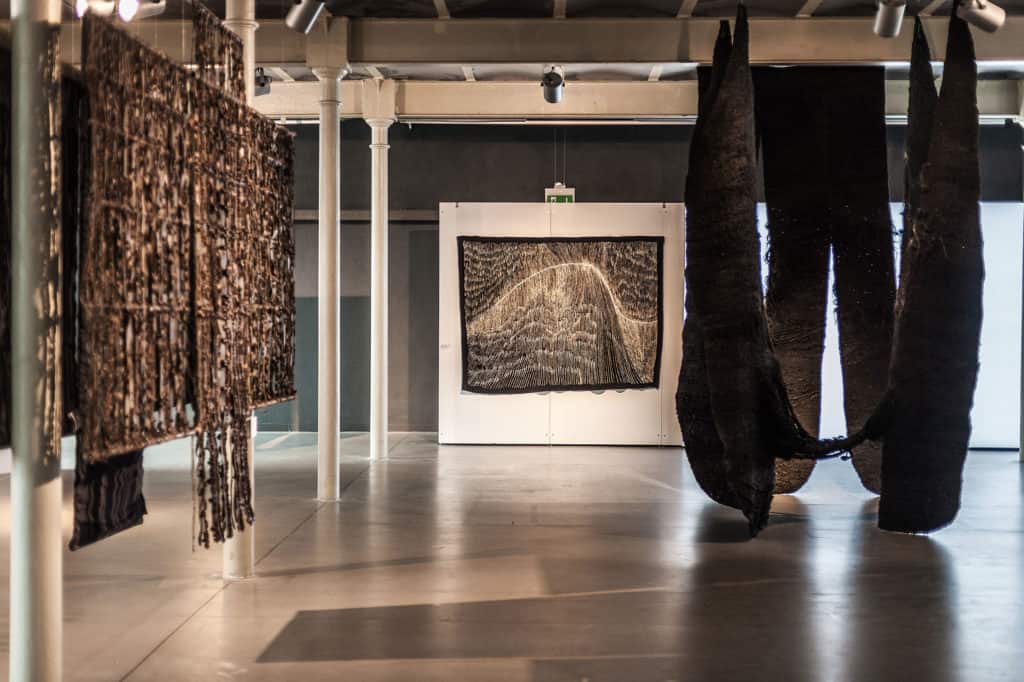 The International Tapestry Triennial is the oldest and the most important presentation of phenomena connected with the medium of textiles. We are talking to the chief curator of the festival Marta Kowalewska about the beginnings of the festival and the directions in which textile art could develop.
MW: Professor Sascha Roesler, an architect and theorist who authors an essay in the exhibition catalogue, examines these non-artificial, passive ways of controlling climate. He firmly believes that returning to them is inevitable. Do you think that people care about their relationship with the outside world strongly enough to resign from conveniences offered by modernism in favour of returning to discomfort?
AK: Partially, yes. It's evident from our engagement in climate protection movements, such as Extinction Rebellion, or our decision to go somewhere by train instead of a plane – though it's still a drop in the ocean pertaining only to a certain group of people. In addition, you can't really force someone to completely resign from comfort provided by modern technology, that's just not our intention. I agree with Sasha Roesler who maintains that a return to more conventional solutions might prove a necessity in the future – technology can be unreliable and related to a financial and social status due to unequal access. It's designed to operate only within the pre-programmed parameters as proven by the Texas' deep freeze last February. The world is becoming more and more unpredictable. It's worth preserving these traditions, nurturing one's memory of conventional solutions because at some point they might come in handy. Nonetheless, our exhibition also has a less despondent dimension – it encourages viewers to rescue the use of textiles in interiors from obscurity and relish in the natural change of seasons, which hasn't faded away yet. A sense of wonder over the world, fostered for instance by textiles placed in our homes, can restore our connection with nature.
AB: Comfort absolves us from many things. It enables us to gain more time, but also lose quite a bit. From my own experience, I can tell that it's worth changing our old habits and create new rituals for ourselves that would allow us to gain a fresh, more engaged and attentive perspective on the world. These are also quite mundane things. For instance, I switch the heating off for the night in the winter and, when I get up in the morning, I feel cold, so I put my feet on the rug, open the curtains, feel warmer and more awake thanks to the light, watch the weather etc. These things can be seen as a nuisance, or else viewed as small rituals that enable us to notice how light and temperature fluctuate throughout the day. We gain sensitivity to minute changes.
---
Alicja Bielawska, Centrala (Małgorzata Kuciewicz, Simone De Iacobis), Aleksandra Kędziorek
The Clothed Home: Tuning In to the Seasonal Imagination,
The Polish Pavilion at the London Design Biennale 2021 (Somerset House), June 1–27, 2021