What should ideal architecture be like? Vitruvius seems to have found the answer to this question as early as in the 1st century BC when he elaborated on beautiful, functional and durable architecture in his treatise entitled 'The Ten Books on Architecture.' These are the very universal features that have constituted the guiding principles for eminent architects until the present times. Nevertheless, if anyone wants to create truly modern structures, they should not only bear in mind the three universal features but also integrate something experimental and show respect for nature and traditions in their designs. Thinking out of the box will help too.
Exhibition
On 16 December 2021 the exhibition entitled 'Kengo Kuma. Experimenting with Materials' was opened at the Manggha Museum of Japanese Art and Technology in Kraków. Architectural designs by Kengo Kuma – a prominent and talented Japanese architect – will be presented to the visitors until 3 May 2022.
Whoever visits Europe – Far East Gallery of the museum will be available to admire the latest and experimental designs by Kengo Kuma, which encapsulate his architecture philosophy. In addition to the exhibition, an installation entitled 'The Cloud' is presented, designed by members of the Kengo Kuma studio in cooperation with the community of the Faculty of Architecture and Fine Arts at Andrzej Frycz Modrzewski Krakow University.
Architect
Kengo Kuma (born in 1954) is one of the most recognizable architects of Japanese origin. The artist intensely draws from the local tradition, but despite this fact, he has never limited himself to a specific geographical area. His works can be found practically everywhere around the globe, for example in the cities such as Tokyo, Sydney, Milan and many more.
As he often says, he strives to 'reclaim the material.' This is why he gives up on the omnipresent, cold concrete and replaces it with wood, which used to be utilized as a building material so much earlier than the times historians managed to document. He shows his respect for nature and local traditions in all his works. He also skillfully blends the past with the present times.
Boxes
I usually become tired while reading too long descriptions provided at the entrance to exhibitions. Most often, I merely skim them and wriggle about impatiently as I cannot wait to see what I came for – the exhibited items. My experience was very different this time around. It was probably the first description or written introduction, which appealed to me so much that I remained in place for longer. It was because the text itself referred to the reality of the present times. It touched upon the pandemic.
It asked questions. How did our perception of architecture change during the coronavirus pandemic? Do we view architecture in the same way as previously? Will the pandemic influence new architectural designs? It turns out that buildings, referred to as 'boxes' in the introductory text, are a danger for us at the moment. Architecture closes us up within four walls. It aggravates the risk of getting infected. This is neither functional nor beautiful surrounding. But what can people do about it?
Kengo Kuma proposes a solution. He is not so naive to believe that all concrete boxes can be smashed, but he tries to make a change regardless. The artist believes that buildings do not necessarily have to be closed off, but they can rather 'open up' to humans and nature. They do not necessarily have to be dangerous, unpleasant and functional spaces, but they can slot into a unique, local jigsaw puzzle where architecture and its users are pieces fitting in nature.
Most recognized designs:
The Exchange, Sydney, Australia
This 'wooden community centre' located in downtown Sydney is one of the most recognizable designs by Kengo Kuma. From the outside, it resembles a nest, and inside it feels like a cosy cocoon. The building is wrapped in wooden ribbons made of very durable Accoya timber. It undoubtedly stands out among the tall residential buildings that surround this civic centre. Kengo Kuma rebels against austere tower blocks and refers to nature as our roots, thereby successfully designing a visitor-friendly building. This civic centre gives a plenty of shade and provides a cosy ambience, but at the same time, it fulfils its underlying functions, thus integrating and uniting people. Inside we can find a restaurant, a library and a childcare centre. These are all spaces where people can meet and socialize, which is exactly what we were missing when we spent time closed inside our 'box houses.'
Hans Christian Andersen House of Fairy Tales, Odense, Denmark
This project is still at the design stage. It is meant to commemorate the great writer in his very own hometown. The museum will be a secret garden combined with modern architecture, where every visitor will feel like The Little Mermaid or Thumbelina. The entire design will encourage visitors to immerse themselves in Andersen's tales using all of their senses. Visitors to the museum will not learn the story of the life of this famous writer, but instead, they will blend with the universe he created. Through his architecture, Kengo Kuma intended to present the dualism of fairy tales. The light and the dark, the good and the evil, a human being and an animal. All these elements constitute a world where architecture is combined with nature to develop a completely new story.
New Japan National Stadium in Tokyo, Japan
All sports stadiums around the world look alike at first sight. There is an elliptical or circular space in the centre, stands for spectators and an opening in the roof which lets the light in, just as oculus did in ancient temples. However, even such seemingly simple and standardized functional building can be designed so it does justice to local traditions. Kengo Kuma designed the stadium in Tokyo for the 2020 Summer Olympics after the previously selected design by Zaha Hadid was eventually rejected due to excessive costs of construction. Kengo Kuma utilized a wooden skeleton construction and decorative elements resembling the traditional Japanese roof eaves. Certain areas of the stadium feature plants and even trees. Therefore, it is yet another example of architectural design where Kengo Kuma combined tradition, natural materials and flora. He created a sanctuary of sport where the athletic power of humans combines with the power of nature.
Odunpazari Modern Art Museum, Eskişehir, Turkey
The philosophy of architecture followed by Kengo Kuma incorporates respect for unique features of the place where the designed building is to be erected. Odunpazari is a region where trade in construction timber used to flourish. Small wooden houses, built at the time of the Ottoman Empire, can still be found in the vicinity. Although the museum building is quite large in general, its constituent parts are of the size that does not intimidate humans. Individual asymmetrically arranged pavilions are low. Their horizontal shape is accentuated by horizontally aligned wooden beams with narrow spaces in between, through which streaks of light illuminate the interiors. Thereby light becomes an integral part of the architectural design.
Stone Museum, Nasu, Tochigi, Japan
Timber is adominant in most of the designs by Kengo Kuma. It makes us think about the Japanese wabi-sabi philosophy which focuses on natural, simple interiors with only organic materials and no artificial elements. Stone is another natural, organic material that Kengo Kuma uses in his projects. It is much colder and unapproachable than wood, but on the other hand, it has a unique power of introducing harmony where it is lacking. Stone Museum combines the old rice granaries with Kengo Kuma's modern architecture. Locally-sourced Ashino tuff was used for construction. When it is fired at an appropriate temperature, it changes colour. This characteristic was what allowed to enliven the project. The museum is located far from the city's architecture. It is a quiet and minimalist building that gives its visitors an opportunity to stop by and contemplate the harmony of water, stone and air illuminated by sunshine.
References to Japanese traditions in smaller projects
In his works, Kengo Kuma seems to express an opinion that humans and architecture are a part of nature. In his projects, enormous respect for local space can be seen. He recognizes the value of the space in which he interferes as an architect. He shows similar respect towards his native history and traditions. The artist makes references to them in a large number of projects, even the small ones, not known to the wider public. Ginzan Onsen Fujiya hot springs in Obanazawa is where he utilized sumushiko – traditional Japanese bamboo folding screens. Sumushikos make the atmosphere of the place quite intimate as they protect it from light and allow for the building to open up to the surrounding landscape.
Another equally popular type of Kengo Kuma's projects are Japanese tearooms alluding to the sophisticated tea ceremony. They are traditional in nature but their form is very modern at the same time. In the Manggha Museum, I had an opportunity to see one of such projects on a scale of 1:1 – 'Floating Tea House.' It consists of a huge helium-filled balloon covered with the thinnest fabric – organza. The fabric creates a quiet and cosy space for a tea ceremony, which is not completely isolated from the surrounding landscape. Another tearoom presented at the exhibition is the "Oribe Tea House" made of thin plastic elements of irregular shapes. The asymmetrical, almost organic form is supposed to refer to the tradition of creating teacups that were imperfect. This and other elements of Kengo Kuma's designs can be associated with the wabi-sabi philosophy of the non-ideal.
Summary
The exhibition of works by Kengo Kuma and his projects really made my day peaceful. Architecture blended in nature, organic materials, minimalism and acceptance of not being ideal can calm you down and make you feel a constituent part of a big world. Such projects make us realize that humans do not have to destroy the natural world and 'subdue the earth.' In contrast, they and their architectural designs can be the world's inherent part. Apart from calming your nerves, the exhibition at the Manggha Museum can teach you a lot. Each design is accompanied by a detailed description, but nothing is said in excess. When visiting the exhibition, you will expand your knowledge on materials, Japanese traditions and unique local features of buildings erected in Japan.
I also received some behind-the-scenes information about significant difficulties with bringing the exhibits to Krakow, which the museum had to face. I admire the whole team for their perseverance and devotion in the difficult pandemic reality. I would like to sincerely thank them for assembling the exhibition at night and not getting enough sleep. All this effort was worth it. I strongly encourage everybody to visit the exhibition. This is a unique opportunity to see fascinating projects from around the world in a small space.
Written by Sara Dąbrowska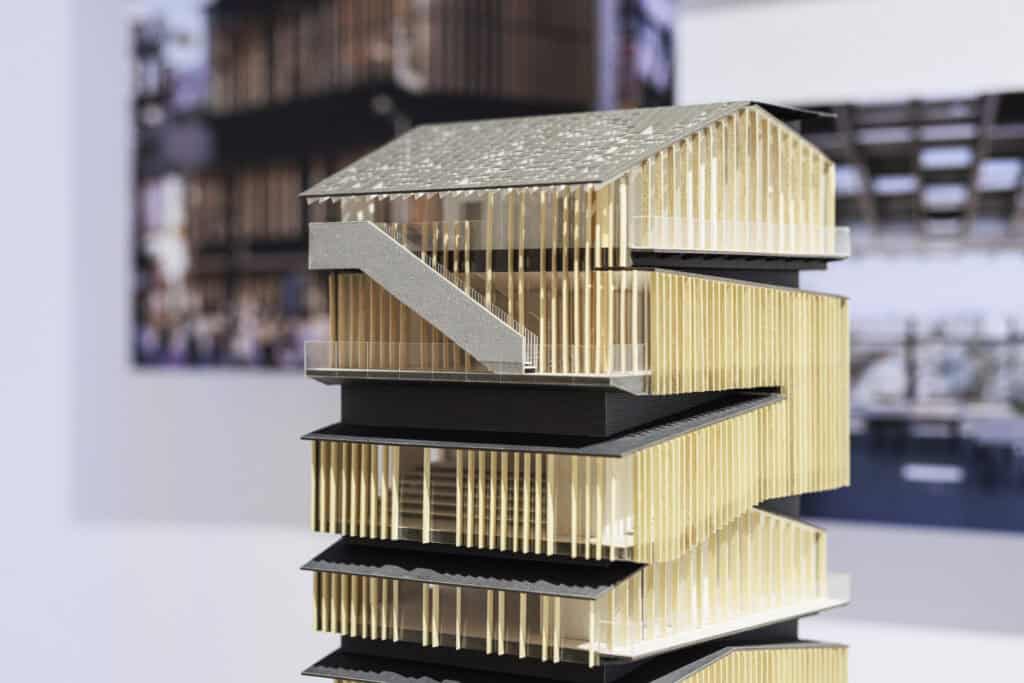 ,,Kengo Kuma. Experimenting with Materials" exhibition, Muzeum Sztuki i Techniki Japońskiej Manggha, photo Kamil A. Krajewski

,,Kengo Kuma. Experimenting with Materials" exhibition, Muzeum Sztuki i Techniki Japońskiej Manggha, photo Kamil A. Krajewski

,,Kengo Kuma. Experimenting with Materials" exhibition, Muzeum Sztuki i Techniki Japońskiej Manggha, photo Kamil A. Krajewski

,,Kengo Kuma. Experimenting with Materials" exhibition, Muzeum Sztuki i Techniki Japońskiej Manggha, photo Kamil A. Krajewski

,,Kengo Kuma. Experimenting with Materials" exhibition, Muzeum Sztuki i Techniki Japońskiej Manggha, photo Kamil A. Krajewski

,,Kengo Kuma. Experimenting with Materials" exhibition, Muzeum Sztuki i Techniki Japońskiej Manggha, photo Kamil A. Krajewski

,,Kengo Kuma. Experimenting with Materials" exhibition, Muzeum Sztuki i Techniki Japońskiej Manggha, photo Kamil A. Krajewski

,,Kengo Kuma. Experimenting with Materials" exhibition, Muzeum Sztuki i Techniki Japońskiej Manggha, photo Kamil A. Krajewski
Hungry for more?
---
Kengo Kuma. Experimenting with Materials
Europe – Far East Gallery
16.12.2021 – 03.05.2022
Curators: PhD Krzysztof Ingarden; Marcin Sapeta, KKAA's business partner.
The Manggha Museum of Japanese Art and Technology
ul. M. Konopnickiej 26, 30-302 Kraków