The art scene in Hungary is buoyant and diversified. Most of the action goes on in the capital city of Budapest. Unfortunately, Hungarian art institutions have been subject to Orbanisation for a few recent years. Directors and curators lost their jobs and were replaced by new people, while artists who eagerly commented on political and social issues were banned from continuing their activities. Initiatives that were not in line with the official political doctrine have no more opportunities to receive any funding. When I recently visited Budapest, I went to see the exhibitions at the Ludwig Museum and the Palace of Art, but I found them uninteresting. The topics presented were "safe" – Hungarian cinema and retrospective exhibitions of male artists who are currently active and often refer to classical motives.
It is, however, worth looking at more independent initiatives, festivals, and venues in Budapest because they are becoming increasingly powerful despite challenges. This year, Nikolett Eross organised OFF-Biennale, bringing together many independent stakeholders and venues presenting art. Barnabás Bencsik, a former director of the Ludwig Museum, established his very own Glassyard Gallery. Recently, the Q Contemporary opened its doors to visitors. It is the first private museum in Budapest founded by Queenie Rosita Law, an art collector from Hong Kong. The museum is housed in a 19th-century villa located on the stylish Andrássy Avenue and mostly presents pieces of modern art from Central and Eastern Europe. If you travel to Budapest, I highly recommend you visit the Art Quarter Budapest, which organizes exhibitions and residency stays, as well as PINCE, Trafó House of Contemporary Arts, Horizont Gallery, and Artkartell Project Space.
Today, I would like to present to you ten young Hungarian artists. I selected them based on my own subjective opinion, but I think they are the ones worth following.
An unquestionable star of the Hungarian art scene and of Instagram. Pictures of her objects could probably have been found in the feed of every user who has even the slightest interest in art. In recent years, this young female artist has presented her works in the most interesting European galleries, such as MeetFactory in Prague, Künstlerhaus – Halle für Kunst und Medien in Graz, Trafó Gallery in Budapest, Bunkier Sztuki in Krakow, and BOZAR in Brussels. But many more exciting events await her! Soon, Zsofia Keresztes will take part in the most prestigious art event you could imagine. Her exhibition, entitled After Dreams: I Dare to Defy the Damages, will be presented in the Hungarian Pavilion during the 59th Venice Biennale in 2022, and she will be the national representative of her country for this event.
Zsofia Keresztes creates surrealist sculptures with anthropomorphic and organic features and shapes. She likes to use bright, pastel colours, and the surface of her objects is covered with mosaics made of fine pieces. Her materials also include strings, fabrics, and random objects she finds herself, like chains or pieces of metal. Her works are on the brink of the real world and virtual or digital reality. The aesthetics she resorts to are being described as typical for millenials, because she rightly depicts the ambience of living between the Internet and our own conceptions and the peculiar reality.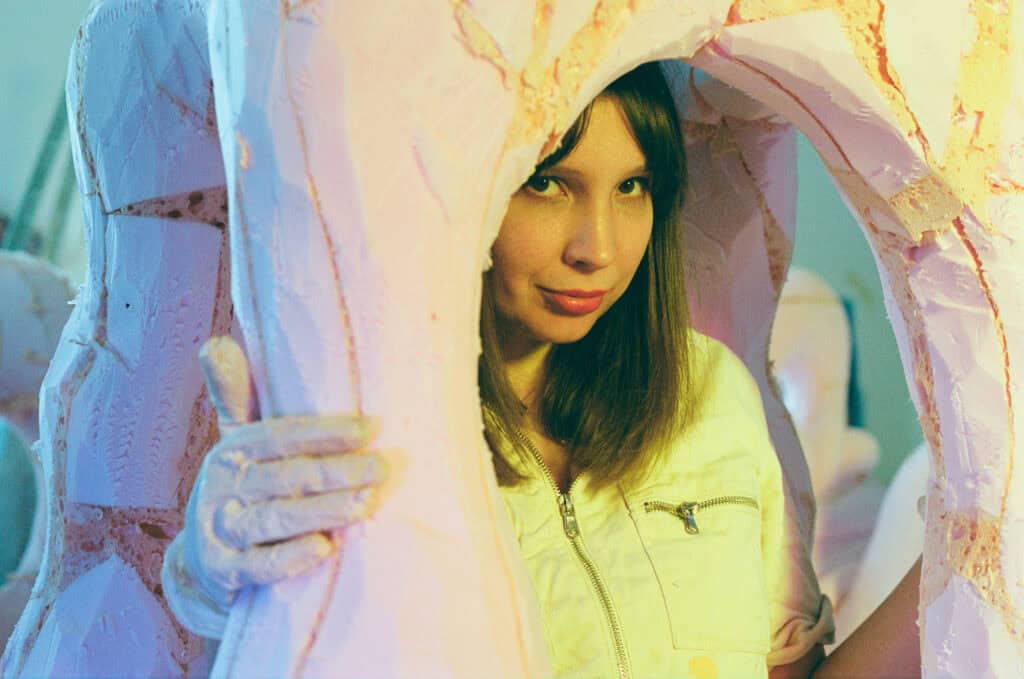 Zsófia Keresztes, photo: Biró Dávid

Zsófia Keresztes, photo: Dávid Biró

Zsófia Keresztes, Conquered Storage (2020), installation view at Parthenón- fríz Hall, Budapest, photo: Dávid Biró

Zsófia a Keresztes, Smallest in Common (2019), photo: Adrian Câtu, installation view at Art Encounters Biennial 2021
---
He graduated from the University of Fine Arts in Budapest a few years ago. He is probably the most nature-oriented Hungarian artist. He creates his own world in his sculptures, objects, drawings, and paintings—surrealist imagery and private mythology with aesthetics that derive from computer games, fantasy, and comic books. In his drawings, we can often see plants, insects, magical fungi, and bright portals leading us to other worlds. The artist is interested in mysticism and the fact that young people lose their identities by distancing themselves from old traditions and beliefs. The audience looking at dám Horváth's pieces witness a certain magical transformation and wizardry. The artist tends to select poetic titles for his works and exhibitions. This occurred in the case of his exhibition, I Found a Shelter at the River Shore, which was held at the Horizont Gallery. Alongside paintings, objects can be found in his exhibitions, that look as if they have been taken away from some horror movie set.
Adam Horvath, Conversation with the Moon, Acrylic on canvas, 90 cm x 70 cm

Adam Horvath, Night lurking, Acrylic on canvas, 50 cm x 60 cm

Adam Horvath
---
Marton Nemes is a totally new breed! This representative of abstract art, painter, and creator of objects, graduated from the Chelsea College of Arts in London and resides in the UK. His paintings are a real extravaganza of colour, most of them fluorescent, vivid, pantone and shining. Expression and emotions are characteristic of his works, which can also be associated with computer graphics and the Internet. The artist often ventures beyond what is traditionally understood as painting, in a very literal sense. In his works, there are holes, where canvas stretcher protrudes and, in an intricate way, become an element of composition. The artist often uses mirror boards and plexi boards cut with a laser as the ground for his paintings. Marton regularly paints with spray paint as he used to do back in the years he spent in Budapest as an active graffiti painter. The titles of his work series refer to certain phenomena connected with the Internet and related emotions, for example, F.O.M.O. (Fear of Missing Out) or Ghosting Love (ghosting means ending all communication and contact with another person online or in instant messaging apps).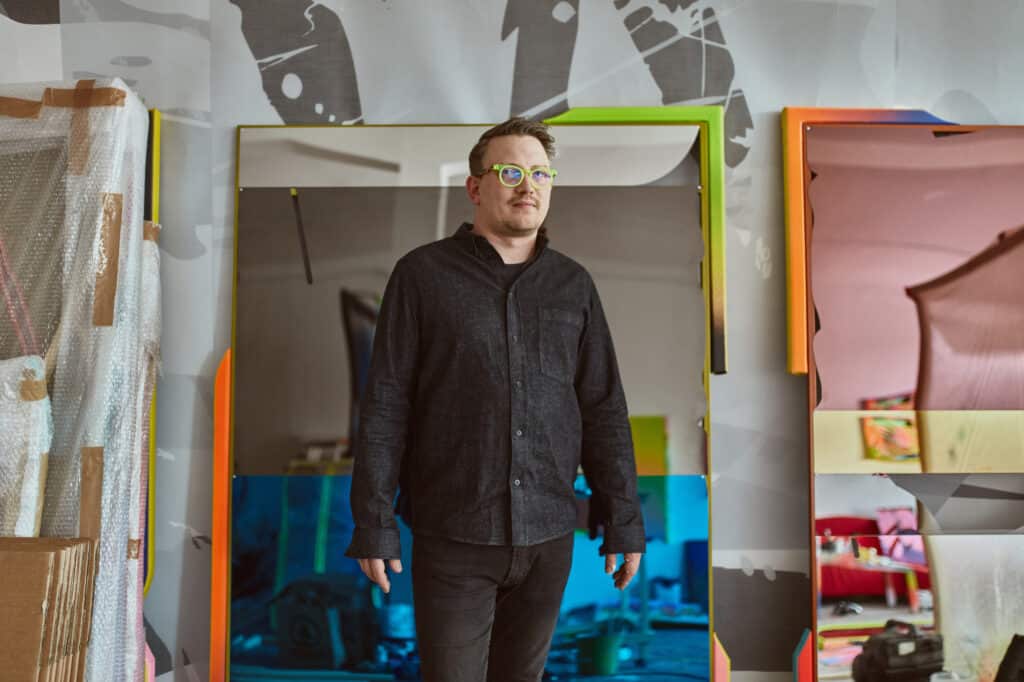 Marton Nemes, The Void Paintings

Marton Nemes

Marton Nemes, exhibition view

Marton Nemes, Tomorrow
---
Botond Keresztesi is a Romanian and Hungarian artist who mainly creates paintings, drawings, and installations. His paintings resemble works by Salvador Dalí and Giorgio de Chirico with Internet filters applied. They are surrealist, metaphysical, and dreamlike, but abound with references to the virtual world, emoticons, and representations of Internet pop culture, such as memes, games, and brands of various companies. These pieces are also teeming with figures seen in dreams, robots with the faces of people presented in the great painting masterpieces of the past, and all of them find themselves in a desert landscape. Figures referring to different symbolic systems are combined into a single, mashed composition. Botond is a quite popular artist, and exhibitions of his works are organized in galleries in such cities as Mexico, Berlin, New York, Malmö, Prague, and Dresden.
Botond Keresztesi

Botond Keresztesi

Botond Keresztesi
---
This female artist was born in Hungary, but she lives and works in Maastricht and Berlin. She creates installations, videos, performances, and drawings, refusing to limit herself to a single medium. In her works, she discusses her personal experiences related to living in a family and performing femininity. She also tells the audience how she perceives herself and her emotions. The topics of her works include psychological phenomena, such as phobias, social norms, fantasies, and expressing sexuality. I paid particular attention to her works on paper – drawings and paintings made with water paints in warm shades like reds, oranges, and pinks. At first sight, they just look like scribbles by a child or quick notes documenting reality, full of figurines, quotes, and unfinished sentences. Most of these works are analyses of sexual fantasies and female orgasm, which is why they are full of reproductive organs, breasts, and figurines in provocative poses. This world is, however, far from what we can see in magazines for men or in classical pornography, much less organized and beautiful. What we see in Andrea's works are simplified figures presented in strange, ecstatic poses.
Andrea Éva Győri, We don't see often our genital, watercolor and pencil on paper, 36 x 48-cm, 2016

Andrea Éva Győri

Andrea Éva Győri, By the weight of their breasts, Watercolor and pencil on paper, 210 x 297 cm, 2018
---
The duo of Lilla Lőrinc and János Borsos has been working together since 2008. The artists claim that Lorinc Borsos is a fictitious character whom they created, their talented child, characterized by contradictions and dualisms. There is no defined style that would be recognizable and characteristic of the duo. They rather constantly change trends and their "idols". They create objects that resemble magical and ritual items or fetishes. Their exhibitions are cohesive wholes that feature a variety of sculptures, installations, and neons. The artists often use objects they find by chance, which they combine into assemblages.
Borsos Lőrinc duo, Paradise Lost

Borsos Lőrinc, Mask

Borsos Lőrinc, 2019, Installation,
Polistyrol, animal skin/fur, goat horn, plants, rope, enamel paint, water, steel, tile, wood, flashlight, audio, 270 x 270 cm

Borsos Lőrinc, Herma

Borsos Lőrinc, Bifurcation
---
This female artist was born in São Paulo, Brazil, but she graduated from the art studies programme in Budapest, where she currently lives and works. Usually, her exhibitions are extensive and coherent installations that combine objects made of marble, ceramics, and fabrics. They are stylized so that they look like historical objects created by some extinct tribes or representatives of old cultures that would have been found during archaeological excavations. Sári Ember is a creator of installations. Every element is sand-coloured, which looks very natural. The objects are mostly oval or cylindrical in shape, and their surfaces are polished. The artist often uses the archetypal image of a simplified and gender-neutral face. She presents eyes, lips, and noses. Her works derive from her personal reflections on objects and the way they represent the private life stories of their owners. Sári organized one of her exhibitions in her grandmother's flat. She combines everything I mentioned with her reflections on how other cultures are presented in museums and what strange, overstylized objects are being used for this purpose. Her exhibitions look like museum halls, graveyards, or excavation sites.
Sari Ember, Vase with garden and buried figure,
2021, 52x27x27 cm, ceramics

Sari Ember, Two lying figures at fire, 2021, 43×32,5×0,6 cm, ceramics

Sári Ember, Leporello with lying figure in green, 2019,
marble, 53x170x35 cm
---
She studied photography at the University of the Arts London and continued her studies in this field at Moholy-Nagy University of Art and Design in Budapest. In addition, she studied spatial design at the Universität der Kunste Berlin. She works with photography, installation, and sculpture. In fact, she combines all of them to create hybrids of techniques. She is focused on colour and abstraction, and she uses techniques characteristic of digital photography and photo editing. She often uses colour gradients and creates objects from foil and plastic that look like crumpled photographic film or filters. She is also interested in modern Internet goth subculture, the aesthetics of computer games, and the recurrent tribal motif, whose shapes she cuts out with a laser. In her works, the artist presents her emotions and traumas, using the language of poetry to talk about them.
Szilvia Bolla, Exoskin (detail), luminogram UV-print on thermoplastic, metal, 170x150x30 cm, 2018, Excavating Darkness, Trafó Gallery, photo by Krystyna Bilak

Szilvia Bolla, Photo Objects I, luminogram UV print on thermoplastic 60x50x30 cm, 2016, University of the Arts London

Szilvia Bolla, Photo Object VII, luminogram UV print on thermoplastic 60x50x20cm, 2017
---
This artist was born in Germany, but he lives, and works in Budapest. He works with various media, namely video, installation, sculpture and photography. The topics that are of particular interest to him include ecology, new realism, and new materialism. Gideon Horváth also eagerly explores queer culture and LGBTQ community-related themes, which are forbidden to discuss according to the doctrine popularized by Hungarian conservatives. In his most recent series of works, the artist depicts the mythological figure of a faun as well as a vouge dance that used to be popular among the LGBTQ minority in the US in the 1980s. Gideon's sculptures are made of beeswax, which is why they are extremely fragile. These are the sculptures of fruit, insects and shapes that resemble male and female genitals. The artist presents them not only in a white cube, but also in a garden, thus enriching them with another context. Together with Rita Süveges and Anna Zilahi, he is a co-founder of a group called xtro realm, which organizes exhibitions, workshops, and reading groups on the topics of new realism, climate catastrophe, and environmental problems.
Gideon Horváth, Opulence you own everything, photo by Gideon Horváth

Gideon Horváth, Faun with a hard on looking into the advanced future, photo by Dávid Bíró

Gideon Horváth, Faun realness Enterieur, photo by Dávid Bíró
---
She graduated from the University of Fine Arts in Budapest, where she studied painting. Despite this fact, she works with several different media. Her works are usually based on extensive research on various social issues. She is interested in feminist theory, the situation of women, traditional norms, Hungarian folk culture, and the history of witches. One of her most interesting exhibitions took place in Karlin Studios in Prague and was entitled Power Must Grow, If It Doesn't Grow It Rots. Dominika created drawings and paintings on paper and presented them in an installation; drawings were attached to transparent PVC boards hanging on the ropes attached to the ceiling, and some of them were connected by a tangled net. A centrepiece in the exhibition space was an object that resembled a marble-veneered altar or desk, on which Dominika's painting was placed. In one of the drawers, we could see a sheet of paper filled with writing explaining the artist's relationship with fashion accessories from the 1990s. The exhibition served as a visual narrative of the relationship the artist has had with feminism for over 10 years.
Dominika Trapp, Intestinal Villi of Chris Kraus

Dominika Trapp, Power must grow, If it doesn't grow it rots, 2020

Dominika Trapp, Power must grow, If it doesn't grow it rots, 2020

Dominika Trapp, Power must grow, If it doesn't grow it rots, 2020
read also
Contemporary Lynx presents TOP 5 Hungarian artists, balancing between Nick Bostrom's simulation theory and an innate sense of reality, and demonstrating their own approach to time and space in their works.