[polska wersja językowa poniżej]
For several years now, there has been a lively debate about the future in relation to many factors: environment, economy, social policy, and technology. In a reality in which discussions about artificial intelligence, cryptocurrencies or commercial space flights are gaining popularity, we would like to pay particular attention to the arts and culture sector. On this basis, we have joined forces to outline potential future developments, opportunities, issues, actions, needs, and changes that we may witness in our lifetime. Can we foresee the changes ahead? 
Nature, culture, and technology
The first step in the discussion on the future of art is the cover featuring the work of Patricia Piccinini, an artist whose artistic practice focuses on exploring the boundaries of science and technology through her sculptures, photographs, videos, and installations. In our conversations with Patricia Piccinini and Angelika Markul we explore the importance of the relationship between nature, culture, and technology.
For this issue we invited six art curators and institutional directors from all over the world to select the most important artist who had a real impact on the last decades. The article mentions names such as Lina Lapelytė, Ciprian Mureşan, or Jean Tinguely. We also take a look at future museums and the way technology alters our experience of culture, art, and education. You will have the opportunity to take a closer look at the works by Katja Novitskova, who focuses on evolutionary processes, digital imagery, and corporate aesthetics. Especially for our readers we interviewed Christian Ward, the Head of Multimedia at Stylus, who oversees research, reporting, and presentations on emerging trends in marketing, advertising, culture, and media.
Lem, Tarkovsky and Kieślowski
In this issue we continue to discover the world of the film and theatre industry. In 2021 we celebrate the centenary of the birth of Stanisław Lem, on this occasion we recommend an essay revolving around 'Solaris' by Lem and its adaptation for the big screen by Andrei Tarkovsky. What's more, our series on the Great Directors gives you a unique opportunity to take a look at the previously unpublished script 'Baby' by Krzysztof Kieślowski.
Inside the magazine, you will also find articles about:
NFTs and their place in the art world;
Sustainable fashion and young up-and-coming designers;
The role of female photographers;
The role of the arts in an ageing society;
Art Branding;
Art and culture in Vilnius;
Art movements of the last decade.
We hope You'll find the new issue of Contemporary Lynx Magazine as fascinating as we believe it is. If You'd like to buy the paperback version order it here.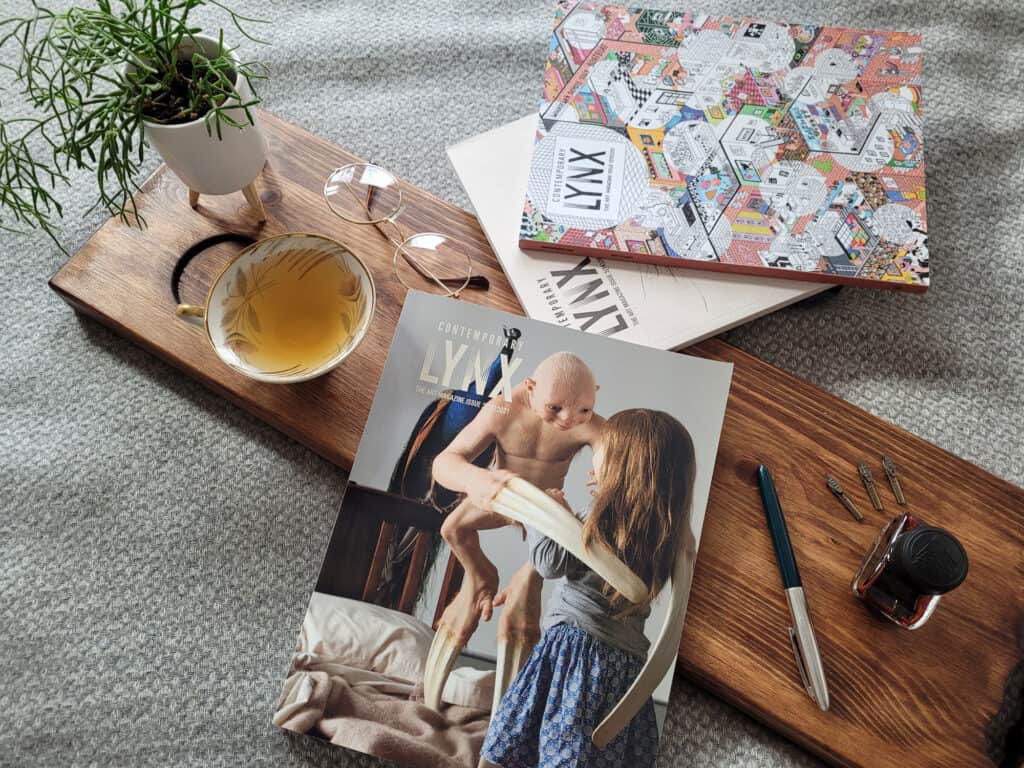 Why is it worth choosing our print magazine?
Contemporary Lynx Magazine is a cult brand on the market that enjoys prestige and unwavering success. The ineffable charm of our publication lies in its tangible artistic and intellectual dimension. Each issue contains a theme and a unique cover created in close cooperation with top artists. Printed on the best quality paper, it appears at the most important art fairs in the world and in art bookstores around the world.
Subscribe for 18 GBP or 22 EUR and receive:
Two issues with 15% discount over the cover price;
10% discount in store and 30% discount on back issues;
Our unique gift and cotton bag;
Delivery straight to your door.
---
Magazyny o kulturze na długie wieczory
to niewątpliwie ciekawy sposób na spędzanie czasu.
Czy chcesz się dowiedzieć, jak będzie wyglądać sztuka
w 2050 roku?
Już od kilku lat trwa ożywiona debata na temat przyszłości świata kultury w kontekście środowiska, gospodarki, polityki społecznej i technologii. W rzeczywistości, w której coraz większą uwagę przykuwają dyskusje o sztucznej inteligencji, kryptowalutach czy komercyjnych lotach w kosmos, chcielibyśmy zwrócić szczególną uwagę na to co dzieje się w sektorze sztuki i kultury.
W najnowszym numerze poznacie potencjalne kierunki rozwoju, szanse, problemy, działania, potrzeby i zmiany, których świadkami możemy być w przyszłości. Czy jesteśmy w stanie przewidzieć nadchodzące zmiany?
Natura, Kultura i Technologia
Pierwszym krokiem w dyskusji na temat przyszłości sztuki jest okładka przedstawiająca pracę Patricii Piccinini, artystki, której działalność artystyczna koncentruje się na badaniu granic nauki i technologii. W rozmowach z Patricią Piccinini badamy znaczenie relacji między naturą, kulturą i technologią.
Artyści, którzy wywarli znaczący wpływ na ostatnie dziesięciolecia.
Do najnowszego numeru zaprosiliśmy sześciu kuratorów sztuki i dyrektorów instytucji z całego świata, by wybrali najważniejszych artystów, którzy według nich wywarli znaczący wpływ na ostatnie dziesięciolecia. W artykule pojawiają się takie nazwiska jak Lina Lapelytė, Ciprian Mureşan czy Jean Tinguely. Przyjrzymy się również muzeom przyszłości i temu, jak technologia zmienia nasze postrzeganie kultury, sztuki i edukacji.
Będziecie mieli okazję przyjrzeć się bliżej pracom Katji Novitskovej, której twórczość koncentruje się na zagadnieniach związanych z technologią, procesami ewolucyjnymi i obrazem cyfrowym. Specjalnie dla naszych czytelników przeprowadziliśmy wywiad z Christianem Wardem, szefem działu multimediów w firmie Stylus, który nadzoruje badania dotyczące pojawiających się trendów w marketingu, reklamie, kulturze i mediach.
W tym numerze kontynuujemy też odkrywanie świata przemysłu filmowego i sceny teatralnej. W 2021 roku obchodzimy setną rocznicę urodzin słynnego polskiego pisarza jakim był Stanisław Lem. Z tej okazji polecamy esej poświęcony "Solaris" Lema i adaptacji filmowej tegoż, której autorem był Andrei Tarkovsky. Bohaterem cyklu "Wielcy Reżyserzy" będzie tym razem Krzysztof Kieślowski. Zaprezentujemy scenariusz do filmu dokumentalnego pod tytułem "Dziecko", który na łamach naszego magazynu po raz pierwszy zostanie zaprezentowany publiczności.
Ponadto w magazynie przeczytacie o:
NFT i jego roli w świecie sztuki;
zrównoważonej modzie i projektujących ją młodych projektantach;
roli kobiet w fotografii;
roli sztuki w starzejącym się społeczeństwie;
art brandingu;
artystycznych miejscach na mapie Wilna;
Zainteresował Was nowy numer Lynxa? Gdzie kupić papierową edycję magazynu, spytacie? Magazyn można nabyć w naszym sklepie Lynx Concept Store. Zamawiając prenumeratę za 45 złotych i otrzymasz dwa kolejne numery magazynu (to aż 15% rabatu). Dodatkowo, w prezencie oferujemy 10% rabatu na zakupy w naszym sklepie internetowym oraz 30% rabatu na archiwalne numery magazynu; Oraz specjalny prezent – piękną bawełnianą torbę z autorskim nadrukiem pracy artystki Paola Ciarski.
Dlaczego warto wybrać właśnie nasz magazyn?
Contemporary Lynx Magazine to kultowa marka na rynku, która cieszy się prestiżem i niegasnącym powodzeniem. Niedoparty czar naszego wydawnictwa polega na jego namacalnym artystycznym i intelektualnym wymiarze. Każde wydanie zawiera temat przewodni oraz unikatową okładkę tworzoną w ścisłej współpracy z topowymi artystami. Drukowany na najlepszej jakości papierze, pojawia się na najważniejszych targach sztuki na świecie oraz w księgarniach artystycznych na całym świecie.