[polska wersja językowa poniżej]
The Dłużniewski family's atelier is located in Warsaw's Old Town (Starówka). Emilia Dłużniewska and Kajetan Dłużniewski, wife and son of the late artist Andrzej Dłużniewski, talked about the history of that place. It is a fascinating story of a space which was once regarded as a place hallowed by art, a space where visions intertwined, and a sphere of the artistic sacred. Our conversation has proved that the Dłużniewskis' atelier is constantly changing and evolving, and is bound to surprise us on multiple occasions.
Julia Gorlewska: The Dłużniewski family's atelier is situated at Freta Street in the Old Town in Warsaw. When did your story begin in this place? How was the atelier established?
Emilia Dłużniewska: It all began fifty years ago, in 1969 to be exact, soon after the graduation from the Academy of Fine Arts when my husband and I got a message about a vacant loft at Freta Street. In the beginning it was actually "a black hole" without any windows, floors, or fittings. In time, when we managed to renovate everything and arrange all the administrative matters, we were able to return to our artistic activities. I made fabrics, my husband started his university work and at the same time, he worked here, in the atelier. Two years ago, it was given the status of a Warsaw Historic Art Atelier.
JG: Let's talk about Andrzej Dłużniewski. A lot of people believe that his multi-layered artistic work based on various media escapes unambiguous classifications. How would you describe his artistic activities?
ED: My husband was very talented, aware of his creativity, and he used to say that art was a matter of spirit. He did not limit himself to one sphere of art and that is why his creative work accumulated photography, sculpture, painting, and poetry. It made him difficult to pigeonhole. It is also the reason why there are relatively not many publications about him.
JG: A lot of art historians, including Anda Rottenberg, admit that they have never written about him because, as Ms. Rottenberg put it, "nobody was able to speak about his works and to put his thoughts in words better than the artist himself".
ED: He shared his artistic vision with the students of the Academy, he encouraged creative freedom and experimenting. His goal was to make people aware that art is also about the joy and creativity which should not be categorised or restricted.
As I already mentioned, he tested numerous techniques adequate to the ideas he wanted to express, except performance perhaps. He made one in Cologne, but it was hopeless.
JG: Art ateliers used to be perceived as a sphere of the sacrum of art – places hollowed by art, interpretations of ideologies. As Bożena Czubak aptly noted, this concept is beginning to atomise, to digitalise. I get the impression that despite the years which have passed, the space you created is still evolving and thriving. What is happening here at the moment?
Kajetan Dłużniewski: I have been carrying out my father's projects since 2007. The accident which resulted in the loss of his eyesight was the culmination of his work. At first my mother and his former student developed his work. It all changed during a symposium in the Akademie Schloss Solitude in Stuttgart. I went there with my father as a carer and companion. The things took a different turn and eventually I became the one to carry out his projects, which initiated my own artistic activities. It was a breakthrough moment for the both of us. After my father died, I began my creative work, still referring to our conversations, to everything that was happening here in the atelier, to our cooperation and its influence on our relations. Every conversation with my father was unique and worth remembering.
ED: My son recently had his exhibition at Studio F7 on Chełmska Street in Warsaw but unfortunately the pandemic affected its course and restricted its reception. His father would be proud of him. Kajetan developed his own style, sometimes inspired by and calling back to his father's work.
You asked about the atelier – this place is a representation of our entire lives, both the professional and the private ones; we keep photos of our pets, friends and family members here. It can be said that it became a form of our biography which is still being written.
JG: I can guess that the political system of the time was a huge restriction for artists back then. In the film entitled "Kurz na muszli" [Dust on a Shell], you mention your husband meeting with Nam June Paik during the Internationales Künstlergremium in Germany. Andrzej asked him to come to Piwna Street where you were conducting your exhibition activity. Despite being eager to go, Nam June Paik refused because he did not want a communist stamp in his passport. What greatest difficulties did you encounter from the communist regime in Poland? Did it affect the functioning of the atelier?
ED: The regime affected every sphere of our life. Together with my husband, we were trying to focus on our own creative work as much as possible and it was an antidote to the surrounding reality. The communist system hindered travel and contacts with the West. We had to be careful what words we were using because of the censorship – every document had to be approved. We were never actively involved in politics. Art was what we wanted to focus on, not politics.
JG: You were raised in this space – how did growing up look like with artists as parents, in a place where great renowned poets and artists would meet? How do you recall this space from the perspective of a child?
KD: Most often I was taken to my grandmother's but sometimes I would take part in meetings here (which I always enjoyed). It was a huge attraction from the perspective of a child. Bear in mind that I was growing up during the communist times. In that grey and boring daily routine, my parents' meetings with artists, writers, or art critics were extremely fascinating because they were incredibly colourful characters.
JG: Let's talk about the figurines made after Andrzej lost his eyesight – the Geonauts. Wax human figurines your husband wrote about twice in his book entitled "Odlot" are characterised by a perfect representation of proportions and movement1. Can they be regarded as a type of therapy after the accident? What was their message back then and what is their current message?
ED: Despite the tragic situation after the accident, my husband's creativity gained a new dimension and, paradoxically, it was the most prolific period of his creative work. Andrzej has always had a rich inner life and at times he would simply forget that he was blind (at least that was what he'd say). Of course, he had his bad moments but it was insignificant when compared to the number of projects he carried out at the time. In one of interviews he compared his artistic activities to a "flash from a mental cloud". That was the nature of his work – he saw the sense of art in ideas, not in the structure itself. Despite the accident, he retained his sense of humour, was very creative, and had "thousands of ideas a minute". At the same time, he gave a chance to Kajetan to prove himself as an artist. My husband used to say: "I had my eyesight for 58 years, and that's enough".
KD: As to the Geonauts – a few of them decorate the interior of our atelier to this day. Because the entire series of the figurines was created in the "after the loss of eyesight" period, the Geonauts have always been related to the theme of blindness. When my father was still alive, we started cooperating with the Chance for the Blind Foundation which to this day has been awarding the Geonaut figurines to sight-impaired people for special achievements and merit. They were also showcased at my father's exhibitions multiple times. One time a figurine was stolen – a visitor put it in his mouth and escaped. My father laughed at that a lot.
read also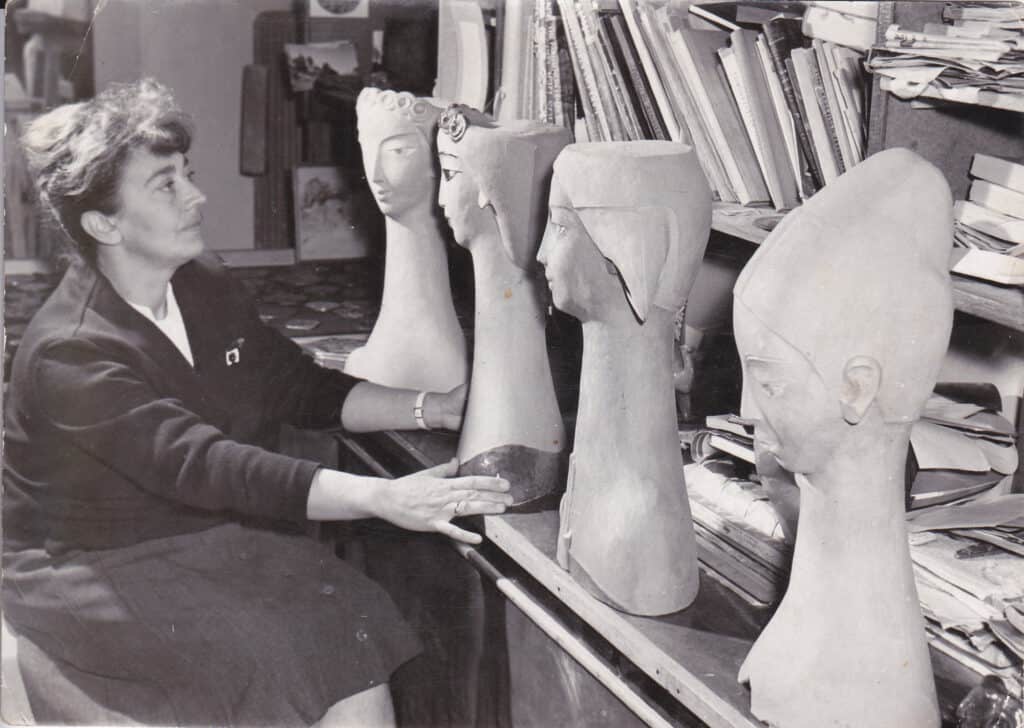 The atelier where Wanda and Józef Gosławskis worked is situated in Saska Kępa in Warsaw. Anna Rudzka, the couple's daughter, and Tadeusz Rudzki, their grandson, talked about the history of the place and the artists.
It was particularly valuable to me to take a closer look at the extensive body of works by Wanda Gosławska, who is still not a household name.
JG: Ending the activities on Piwna Street, Andrzej's accident – all of these factors had an impact on the specific development of this place whose history continues on. What do you think of it today?
ED: The atelier is our joint work where we were both developing in creative and professional terms. Our son joined us in time and he is still working here, continuing the story of the place.
KD: As I already mentioned, my creative work is a representation of the surrounding reality – words, gestures which are still present in this space. Working with my father was often an emotional experience – at first I was doing everything with my hands shaking (especially during the Stuttgart scholarship). Our cooperation fostered our relations which are often visible in my paintings. My father was very creative, we needed to keep up the pace with his ideas, he was impatient at times but we always managed to reach a consensus. He taught me to think outside the box and to join various art forms freely. Academy students often find it difficult to classify their work, struggle to choose a direction and focus on one medium only. I did not experience this and I think that it was very beneficial to me. Observing my father's work, I learned to perceive art in an open-minded way, as a sphere of experimentation free of any restrictions.
As to the future of the atelier, I believe that it will never be only an exhibition space due to our work here. However, if you arrange a visit in advance, me and my mother will be happy to show you the atelier and talk about it. We have a lot of ideas and projects we would like to carry out. The atelier has always been vibrant, there has always been something happening here and it seems that it is bound to stay like that.
---
Z wizytą w pracowni Dłużniewskich
Pracownia Dłużniewskich znajduje się na warszawskiej Starówce. O dziejach tego miejsca opowiedzieli mi Emilia i Kajetan Dłużniewscy – żona i syn nieżyjącego już artysty Andrzeja Dłużniewskiego. Jest to fascynująca historia przestrzeni, która niegdyś uchodziła za miejsce uświęcone sztuką, przeplatania się wizji, sferę artystycznego sacrum. Nasza rozmowa poświadcza, że pracownia Dłużniewskich wciąż się zmienia, ewoluuje i niejednokrotnie jeszcze nas zaskoczy.
Julia Gorlewska: Pracownia rodziny Dłużniewskich znajduje się przy ulicy Freta na Starym Mieście w Warszawie. Kiedy zaczęła się tu Państwa historia? Jak doszło do powstania pracowni?
Emilia Dłużniewska: Wszystko zaczęło się pięćdziesiąt lat temu, a dokładnie w 1969 roku, czyli tuż po ukończeniu Akademii Sztuk Pięknych, kiedy dostaliśmy z mężem wiadomość że przy ulicy Freta jest wolny strych. Wprawdzie na początku była to "czarna dziura" bez okien, podłóg i instalacji. Z czasem, kiedy udało się nam wszystko wyremontować i załatwić liczne formalności administracyjne, zajęliśmy się kontynuacją naszej działalności artystycznej. Ja robiłam tkaniny, mąż rozpoczął pracę akademicką, a jednocześnie działał tu, w pracowni. Dwa lata temu miejsce to uzyskało status Warszawskiej Historycznej Pracowni Artystycznej.
JG: Porozmawiajmy o Andrzeju Dłużewskim. Wielu uważa, że jego wielowątkowa i rozpisana na różne media twórczość wymyka się jednoznacznym klasyfikacjom. Jakbyście Państwo opisali jego działalność artystyczną?
ED: Mąż był bardzo utalentowany, świadomy swojej twórczości, mówił, że sztuka jest sprawą ducha. Nie ograniczał się do jednej dziedziny artystycznej, dlatego jego twórczość jest kumulacją zagadnień z zakresu fotografii, rzeźby, malarstwa czy poezji. To wszystko sprawiło, że trudno było go zaszufladkować. Dlatego też powstawało stosunkowo niewiele artykułów na jego temat.
JG: Wielu historyków sztuki, w tym pani Anda Rottenberg przyznaje, że nigdy o nim nie napisała, z powodu, iż jak to ujęła, "on sam o tym mówił najlepiej, nikt lepiej od niego nie był w stanie ująć tego jak on myśli"…
ED: Swoją wizją artystyczną dzielił się ze studentami Akademii, namawiał do swobody twórczej, eksperymentów. Jego celem było uzmysłowienie, że sztuka to też radość, kreatywność, której nie należy kategoryzować ani ograniczać.
Sam, jak już wspomniałam, próbował wielu środków adekwatnych do idei, które chciał wyrazić, no może oprócz performance'ów. Zrobił jeden w Kolonii, ale było to beznadziejne.
JG: Kiedyś pracownie artystyczne stanowiły sferę artystycznego sacrum – uchodziły za miejsce uświęcone sztuką, wykładnię ideologii. Dziś, jak słusznie zauważyła Bożena Czubak, pojęcie to zaczyna się atomizować, digitalizować. Mam wrażenie, że pomimo upływu lat przestrzeń, którą Państwo stworzyli nadal ewoluuje, wciąż tętni życiem. Co teraz się tu dzieje?
Kajetan Dłużniewski: Od 2007 roku realizowałem tu projekty ojca. Wypadek, w wyniku którego stracił wzrok, był punktem kulminacyjnym dla jego pracy. Na początku jego wizje realizowała matka i były student. Wszystko zmieniło się na stypendium w Akademie Schloss Solitude w Stuttgarcie. Wyjechałem wówczas z ojcem w roli jego opiekuna i towarzysza. Sprawy przybrały jednak inny obrót i finalnie zostałem wykonawcą jego projektów, a to zapoczątkowało moją działalność twórczą. Był to przełomowy moment dla nas obydwu. Po śmierci ojca sam zacząłem tworzyć, ale wciąż nawiązując do wspólnych rozmów, do tego co działo się tutaj w pracowni, do tego jak wyglądała nasza współpraca i jak wpłynęła na nasze relacje. Każda rozmowa z ojcem była specyficzna i warta upamiętnienia.
Emilia Dłużniewska: Syn miał niedawno wystawę w Studio F7 przy ulicy Chełmskiej, w Warszawie, niestety pandemia wpłynęła na jej przebieg i mocno ograniczyła jej odbiór. Ojciec byłby z niego dumny. Kajetan wypracował sobie indywidualny styl, czasem inspiruje się i nawiązuje do twórczości ojca.
Pytała Pani o pracownię – to miejsce jest zapisem całego naszego życia, zarówno zawodowego, jak i prywatnego, są tu zdjęcia naszych kotów, przyjaciół, rodziny. Można powiedzieć, że stała się ona formą naszego życiorysu, którego historia wciąż się rozwija.
JG: Domyślam się, że ówczesny system polityczny stanowił ogromne organicznie dla ówczesnych artystów. W filmie "Kurz na muszli" wspomniała Pani spotkanie męża z Nam June Paikiem podczas Internationales Künstlergremium w Niemczech. Pan Andrzej zaproponował mu przyjazd na Piwną, gdzie w tych latach prowadzili Państwo działalność wystawienniczą. Pomimo ogromnej chęci Nam June Paik odmówił, ponieważ nie chciał mieć komunistycznego stempla w paszporcie. Jakich największych trudności doznali Państwo ze strony reżimu komunistycznego w Polsce? Czy miało to wpływ na funkcjonowanie pracowni?
ED: Reżim wpływał na każdą dziedzinę życia. Wspólnie z mężem staraliśmy się, o ile to było możliwe, skupić się na własnej twórczości, która była antidotum na otaczającą rzeczywistość. System komunistyczny utrudniał oczywiście podróże i kontakty z Zachodem, trzeba było uważać na słowa ze względu na cenzurę, każdy druczek musiał być zatwierdzony. My nigdy nie byliśmy zaangażowani czynnie politycznie, sztuka była dziedziną, na której chcieliśmy się skupić, a nie polityka.
JG: Wychowywał się Pan w tej przestrzeni – jak wyglądało dorastanie wśród rodziców-artystów, w miejscu gdzie spotykali się wielcy, uznani poeci, malarze? Jak wspomina Pan tą przestrzeń z perspektywy dziecka?
KD: Najczęściej byłem oddawany do babci, czasami jednak zdarzało się (ku mojej wielkiej uciesze) uczestniczyć w tutejszych spotkaniach. Z perspektywy dziecka było to dla mnie niemałą atrakcją. Proszę mieć na uwadze, że dorastałem w czasach komuny. W tej szarej, nudnej codzienności spotkania rodziców z artystami, literatami czy krytykami sztuki były niezwykle fascynujące, gdyż były to niezwykle barwne postaci.
JG: Porozmawiajmy o figurkach, które powstały po wypadku, w wyniku którego Pan Andrzej stracił wzrok – Geonautach. Woskowe ludziki, o których Pani mąż pisał dwukrotnie w książce pt.: "Odlot", cechuje perfekcyjne oddanie proporcji i ruchu1. Czy można je traktować jako rodzaj terapii po wypadku? Jakie było ich przesłanie wtedy i jakie jest ono dzisiaj?
ED: Po wypadku, pomimo całego tragizmu sytuacji, kreatywność męża zyskała nowy wymiar i był to paradoksalnie najbardziej płodny okres jego twórczości. Andrzej od zawsze miał bardzo bogate życie wewnętrzne i czasami wręcz zapominał, że nie widzi (tak przynajmniej mówił). Oczywiście bywały gorsze momenty, ale miało to się nijak do liczby projektów, jakie wówczas realizował. W jednym z wywiadów porównał swoją działalność artystyczną do "błysku z mentalnej chmury". Taka też była jego praca – sensu sztuki upatrywał w idei, a nie w samej konstrukcji. Pomimo wypadku zachował poczucie humoru, był bardzo kreatywny, miał "tysiąc pomysłów na minutę". Jednocześnie dawał szansę Kajetanowi na sprawdzenie się w roli artysty. Mąż mawiał "widziałem 58 lat i wystarczy".
KD: Co do Geonautów – do dziś kilku siedzi na stole naszej pracowni. Z racji tego, iż cała seria figurek pochodzi z okresu "po utracie wzorku", Geonauci zawsze byli w jakiś sposób połączeni z tematyką niewidomych. Jeszcze za życia ojca nawiązaliśmy współpracę z Fundacją "Szansa dla Niewidomych", która po dziś dzień figurki Geonautów wręcza osobom niewidzącym za specjalne osiągnięcia i zasługi. Były one również niejednokrotnie eksponowane na wystawach ojca. Kiedyś jedna z figurek została skradziona, pewien zwiedzający włożył ją sobie do ust i uciekł. Ojciec bardzo się z tego śmiał.
JG: Zakończenie działalności na Piwnej, wypadek Pana Andrzeja, wszystkie te czynniki miały wpływ na specyficzny rozwój tego miejsca, którego historia ciągle trwa. Jak widzą je Państwo dziś?
ED: Pracownia jest naszym wspólnym dziełem, w którym oboje rozwijaliśmy się twórczo i zawodowo. Z czasem dołączył do nas nasz syn, który działa tu do dziś, kontynuując historię tego miejsca.
KD: Jak wspomniałem – moja twórczość jest zapisem tutejszej rzeczywistości – słów, gestów, które się wciąż znajdują w tej przestrzeni. Praca z ojcem była często bardzo emocjonalna, na początku wykonywałem wszystko drżącymi rękami (szczególnie podczas stypendium Stuttgarcie). Nasza współpraca zacieśniła naszą relację, która jest często widoczna w moich obrazach. Ojciec był bardzo kreatywny, trzeba było nadążyć za jego pomysłami, bywał niecierpliwy, ale zawsze dochodziliśmy do porozumienia. Nauczył mnie nieszablonowanego myślenia, swobodnego łączenia różnych dziedzin sztuki. Studenci akademiccy często mają problem z klasyfikacją swojej twórczości i na siłę starają się ją ukierunkować, skoncentrować się na jednym medium. Ja tego nie miałem i myślę, że wyszło mi to na dobre. Obserwując pracę ojca nauczyłem się patrzeć na sztukę w sposób otwarty, jako na pole do eksperymentów wolne od ograniczeń.
Jeśli chodzi o przyszłość pracowni, to sądzę, że ze względu na naszą pracę, nigdy nie będzie to przestrzeń wyłącznie wystawiennicza. Niemniej po wcześniejszym umówieniu wizyty, chętnie wspólnie z mamą pokażemy, opowiemy o tym miejscu. Mamy wiele pomysłów oraz projektów, które chcielibyśmy tu zrealizować. Pracownia zawsze tętniła życiem, zawsze coś się tu działo i wygląda na to, że tak zostanie.
1 A. Dłużniewski, Odlot (Warszawa: Twój Styl, 2000).