We had the pleasure to talk with the artist Agnieszka Mastalerz, based in Warsaw (PL) and Brunswick (DE). Agnieszka Mastalerz spent a month in residency at the Brno House of Arts (CZ) exploring the local community, researching, and creating. Her main focus in her work is mechanisms of control and the processes influencing as well as exploiting an individual. She told us about her experience, her inspirations, and the work she began during the residency.
How did you find out about the residency programme? How did you apply?
Arsenał Gallery in Białystok announced their cooperation with the Brno House of Arts, so I applied for the residency in Czechia via the Polish institution. My friend, Zuza Banasińska, took part in the residency before. We sat in her beautiful garden and talked, among other things, about her experience.
What did your regular, art residency day look like?
First, I walked or ran with my dog. In Brno, there are a lot of green areas to make up one's mind or architectural routes to know and observe the local functionalist style. The city is not hectic, so I also took my time to experience the autumn mornings outside.
The next part of the day I spent on developing the idea. Either I stayed in Dům pánů z Kunštátu, where I lived and had my studio, or continued research while traveling. Because I cared about discussing and reviewing my process with theorists and practitioners who hadn't known me before, I used opportunities for meetings and conversations.
Finally, I really wanted to get to know the local creative environment so, since I was there at the very beginning of the season, I could experience both its liveliness and uniqueness by visiting art-oriented spaces or taking part in the events.
Tell us about the work/project on which you are working right now.
I came to Brno with a concrete idea connected to this place. I wanted to explore the double meaning of the term race, as a fast horizontal movement as well as a collection of certain features, which I called by contrast vertical roots. Because I spent only one month in the residency, I'm still working on it, and hopefully will continue Freeze (X) next year, with the support of another residency, also in the Czech Republic.
Besides, at the very end of my stay I took some Polaroids within the empty hotel Avion designed by Bohuslav Fuchs in the late 1920s. The idea of a hotel contains the notion of temporality, but that one referred to a specific perception of time and space even more due to its name and the fact it was under reconstruction. Let me quote Olga Tokarczuk and her Flights, which I was reading back then: "Time elapses inside the plane but doesn't trickle out of it."
I treat the Polaroids as sketches for a performance, but also as delicate objects that may be destroyed with the passage of time. For an upcoming exhibition realised in Hanover, together with other students of Candice Breitz and Eli Cortiñas, I will prepare a notebook – a map of thoughts, set of my stimuli and references explaining the work I have called no mental scars, no nursed grudges. In addition, I am sewing a hammock out of a parachute textile, so it is possible to experience this tiny zin while being nestled in comfort.
In your experience, what distinguishes working as part of residencies from working in your atelier?
I had W.G. Sebald's Austerlitz by myself: "…there is something illusionistic and illusory about the relationship of time and space as we experience it in traveling, which is why whenever we come home from elsewhere we never feel quite sure if we have really been abroad."
Even though I was not pushed to finish a concrete work, being aware of the short time I could use the opportunities the residency and its surroundings gave me, I felt motivated to work more intensively.
Agnieszka Mastalerz, no mental scars, no nursed grudges, 2019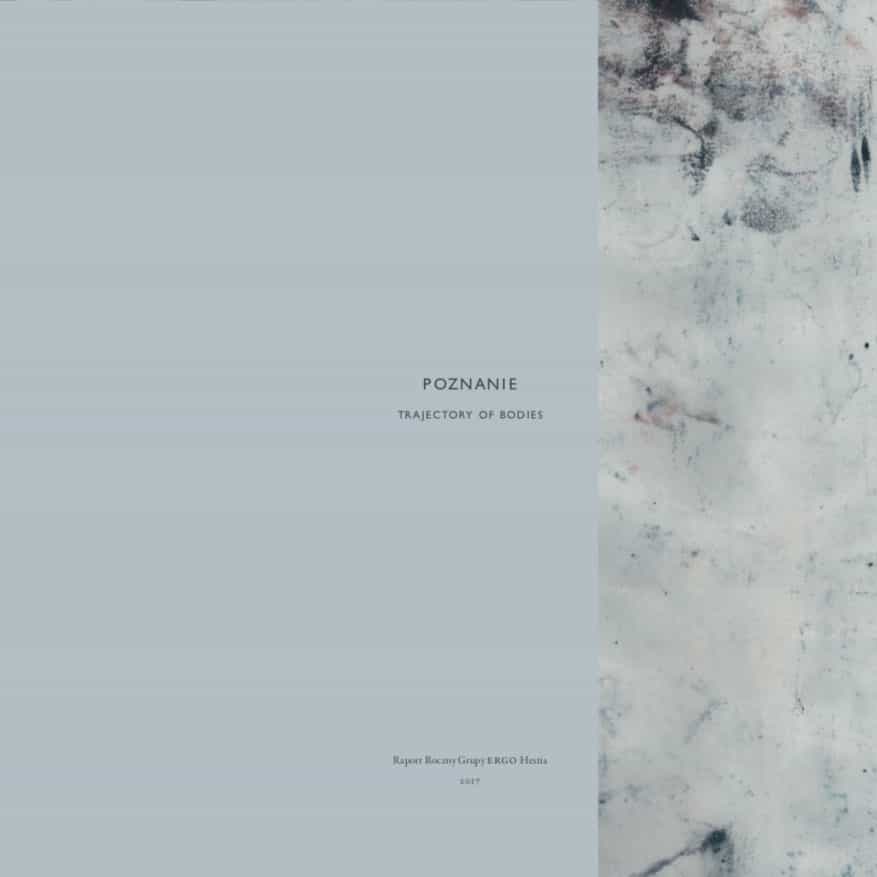 ERGO Hestia Group Annual Report containing Trajectory of Bodies, 2018
Does the change of context help you in the creation process?
I am grateful to Mirosław Bałka for teaching me to value the places I visit and spend time in. In my practice, I might rely on research done only through the internet, but I feel a strong need to see with my own eyes, experience the aura, touch the materials, and finally to listen to the local people.
Do you place an emphasis on your work or rather on meeting people and exploring the city/your surroundings?
I tried to balance research, doing sketches and notes, while getting to know Czech artists and theorists, as well as experiencing the surroundings. Also, thanks to the books by Mariusz Szczygieł I read before my arrival, such as Gottland, which encouraged me to visit the modernist city of Zlín or, while reading Nie ma I discovered the Brno-based poet Viola Fischerová.
One day I went to Prague, where, owing to Piotr Sikora, I spent an unexpected and pleasant afternoon with Marta Krześlak, who was then realising her residency in Meet Factory (while being in her studio, Marta showed me her Atlas of Remote Islands by Judith Schalansky).
What challenges and opportunities did the residency involve?
I think being responsible for myself was both a challenge and an opportunity.
Name three objects which were the most important to you during the residency.
I would not say concrete objects, rather needs: sources of knowledge, something to put my thoughts into, someone close to share my experiences with.
What was the role of institution in your residency? What did it provide you with?
The Brno House of Arts provided me with a studio and accommodation located in the very city centre. It promoted the practices of all the invited residents, by organising a public presentation of our portfolios or publishing our biographies on the gallery's website. Finally, I am grateful to them for enabling access to the places I wanted to visit or collaborate with, which happened thanks to official requests. I would not have been able to do it by myself.
What would you recommend to artists going abroad for an art residency?
I would analyse the purposes and benefits of a possible residency. Does this place fit my idea and would the venue enable me realising it? Could it help me to concentrate while being detached from my everyday life and duties? Plus, if wanted or needed, are there any extra advantages, such as the possibility to get to know the local art environment?
Interviewed by Contemporary Lynx
Edited by Urszula Humienik