The residencies under the current programme 'The New Dictionary of Old Ideas' at the Meetfactory in Prague, focus on the pressing problems that are common to many European countries, like EU-scepticism, xenophobia, racism, and the growth of far-right movements. The programme explores how these are present in both the "centre" and the "periphery." I speak to two young curators Alba Folgado from Spain and Data Chigholashvili from Tbilisi about the fluid concept of "Central Europe", their stay in Prague, and why it is important to change context and to do research from outside where you usually work.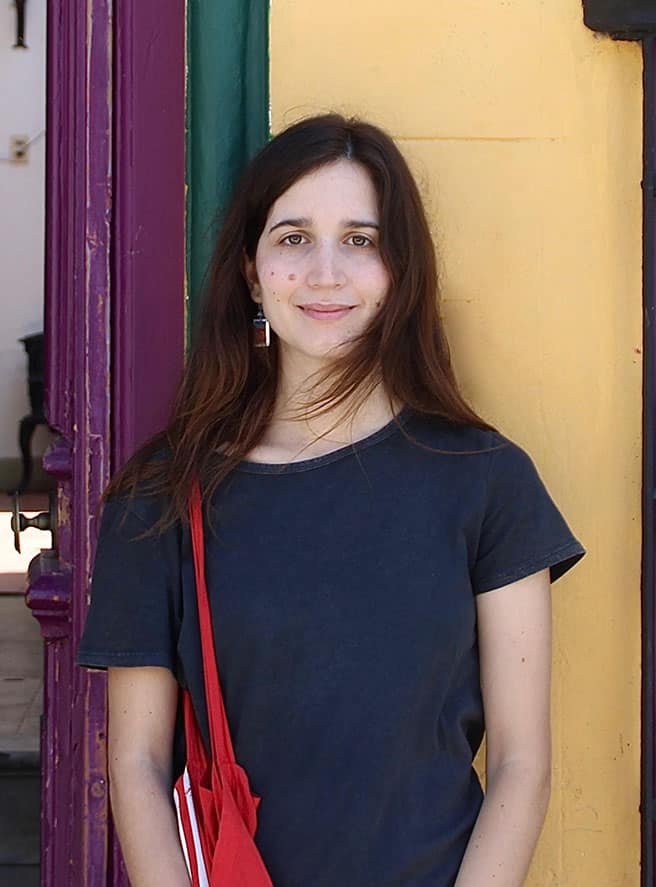 Alba Folgado
Data Chigholashvili
SK: What is your main research area while preparing an exhibition at the MeetFactory?
D&A: The idea is that we, as curators of the exhibitions within the project, also spend time together with the participating artists, which means that our work is also process-based. The starting point of 'The New Dictionary of Old Ideas' is the fluid concept of "Central Europe," perhaps also taken metaphorically, and the reflection on the pressing issues, which as you have also mentioned are currently present throughout Europe. While there are many dichotomous terms that could be used, such as the "centre" and the "periphery," we aim to look beyond these binary divisions. The first exhibition will take place at the MeetFactory in Prague in February 2020, and then travel to TRAFO in Szczecin, Centro Centro in Madrid, and the State Silk Museum in Tbilisi. The exhibition will be adapted to the specificity of each context.
SK: Alba, in your research, you explore new artistic languages that have the potential to connect with people outside art institutions. Tell me more about your curatorial interest?
Alba: I am interested in the potential of art to connect with current social and political concerns. In particular, I find highly necessary and relevant the role that some artistic expressions such as music, performance or dance play within social movements. These representations, that have also acquired an important presence in contemporary art, can easily connect with a broader public and, perhaps, this is the reason why some artists decide to use similar mediums in their work. Additionally, I would say that the potential to engage with people beyond art institutions does not only rely on the use of different languages and expressions. It also involves working around social problems and making them as visible as possible. So, eventually, art and social movements would defend the same interests but approach them from slightly different perspectives.
SK: How did you find out about the residency programme? How did you apply?
A & D: This project includes a collaboration between organisations in four different countries. As curators from Georgia and Spain, we were invited to participate and to curate the exhibitions that will result from working together with artists during the residencies.
SK: What does your regular, art residency day look like? 
A & D: We usually work in the studio, reading and conducting research towards the coming exhibitions. It is also part of our work to establish a continuous dialogue with the artists. As we are co-curating the exhibition, it is also important to have shared time together and discussed, which happens easily because we share a studio. Additionally, given the specificities of the project, often we also work on organisational details and plan upcoming activities.
Being in a different location is also an opportunity to go out of the studio and do "field research" in Prague. It seems quite important for both of us to connect with the particularities of the context in connection with the topics of our research.
SK: Name three objects which are the most important to you during the residency.
A & D: If we both think about it, it would be our notebooks. Secondly, computers seem to be important for the process and communication. And finally, the shared space in the residency is crucial as it facilitates the exchange with people involved in the project.
SK: What is the role of the MeetFactory in your residency? What does it provide you with?
A & D: The MeetFactory is hosting our first residencies, and it is also the leading partner of this project. During the time here they are organising a programme for us – we have had regular visits to exhibitions and different venues, as well as lectures and seminars helping us to get familiar with the context and the socio-political situation. They are also very supportive with practicalities and production.
SK: What would you recommend to curators going abroad for an art residency?
A & D: It is helpful to not be in the studio all the time, but rather go out and explore the environment, as sometimes you discover things connected to your research in places where you would not expect them.
SK: What is the "Soiree – Open Studio and performances programme"?
A & D: This is an event that the MeetFactory organises as part of their programme, and in this edition, we – the participants of "The New Dictionary of Old Ideas" – will participate with open studios. It is an opportunity to show our ways of working to the public, and engage in discussion with them. It will include various other activities on 30 July, and we look forward to seeing you here.
SK: Alba, how did living in different contexts contributed to nurturing your curatorial practice?
Alba: Living in different countries has not always been a choice for me, but rather the consequence of the instability that comes with being an independent curator. Nevertheless, these circumstances have somehow positively influenced my practice. For instance, I feel that my interest in further exploring the intersections between live arts and contemporary art practices has increase during the time I lived in London. There, I developed several projects in which the boundaries of the physical exhibition space were questioned by using alternative platforms and spaces, such as a music venue or a radio station. Additionally, artists, musicians and performers were invited to respond with their work to these circumstances. I would argue, that in this case, the hyperactivity of the city and the personal routes I drew through different institutions, plays, concerts, etc., have substantially contributed to nurture my practice.
Now, living in Stockholm, a significantly smaller city and a very different context, is given me space to reflect on the aforementioned experiences. On the other hand, Sweden, is also a place for experimentation, where performance, dance and even circus have a strong presence. I am personally very much connected with this scene, which I am sure it will help me to continuing driving my work through exciting and unexpected paths.
SK: Data, you work as a curator of international programmes at the State Silk Museum in Tbilisi. How will this residency impact on your curatorial work back in your home country?
Data: The State Silk Museum in Tbilisi is a unique place. In addition to intensively working on preserving and presenting its collection, and implementing educational activities, it has also been very active in contemporary art, working with a lot of artists and curators, and organising projects, exhibitions, and residencies in different formats. The Museum is one of the partners of this project and, as mentioned, one of the exhibitions in 2020 will take place there. My residency here is very directly connected to working towards upcoming exhibitions. As said, they will be adapted to each context, the State Silk Museum is not a gallery space, but an existing museum with various layers. The dialogue with space, with the exhibits and with the museum's life is crucial for an exhibition there. Even though it might sound early at this stage, being part of the residency now gives a possibility to discuss some of the preliminary ideas with Alba regarding the exhibition there that will be discussed with my colleagues at the Museum, and with artists and people involved in the project. I suppose this process will continue until finalising the exhibition at the Museum, but it is a good starting point while we are in Prague. Also, while working in the space of the Museum is crucial, I am also curious to observe the process of imagining and thinking about that space from a distance, and from a new fresh perspective.
I always found residency experiences important for my curatorial work, or generally for the work that I do between social anthropology and contemporary art. I took part in the residency at the MeetFactory two years ago. And before that a big part of my work at GeoAIR – art organisation and residency in Tbilisi – included working on the residency programme. While at the MeetFactory in 2017, among many things, as a participant, I got very interested in exploring the residency phenomenon in art itself. All these experiences come together for me, and I find them important for rethinking and continuing my work.
Edited by Contemporary Lynx 
---
THE NEW DICTIONARY OF OLD IDEAS
30 July, 2019, MeetFactory, Ke Sklárně 3213/15
Soirée MeetFactory: The New Dictionary of Old Ideas has its aim in creating a space where abstract terms will meet concrete artistic acts. All of the artists studios will remain open and exhibition collateral program will amaze you again topped up with dj sets and deli ice cream and chilling drinks.
Participants: Data Chigholashvili, Alba Martínez Folgado, Erick Beltrán, Verónica Lahitte, Elena Lavellés, Irmina Rusicka, Adéla Součková, Katharina Stadler, Sandro Sulaberidze, Nino Zirakashvili, Jiři Žák