Although the summertime is coming to an end, there are books that will make the last warm and sunny days even more enjoyable. From an encyclopaedic publication about one of the world's most revered visual artists and creativity-sparking manuals to books on tasting art with all your senses and an introduction to the intricate art of making props for films. Enjoy the last sunny days, jump into your hammock or find that comfy armchair and get to know some the most interesting releases of 2020.
Gerhard Richer: Life and Work
This book could easily go around as The Gerhard Richer's Encyclopaedia. A range of insightful texts and a vast number of exquisite illustrations have been carefully distributed over nearly 500 well designed pages. The sheer format of this publication turns devouring Life and Work into an experience that is closer to an engrossing exploration of an outstanding retrospective rather than reading yet another monograph.
Armin Zweite, a renowned art historian and curator who wrote this expansive overview, leads readers through every phase of Gerhard Richter's celebrated career. The richness and diversity of Richter's genre-defying oeuvre is unparalleled. He is one of the most prolific artists the world has seen in decades, if not centuries. Over the last sixty years Richter has experimented with abstraction, photo-based painting, and glasswork and has considerably contributed to advancements in these media. The vivid nature of his work is defined by embracing the contrasts between tradition and innovation, belief and ideology, engagement and neutrality, freedom and control. As Armin Zweite points out, the formal characteristic of Richter's work revolve around all kinds of contradictions: controlled coincidence is followed by a sense of regularity, transparency supersedes opacity, overt gestures face up to strict formalism, the banal contradicts the beautiful, and indifference counteracts emotion. It comes as no surprise that Richter's works have been eliciting enthusiastic and lasting responses since attending the Dresden Academy of Fine Arts in 1950s.
The monumental size of this publication guarantees that reading will bring a number of eye-opening biographical, socio-political, historical, and artistic findings to your attention. Featuring more than 250 of Richter's most important works as well as Zweite's clear-eyed commentary, this extraordinary monograph offers an expert appraisal of the breadth of Richter's oeuvre extending to more than half a decade. It is a visually stunning and articulate appreciation by one of the world's foremost experts on the artist and his life. This definitive volume allows for discovering various facets of boundary-blurring and highly differentiated body of work, which thwarts easy categorisation. Life and Work is Richter's official legacy book, a major retrospective that you can attend in the comfort of your own home. It is a multi-layered and incisive book to which one constantly returns.
Gerhard Richer: Life and Work by Armin Zweite has been published by Prestel.
---
Korean Art from 1953: Collision, Innovation and Interaction
Although modern art history includes many different perspectives, Korean art still remains a rather uncharted territory. Obviously, the names that become a staple of the Korean art are Nam June Paik, one of the pioneers of video art and the grandfather of Korea's thriving contemporary art scene, and Lee Bul, the big-scale sculpture and installation artist famous for questioning patriarchal authority and marginalisation of women. Nevertheless, the wider spectrum and diversity of Korean art movements remain rather unexplored. To bring about change and allow for discovering exceptional Korean artists, Phaidon published the first comprehensive survey exploring the rich and complex history of modern and contemporary Korean art.
The authors of this volume invite readers on an eventful journey that starts with the armistice which divided the Korean Peninsula in 1953 and spans the past seven decades. Embracing complex historical and political narratives, this distinctive book highlights crucial moments and historical turning points which had a major influence on the contemporary art explorations. This approach turns out to be invaluable and allows readers to better understand socio-political contexts and gradual development of the Korean art scene that is deeply rooted in the immensely complicated local history.
On over 360 pages, Collision, Innovation and Interaction spotlights numerous artistic movements and collectives that have flourished and evolved throughout Korean culture, including the lesser known North Korean art scene. Compiling a range of insightful texts written by art historians, artists, and curators from South Korea and abroad, this extraordinary book make for essential and captivating reading. Delving into this fantastic resource for modern and contemporary art will definitely make you feel like an expert on Korean art movements.
Korean Art from 1953: Collision, Innovation and Interaction has been published by Phaidon.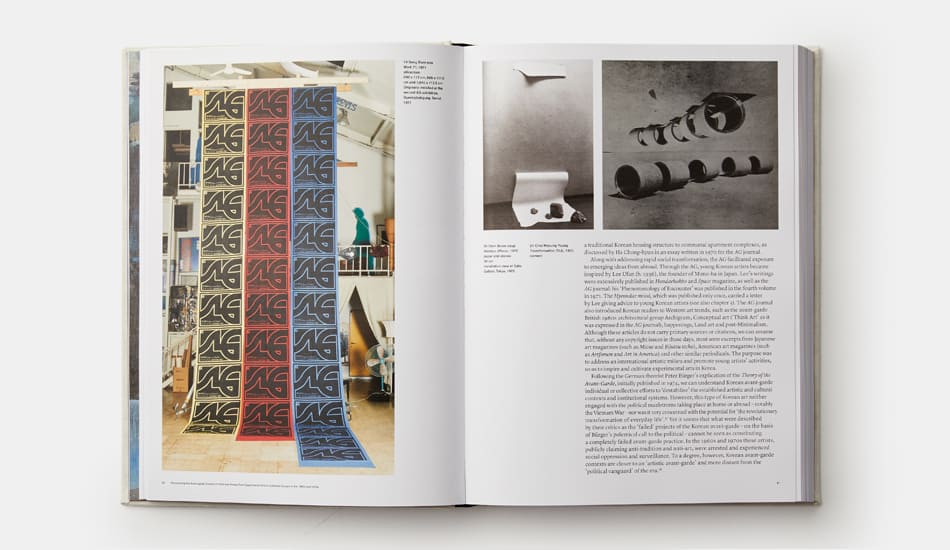 ---
Amuse-bouche. The Taste of Art
An interdisciplinary symposium on taste, experiential art, and culinary culture took place at the Museum Tinguely in Basel, Switzerland in 2019. The meeting brought together scholars, artists, researches, and even Michelin-starred chefs who tried to answer many intriguing art- and taste-related questions. How is taste articulated within the spectrum of our senses? Can taste be manipulated? How can it be verbalised? The symposium was an all-encompassing event with amazing dishes served during breaks, and literally provided food for thought for all the speakers and the audience. Fortunately enough, Hatje Cantz and Museum Tinguely followed up on that one-of-a-kind symposium with a book that brings together participants' textual contributions and ultimately makes for truly mouth-watering reading.
Putting many fields of taste-related activity to the test, Amuse-bouche. The Taste of Art consists of a wide variety of enthralling articles and stimulating essays from the specialists in modern and contemporary art, cultural history, anthropology, psychology, linguistics, and biochemistry. While Daniel Spoerri mentions an idea of serving a dinner comprising solely of boringly green (but packed with exciting and diverse flavours) small cubes, Marije Vogelzang explains her White funeral meals, and Stefan Wiesner describes his world-famous recipes for dishes he has been cooking with stones, nails, and even paint pigments. Can cooking get more experimental than that?
This fascinating book sheds light on many thrilling findings on inconspicuous areas where contemporary art and culinary mastery meet, alternative ways of cooking, immersive taste experiences, and all the other exhilarating in-betweens. It is a real page-turner that will definitely be greatly appreciated by art enthusiasts and foodies alike.
Amuse-bouche. The Taste of Art edited by Antje Baecker has been published by Hatje Cantz.
---
You Are an Artist: Assignments to Spark Creation
Have you been in search of a new creative project lately? A challenge that would make use of your imagination? Something that would assist in forgetting about those overwhelming moments of working from home and never-ending social distancing? In this case, Sarah Urist Green's You Are an Artist is just a perfect book to reach for. From discovering emotional landscapes and sympathetic objects to becoming a sci-fi character and perfecting the art of complaining, You Are an Artist awakes that inner child living within you and offers you a possibility to unwind in a creative way.
Where do great artists get their inspiration? Everyone wants to know an answer to this question, don't they? Sarah Urist Green is an enthusiastic writer who guides us through decades of the art history by showing how you can get inspiration from the masters and create your own artworks. A curator who has a wealth of experience in engaging the public, Sarah pays special attention to how easy and satisfying it is to use simple yet versatile materials and techniques. On over 250 pages, fifty artists from all around the world share their inspiration and ways of conceiving the incredible while using the ordinary. It takes only a couple of assignments to construct a landscape, measure your history or invent imaginary friends. If there is yet another lockdown to be imposed later this year or if you are just looking for something that will keep you creatively busy and entertained, this book will definitely bring a great deal of joy and personal satisfaction.
You Are an Artist: Assignments to Spark Creation by Sarah Urist Green has been published by Penguin Random House.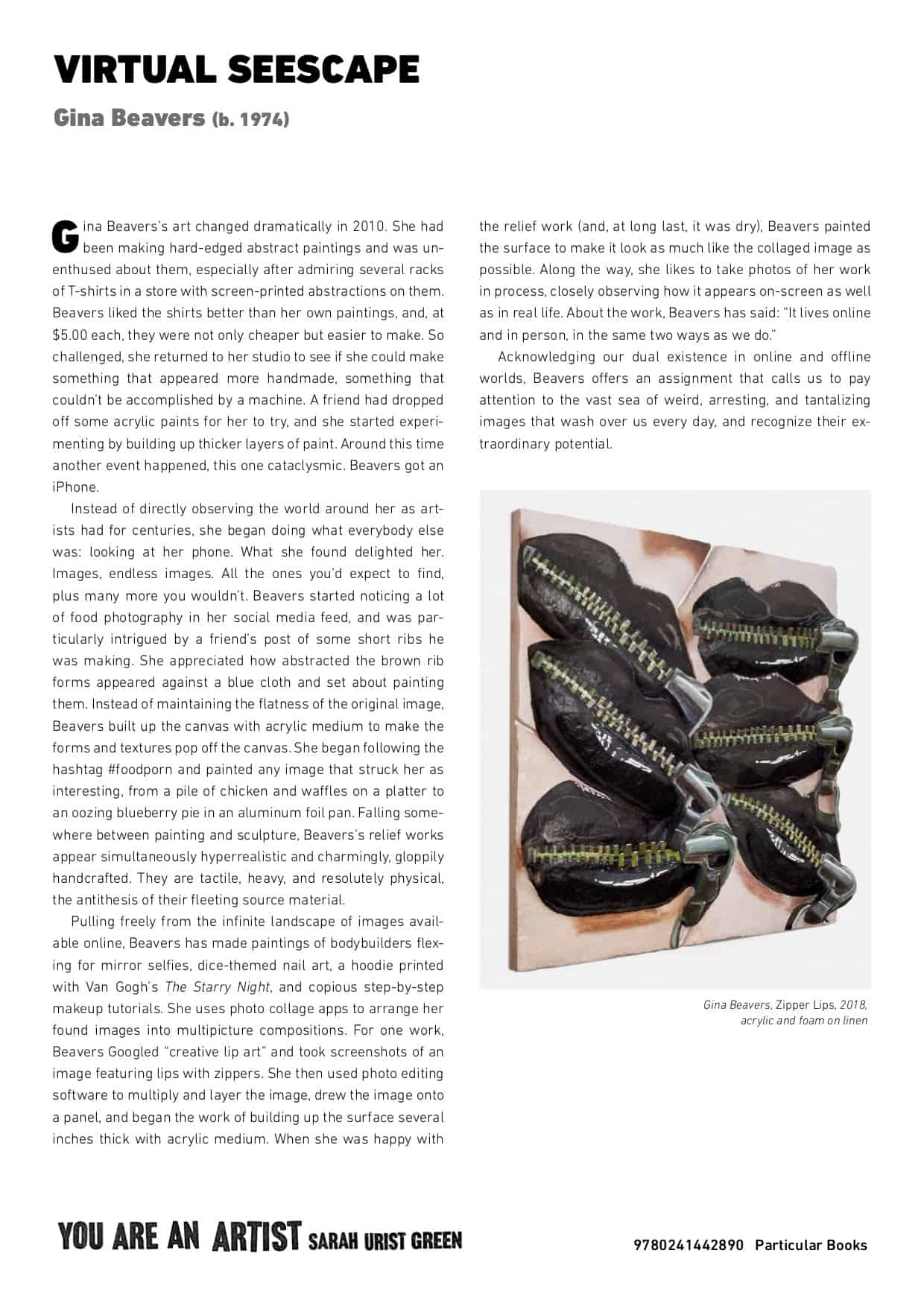 ---
Fake Love Letters, Forged Telegrams, and Prison Escape Maps
'Watching a Wes Anderson movie is a total-body experience,' Jeff Goldblum admits. Indeed, from the very first frame you step into a world of fantasy and mystery, extraordinary characters and eye-catching costumes. An entire universe boasting its own rules, distinctive look, and eccentric feel emerges in front of your eyes. Fake Love Letters, Forged Telegrams, and Prison Escape Maps is a book dedicated to the unique art of prop design for films. Annie Atkins, the author of the book and an award-winning graphic designer, is a master craftswoman in this area. Many aspects of the easily recognisable and out-of-the-ordinary aesthetics of Wes Anderson's movies have been brought to existence thanks to Annie's unparalleled skills and talent.
Fake Love Letters gives you a fascinating behind-the-scenes look at how magic of the cinema is created. Graphic props usually require complicated, lengthy design processes. A vast number of highly specialised professionals, including art directors, set decorators, designers, illustrators, calligraphers, and prop masters, take care of all the small things in order to build a much bigger picture. 'To make props look authentic,' as Annie Atkins points out, 'it is crucial to always understand the form and context of the original.' The teams working on Wes Anderson's movies collect large numbers of reference images that are later use as the basis for film props and set pieces. Hundreds of photographs included in this rare publication along compelling commentary serve as a powerful testimony to the props makers' tremendous dedication and enthusiasm for the intricate production processes.
This book sheds light on the extensive research and painstakingly precise work that go into the creation of riveting cinematic masterpieces. Ornamental floor patterns, war posters, theatre tickets, chocolate boxes, pickled beetroot labels and unconventional match boxes, among other examples of spellbinding props, are bound to catch your attention. Whether you're a Wes Anderson fan, a film buff, or you're just curious about discovering the art of prop making and noteworthy facets of graphic design, you'll definitely enjoy this book.
Fake Love Letters, Forged Telegrams, and Prison Escape Maps by Annie Atkins has been published by Phaidon.