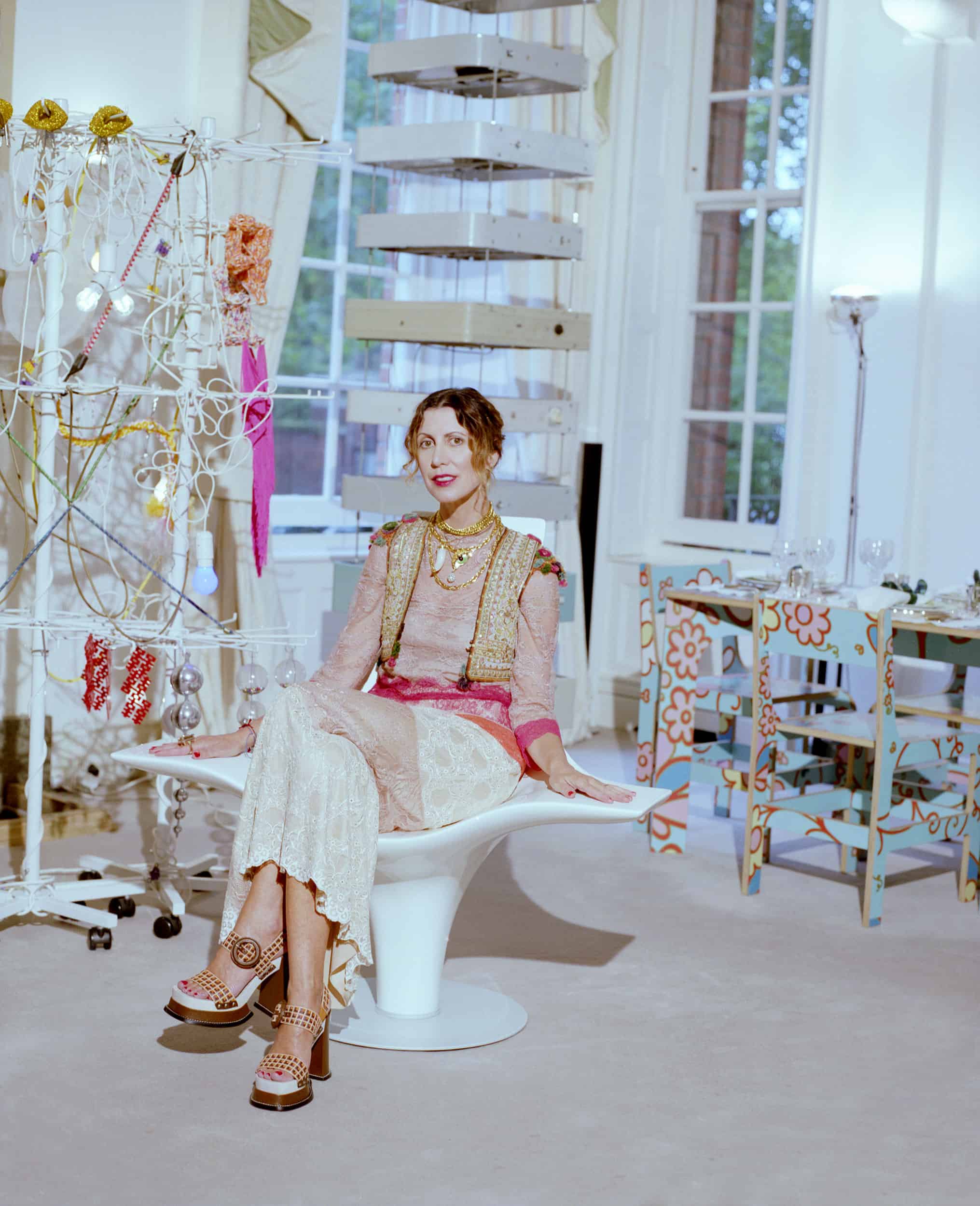 Valeria Napoleone, photo by Robi Ridriguez
Valeria Napoleone is a philanthropist and great supporter of female artists. Indeed, she only collects works created by female artists. She began collecting in the late 90s in New York; as she says, discovering new talents is part of her journey through art . . . she wants to be surprised and taken somewhere she has never been before. Her London house is full of bold pieces each of which is a unique statement. Much of her time is spent on her activities as a patron and supporter of many valuable organizations. Her initiative Valeria Napoleone XX is an umbrella platform for projects and initiatives working towards increasing the recognition and validation of art practices by female artists through collaborations and partnerships with institutions and individuals in the world of contemporary art.
Contemporary Lynx asked Valeria which artists she would like us to recommend. Here's what she said —
'I am particularly taken by the way she addresses the feminine and the feminist through sculpture and photography. Her flower sculptures in particular and the use of a variety of materials— from paper to metal, fibre and glass — speak of craft and tactility and are strong.'
b. 1983, USA. Em Rooney's highly wrought photographic sculptures emphasize the materiality of the image. Having studied in Philadelphia and at the Skowhegan School of Painting and Sculpture, she now splits her practice between New York and rural Great Barrington, where she also teaches at Bard College.

In 2018 Rooney was one of the artists featured in 'Being. New Photography' at the Museum of Modern Art in New York — a showcase of recent trends in the medium. Besides this she has been presented at Simone Subal, Bodega and Foxy Productions (all in New York) and at CreveCoeur (Paris) and been published in Art in America, The New York Times, Artnews, Artsy and Frieze.
---
Frieda Toranzo Jaeger
'I like how Frieda's canvases are beyond painting itself, they function, they move (open and close); they embrace and refer to life, identity, design, interior.'
b. 1988, Mexico. Frieda Toranzo Jaeger's lush car paintings are a critique of male domination and late capitalist visual culture. She lives and works in Berlin and is currently taking her MFA degree at the Hamburg Kunst Akademie.

In 2017 Jaeger had a solo exhibition at Reena Spaulings, New York. Recent group shows include Green Tea Gallery at Federico Vavassori, Lerchenfeld I at Kunstverein Schwerin, and Merlin at SORT in Vienna.
---
'Hell is navigating the challenging world of digital communication and its visual language — difficult to do this in an intelligent way.'
b. 1986, Kazakhstan. Hell Gette paints fantastical landscapes in the fragmented and self-conscious idioms of digital culture; her ceramics are characterized by an intense, bright palette and forms directly inspired by video games. She graduated in Painting, Sculpture, and Graphics from the Academy of Fine Arts, Munich in 2018.

Gette's work has been shown in group and solo exhibitions at renowned institutions. These include "#UnzUnzUnz", solo exhibition at Nagel Draxler Gallery, Berlin, 2020 "TO PAINT IS TO LOVE AGAIN", groupshow at Nino Mier Gallery, Los Angeles , "Interspace", Pinakothek der Moderne, Munich.
---
'Anne's experimentation and exploration of techniques, the fragmentation and distortions of her subject matter, the absurdity of the resulted imagery, make her paintings exciting and relevant.'
b. 1977, Germany. The work of Anne Speier fuses painting, photography, collage and analog printing techniques to produce wry, folkish takes on otherness. She studied at the Städelschule in Frankfurt and lives in Vienna, where she teaches in the Object Sculpture Studio at the Academy of Fine Arts.

In 2018 Spear's paintings and sculptures were exhibited at secession in Vienna. Her work has featured in various other key galleries and museums including the Lower Belvedere and the Galerie Meyer Kainer.
---
'I connect to Liz's crazy surreal sculptures which address the margins and celebrate strangeness.'
b. 1970, USA. Liz Craft's cartoonish figurines and witty assemblages of familiar objects explore social marginalization and the counterculture. In 1994 she obtained a BA at Otis Parsons, Los Angeles, and an MFA from the University of California in 1997; she remains in California.

Craft's solo exhibitions include: 'Blow Me', Real Fine Arts, New York (2016); 'Big Girls', Truth and Consequences, Geneva Switzerland (2015); 'Works from 2002-2008', Marianne Gallery, New York (2010) —— Group exhibitions include: 'The Beguiling Siren is Thy Crest', Museum of Modern Art, Warsaw (2017); and 'DOMESTIC – Like a Preraphaelite Brotherhood', curated by Charlotte Cosson & Emmanuelle Luciani, Truth & Consequences, Geneva (2017).