Georgian contemporary art is marked by a magical dualism: intuitively sensual and with a rational approach to perception. For this art there is no clear-cut definition, it is characterized by comprehensiveness, which attacks the viewer from the first glance. Contemporary Lynx presents the top 5 contemporary Georgian artists who should be allowed to change your universe.
Tezi Gabunia
Tezi Gabunia's work is based on an analysis of the technological impact on art. Devoting his works to masterpieces of art, Tezi makes one think about state of their aura1. In this way, the works by this Georgian artist, created by the "falsification" method, raise the question of the accessibility of art for everyone and the impact of that process on the perception of the viewer.

Tezi Gabunia's works that focus on hyper-reality in art, have been exhibited in MOCAK, (Museum of Contemporary Art in Krakow); Galerie Kornfeld in Berlin; TBC Gallery in Tbilisi; Contemporary Art Space in Batumi, and others.
Tezi Gabunia – Put Your Head Into Gallery, 2015, Popiashvili Gvaberidze Window Project, Tbiilisi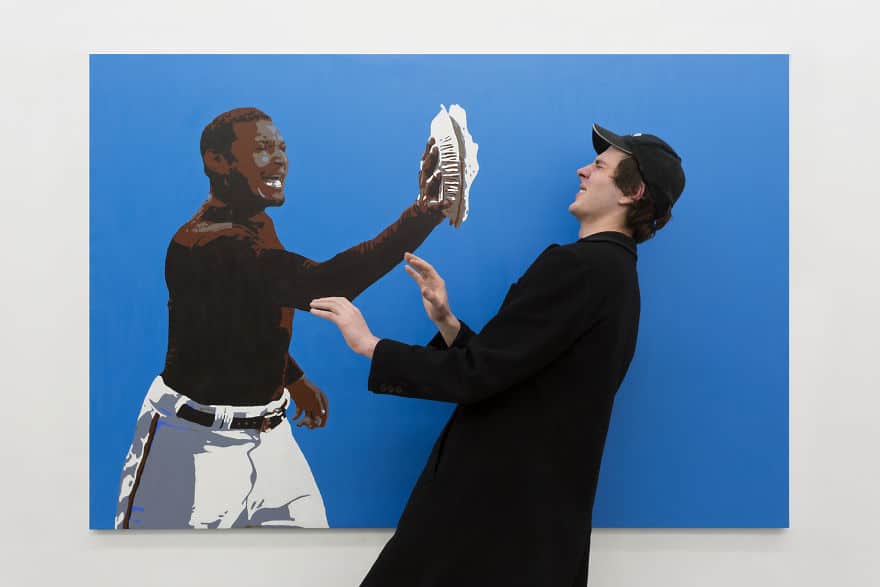 Tezi Gabunia – Happy Birthday, 2017, Artarea Gallery, Tbilisi
---
Thea Djordjadze
Starting her career as a painter, Thea Djordjadze is best known for her sculptures characterized by architectural rygidity Although Thea's creative style is filled with modernist design, post-war sculptures, and objects of ancient nomadic tribes, Thea's style is characterized by the lack of severity in perception and the transmission of mood associated with the demonstration of the other side of the coin. Focusing on an alternative perception of reality, the artist demonstrates its fragility, revealing the remarkable grace of her art's objects. For example, the Georgian artist uses supporting elements in her sculptures, which are the base for the main element of the sculpture, and thus its stability depends on the fusion of all the elements of the sculpture.

Thea Djordjadze being a muse for many young artists, has undoubtedly attracted the attention of galleries and museums around the world. Her works were exhibited in Gropius Bau in Berlin; Sprüth Magers in Los Angeles; Deichtorhallen in Hamburg; Cab Art Center in Brussels; Moma Ps1 in New York; Frieze Projects and South London Gallery – both located on London; Kaufman Repetto in Milan; Zamek Centre Of Culture in Poznań; Muzeum Sztuki in Łódź, and others.
Thea Djordjadze – Spoons are Different, Gallery Sprüth Magers, London, 2012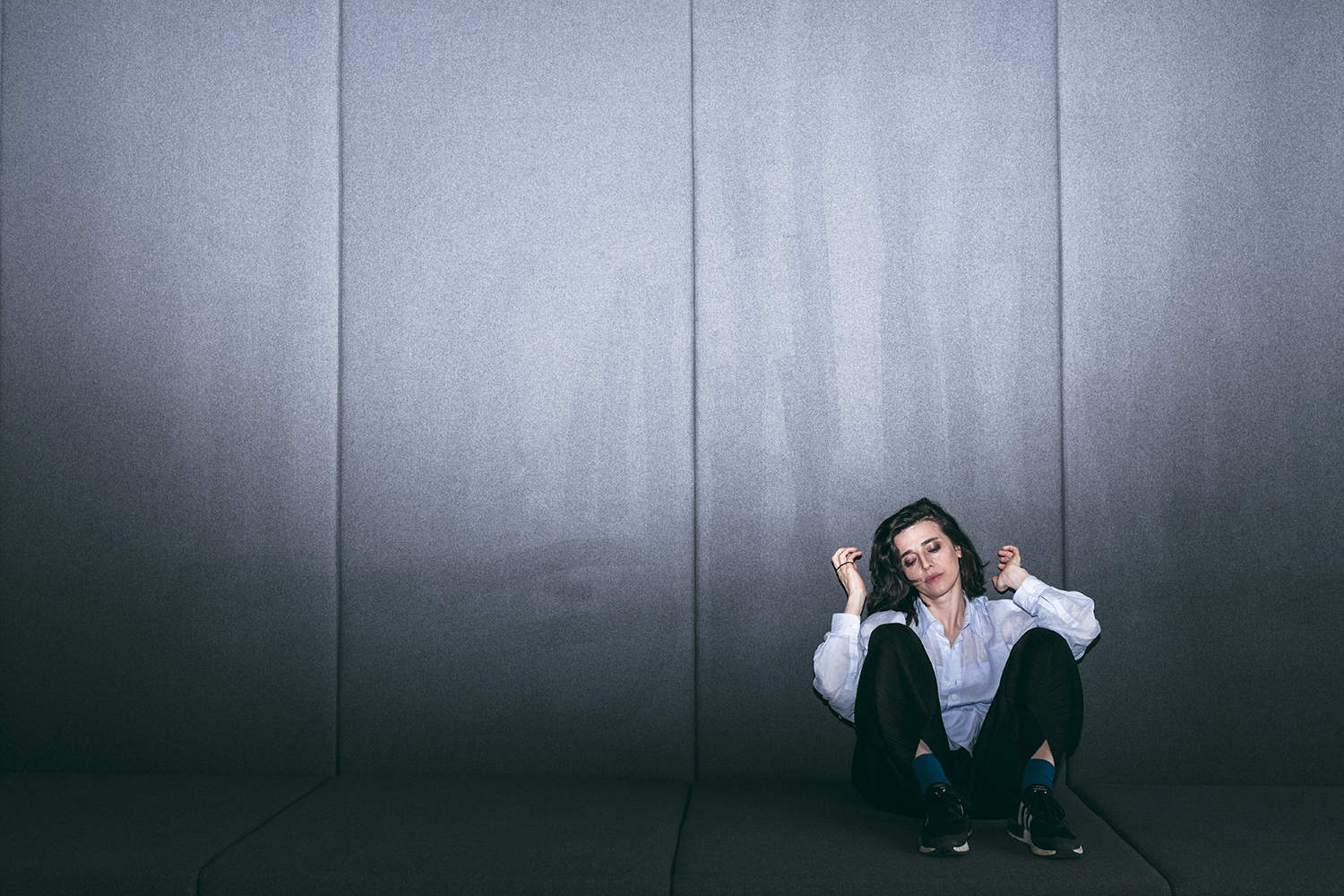 Thea Djordjadze
Thea Djordjadze -Untitled, 2010
---
Levan Songulashvili
Levan Songulashvili's work submerges the viewer in a state of transition from conscious to unconscious mind. Creating an atmosphere of another world, the artist raises the theme of the line between reality and mysticism. Using white and black colors in his works, Levan asks the viewer the question of how true reality is.

Being the first Georgian artist, whose works were selected for the permanent exhibition at Brooklyn Museum, other museums and galleries could not leave his work without attention. ERTI Gallery in Tbilisi, OBJECTIFS Chapel Gallery in Singapore, SAATCHI Gallery in London, 68 Projects/Galerie Kornfeld in Berlin,and others, exhibited Levan Songulashvili's works.
Levan Songulashvili
Levan Songulashvili – Idem et Idem, 2019
Levan Songulashvili -STYX (child), 2019
---
Andria Dolidze
At first glance, the colourful works of Andria seem to have a fairly simple and a laconic language, however, upon closer examination the complex structure of his paintings can be discovered. The artist's creativity is based on a subtle analysis of emotions and the meaning of the canvas frame. In his art Andria emphasizes the ability of art to go beyond the bounds and its ability to fill an entire space and the viewer's mind.

Andria Dolidze works, filled with a delicate play of perception with the viewer, were exhibited in Artarea and 4710 Art Gallery, both located in Tbilisi, and others.
Andria Dolidze – It was really sad, but, 2016
Levan Songulashvili -STYX (child), 2019
---
Andro Wekua
Diving into a nostalgic journey, Andro Wekua creates the present from the past, under which the influence of time becomes only a collection of memories passing through the prism of perception. The artist emphasizes the cyclical nature of history and the peculiar intersection with fantasy. Andro's works are characterized by a puzzle system, the mosaic construction which references not only the nature of memory, but also motives from cinema, music and literature.

Sammlung Goetz at Haus Der Kunst in Munich; Albertina in Wien; Garage in Moscow; Kunsthalle in Zürich; Gladstone Gallery in New York; Sprüth Magers in London; Tbilisi Center For Contemporary Art in Tbilisi, and others, exhibited Andro's work, work filled with multifaceted personal symbolism.
Written by Vera Zborovska
Edited by Maria Sołyga
Andro Wekua
Andro Wekua – Hide and Seek, 2008
Andro Wekua – Some Pheasants in Singularity, Sprüth Magers, London
Written by Vera Zborovska
Edited by Maria Sołyga
---
1. The term was used by Walter Benjamin in his influential 1936 essay The Work of Art in the Age of Mechanical Reproduction. Benjamin writes: "namely, the desire of contemporary masses to bring things 'closer' spatially and humanly, which is just as ardent as their bent toward overcoming the uniqueness of every reality by accepting its reproduction" and adds: 'even the most perfect reproduction of a work of art is lacking in one element: Its presence in time and space, its unique existence at the place where it happens to be.' He refers to this unique cultural context i.e. 'its presence in time and space' as its 'aura'.