I TRUST IN ART AND ITS SAVING CAPACITY
A CONVERSATION WITH PIER PAOLO PANCOTTO FROM LA FONDAZIONE IN ROME
Rome and Italy are under lockdown. As almost everywhere in the world, all cultural institutions have been closed indefinitely. At the beginning of March, on the last day before the closure, we visited La Fondazione in Rome and met with its curator – Pier Paolo Pancotto. This new centre for contemporary creativity was opened in September 2019. The first exhibition project conceived specifically for the new spaces at no. 18 Via Francesco Crispi, presented works by Geta Brătescu, Adrian Ghenie, Ciprian Mureşan, and Şerban Savu. 
Last month we saw the new show by Piero Golia who mixes such media as installation, video and performance. All shows are curated by Pier Paolo with whom we had the pleasure to speak.
Dobromila Blaszczyk: You are currently the curator and artistic director of La Fondazione in Rome, which opened in September last year. Could you tell us something more about the programme of your institution? 
Pier Paolo Pancotto: The Foundation is a non-profit space promoted by the Nicola Del Roscio Foundation to give life in the heart of Rome to a new way of knowing and reflecting on the art of our time. The calendar promotes the production of original shows focused on artists appreciated internationally, but rarely visible on the Italian exhibition scene. This programme has a profoundly curatorial structure and a highly experimental character and arises from the direct relationship with the selected authors. Each exhibition, therefore, is the result of an intense dialogue between the artists and the curator that develops over time and, only when it reaches the right maturity, takes shape and manifests itself to the public. Consequently, all projects are conceived exclusively by La Fondazione and for La Fondazione.
DB: What is the key to your artistic choices in La Fondazione?
PPP: When I talk about the goals of the institution, I like to think of a sort of "third way" through which to trace new paths on how to present and enjoy contemporary art. I invite the artists to feel free to imagine and give shape to projects without having to submit to the logic of a museum space or a gallery. For this reason, the exhibitions are not isolated episodes but chapters of a single narrative that I hope will, over time, suggest new perspectives, enriching our ability to understand and associate the languages of contemporary creativity.
DB: During the two exhibitions that have taken place so far, you showed classics of 20th-century artists juxtaposed with young artists from Central and Eastern Europe. You often reach for artists from Romania. What attracts you to their aesthetics and poetics of their work?
PPP: I make no difference to an artist's nationality, age, gender, culture. An artist is an artist, that's it. The Foundation presents the artists projects when they are ready. The fact that there have been several artists coming from the same context is a coincidence.
DB: The group of works shown during the 'Cinema' project inaugurated at the beginning of the year were artists cooperating with "mega" galleries such as Hauser & Wirth. La Fondazione – for those who have not yet visited this place – is located next to the Gagosian Gallery. Does the foundation's programme include cooperation and exchange with private galleries?
PPP: The projects are born from a direct and close dialogue with the artists, in all respects, and independently of the galleries with which they work. The Foundation has a completely independent programme also to underline its non-profit character and its scientific and popular vocation.
DB: In your practice, you often cooperate with public institutions such as Villa Medici. Where did the idea for the "Art Club" project come from? The 29th edition of this project has already taken place in 2019. How did its shape evolve over time and which artists could be seen at the turn of the years?
PPP: Like the programming of La Fondazione, the Art Club project, was founded by the Académie de France à Rome, Villa Medici in 2016 and is still ongoing. It strives to present artists which areinternationally esteemed , but rarely or almost never present at the institutional level of the Italian or Roman exhibition scene. They are invited to create site-specific projects inspired by the history of the Villa and to match it with the context of hosting city, Rome. The project can have a variable duration: a few hours, a day, a few days… and it is ephemeral, like a dream. Art must make us dream.
DB: I would like to inquire about the importance of your cooperation with public institutions. I'm asking about it also on behalf of our younger readers – artists, who often wonder whether to focus more on institutional presentations or cooperation with private, commercial galleries.
PPP: For cultural and personal training, I have always thought that it is necessary to follow a path made of various stages, some of which are very simple but indispensable for the professional and individual growth of an artist and a curator. All deserve respect and consideration. At the end of this path there is the institution. In my opinion, it is a point of arrival, not a place of departure.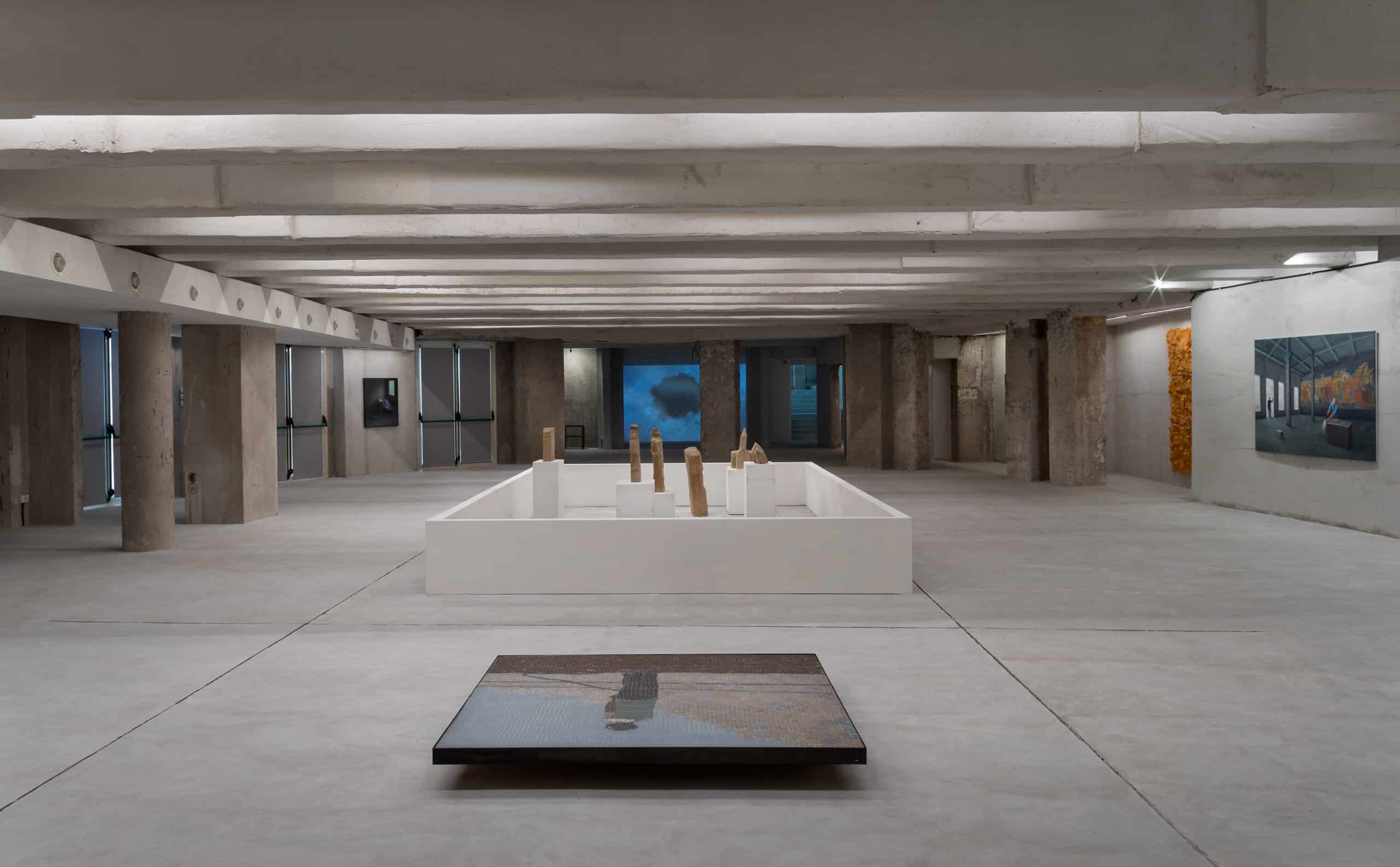 La Fondazione in Rome, "Geta Brӑtescu, Adrian Ghenie, Ciprian Mureşan, Şerban Savu", curated by Pier Paolo Pancotto
DB: The Project Room within La Fondazione is an experimental space. It seems to me that this is not only a test for the artists, but also for you. Nowadays, it is often said about trends in art, that some artists are popular, but it is often only a temporary thing. I think that in all your projects, including the Project Room in La Fondazione, you seem to be looking for universal, timeless values. Is that correct? And what do you think about trends in the art world?
PPP: The Project Room is a concept, not a specific space of La Fondazione. It focuses on talented artists of the new generations, often during their first personal appearance on the exhibition scene in Italy. Mateusz Choróbski, the first artist who took part in this project, perfectly embodies this definition.
DB: What values are you looking for in art? What aspects are the most eye-catching for you?
PPP: Quality and sincerity of research of an artist. And then, his awareness of the history of art and all that has been before him. Knowledge is important, without this there is no future, not only in the field of art. I believe in experience and professionalism. 
DB: I noticed that you like to work with some artists long-term. Your cooperation usually includes working on a couple projects in different places over a period of time. What does this model of working with an artist give you? What are some of the upsides?
PPP: The mutual appreciation and esteem between a curator and the artist are the basis of each project. I have always been inspired by this logic thanks to which I try to develop the relationship with an artist over time. It is like a friendship, as long as it persists, it creates a common path.
La Fondazione in Rome, "Geta Brӑtescu, Adrian Ghenie, Ciprian Mureşan, Şerban Savu", curated by Pier Paolo Pancotto
Mateusz Choróbski, La Fondazione in Rome
DB: Do you think that the current situation of pandemic will have an influence on how institutions and galleries work, on their financial stability, and on how they support artists? If yes, could you tell us how?
PPP: The Foundation has temporarily frozen the ongoing projects (the Piero Golia exhibition in the central space and the Radu Oreian exhibition in the Project Room) and is working on future ones with the hope that its programming can start again as soon as possible. Therefore, it is always active, but keeping a low profile. At a time like this it is only appropriate to reflect in silence. In the meantime, our dialogue with the artists continues in private, far from the general outcry, waiting for their projects to be revealed to the visitors at the right time and to involve them, as usual, in a multisensory solution given the technical, typological and semantic articulation that characterizes them. Of course, it is hoped that all of this will happen soon. The narration of La Fondazione began last September with the exhibition of Geta Brătescu, Adrian Ghenie, Ciprian Mureșan and Șerban Savu and, after this abrupt stop, is ready to start again with ever greater energy and confidence in the future.
I trust in art and its saving capacity.
Interviewed by Dobromiła Błaszczyk
Edited by Ada Kałużna
"Piero Golia", curated by Pier Paolo Pancotto, La Fondazione in Rome, photo: Daniele Molajoli
"Piero Golia", curated by Pier Paolo Pancotto, La Fondazione in Rome, photo: Daniele Molajoli
"Piero Golia", curated by Pier Paolo Pancotto, La Fondazione in Rome, photo: Daniele Molajoli