The artist's creative explorations of the presence of women in art history are present in the paintings and film presented at the exhibition.
From November 4 till December 11 2021, the New York Art Gallery Metro Pictures was showing an exhibition "Haus Proud" of works by Paulina Ołowska.
Paulina Olowska presented a new series of paintings and a video work in Haus Proud. Olowska considered the special context of the exhibition while producing the works. Informed by her research into women-run exhibition spaces and schools, such as the Women's School of Planning and Architecture in the United States and the Zakopianska Szkoła Koronkarska ("Zakopane Bobbin Lace School") in Poland, the paintings adapt imagery from her ever-increasing collection of vintage fashion advertisements and photographs to continue her longstanding interest in expanding the representation of women in art history.
The portrait Ester Krumbachová in her office is an homage to the eponymous stage and costume designer, screenwriter, and director. Olowska is drawn to Krumbachová not only for her many contributions to Czech New Wave cinema but also for her influential position behind the scenes, a position typical of women whose labor has often gone underappreciated and unrecognized throughout history. Olowska paints Krumbachová standing in the middle of an office surrounded by posters for the films she worked on in the 1960s. 
read also
An international atmosphere in Amsterdam is generating a vibrant and diverse art scene. This city attracts artists from around the world, and it goes without saying, that Polish artists have journeyed to Amsterdam and set to work. Let's see if you are familiar with some of the Polish artists that have made a place for themselves in this multicultural mixture of creators.
The School of Archery is one of two paintings based on images by American fashion photographer Deborah Turbeville. Reminiscent of Seurat's A Sunday on La Grande Jatte, Olowska's painting shows a group of elegantly dressed women in bowler hats lounging in a field, their bows and arrows resting on the grass beside them. The title painting Haus Proud celebrates the professional technical schools of the Soviet Union, which provided specialized, non-academic vocational training across the Soviet republics. The sgraffito depicted on the wall behind the women alludes to the instruction these schools provided in a wide range of artistic mediums, including mosaics and mural painting.
Together, the paintings imagine a fantasy educational community starring fabulous renaissance women of all stripes—lecturers, students, custodial staff, and a principal with her pet. The video collage work foregrounds the historical basis of this narrative, featuring photographs and documentation from the women-run art schools and institutions that served as the artist's inspiration. These parallels form the artist's tribute to her longtime gallery Metro Pictures and the community it has established over its forty-year history.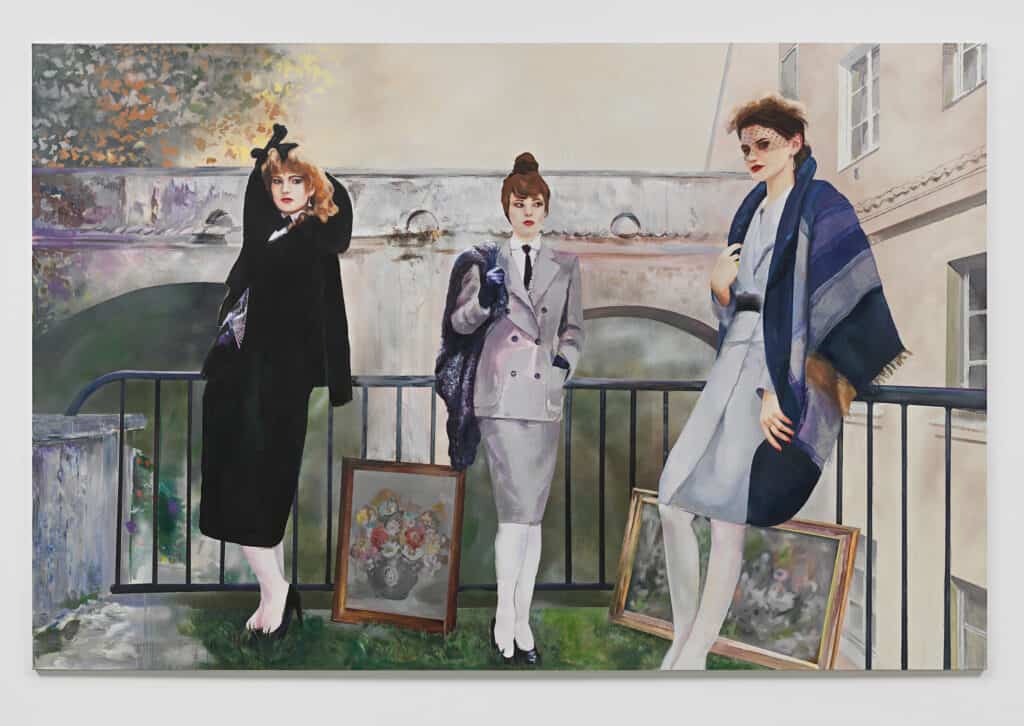 Paulina Ołowksa, Esther Krumbachová in her office, 2021, Oil on canvas, 220 x 160 cm

Paulina Ołowska, Principia and Her Pet, 2021, Oil on canvas, 220 x 160 cm

Paulina Ołowksa, The Cleaners, 2021, Oil on canvas, 200 x 140 cm

Paulina Ołowska, Hybrid (Visita interiora terrae rectificando invenies occultum lapidem), 2021, Oil on canvas, 220 x 150 cm

Paulina Ołowska, Agriculture Teacher, 2021, Oil on canvas, 220 x 140 cm

Paulina Ołowska, Haus Proud – exhibition

Paulina Ołowska, Haus Proud – exhibition

Paulina Ołowska, Haus Proud – exhibition