The exhibition Women War Photographers – From Lee Miller to Anja Niedringhaus is devoted to photojournalistic coverage of international wars and conflicts. On display are some 140 images shot between 1936 and 2011 by a number of women photojournalists and documentary photographers: Carolyn Cole (*1961), Françoise Demulder (1947–2008), Catherine Leroy (1944–2006), Susan Meiselas (*1948), Lee Miller (1907–1977), Anja Niedringhaus (1965–2014), Christine Spengler (*1945) and Gerda Taro (1910–1937). Their pictures provide a fragmentary insight into the complex reality of war, taking in a range of military theatres from the Spanish Civil War, World War II and the Vietnam War to more recent international conflicts in the Balkans, Afghanistan, Iraq and Libya.
The positions of the eight photographers present different ways of engaging with war and its effects – from traditional war reporting and embedded photojournalism to innovative approaches to social documentary photography. The particular perspectives chosen for the exhibition shift between objective distance and personal emotional involvement.
The exhibition focuses on women's positions, making clear the long tradition of female photographers working in crisis zones. In the process, it explodes the commonly held notion that war photography is a professional world entirely populated by men. Even though the staging and narrative strategies of female photographers do not differ in any fundamental way from those of their male colleagues, women have had to repeatedly carve out their position on the front line and operate outside the structures envisaged for them. On the other hand, in some regions and cultural milieus, their gender has also given them privileges denied to their male colleagues granting them access to families and to people affected by the conflict. This has enabled them to paint a nuanced picture of the effects of war on the civilian population.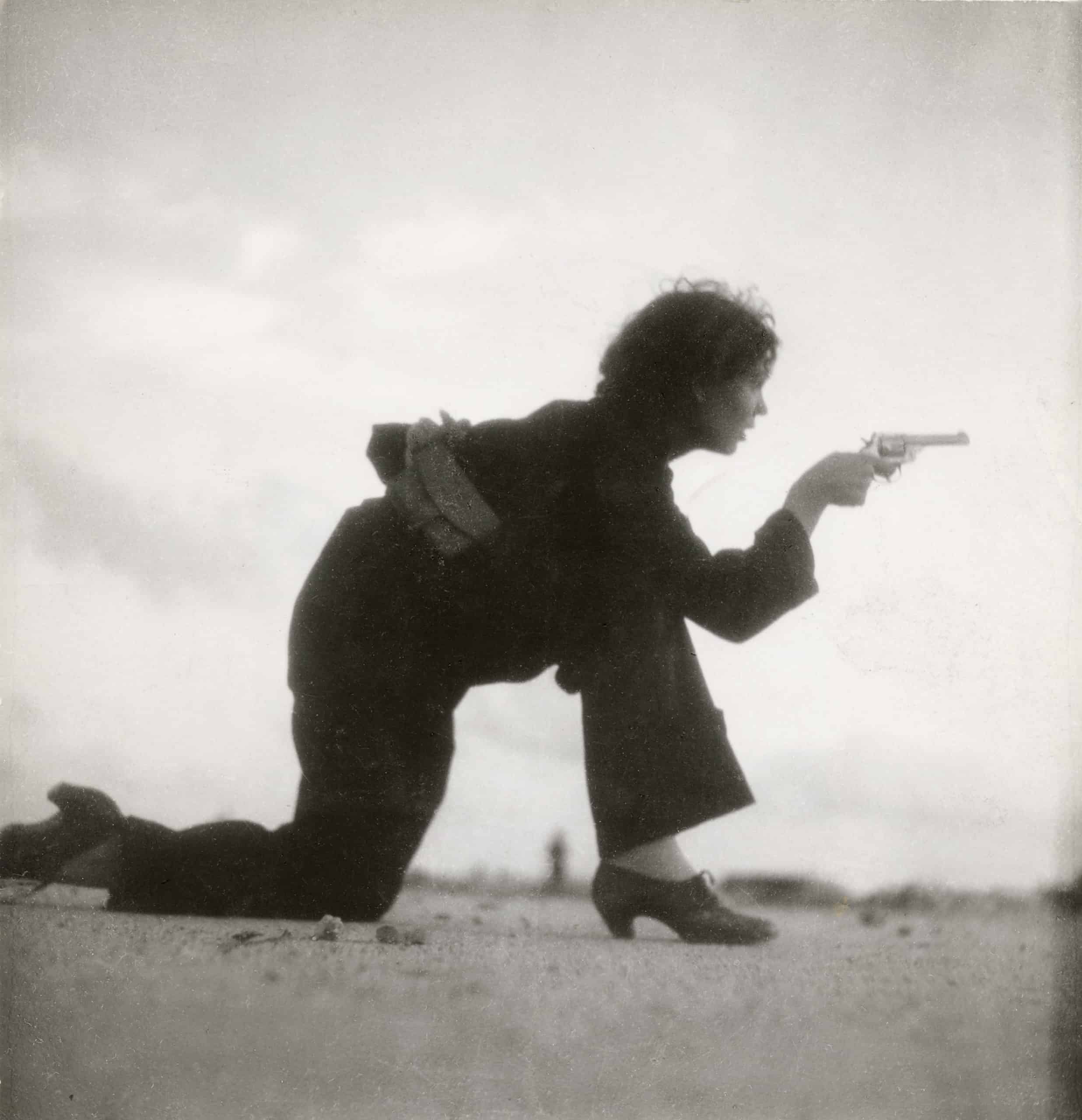 Gerda Taro, Republican militiawoman training on the beach outside Barcelona, Spain, August 1936. © International Center of Photography, New York
Gerda Taro, War orphan eating soup, Madrid, Spain, 1937. © International Center of Photography, New York
Anja Niedringhaus, An Afghan boy holds a toy gun as he enjoys a ride with others on a merry-go-round to celebrate the end of Ramadan, Kabul, Afghanistan, September 2009. © picture alliance / AP Images
The photographers' choice of visual and narrative strategies is the product of an ongoing quest, as they seek to bear witness to unimaginable realities, to move viewers, to sensitise them to the complex geo- and sociopolitical circumstances in the combat zones, and ultimately to have an effect on people's attitudes and actions by making these situations visible. In an age when global conflict is a constant, these strategies continue to express
The pictures shown in the exhibition were primarily intended for the fast-moving world of news reportage. Their distribution via mass media has made them a significant force, influencing the discourses being conducted around war and discussions about the controversial impact of images of war. Shot over a period of almost a century, these pictures also bear witness to the evolution of photojournalism as a professional field – especially when seen in the context of a constantly changing media landscape that is once again undergoing radical upheaval as the digital revolution takes its course.
Mobile phones and digital cameras enable soldiers and civilians alike to circulate their own pictures, while established media increasingly resort to photographs taken by amateurs. Where foreign journalists withdraw, citizen journalists use the reach of social media to inform about the situation on site. In their position as affected persons, they thus stand up for the importance of press freedom, without being dependent on the established networks of professional journalism. Nevertheless, the material from the crisis areas often remains precarious – framework conditions, trustworthiness and (political) motivations are constantly put to the test.
---
"Women War Photographers"
29.02.–24.05.2020
Fotomuseum Winterthur, Switzerland
Carolyn Cole, An image of Saddam Hussein, riddled with bullet holes, is painted over by Salem Yuel. Symbols of the leader disappeared quickly throughout Baghdad soon after US troops arrived in the city and took control, Baghdad, Iraq, April 2003. © Carolyn Cole / Los Angeles Times
Carolyn Cole, A US marine is covered in camouflage face paint during the battle for Najaf, Iraq, where American forces spent weeks bombing and fighting their way to the city's holy Imam Ali Shrine, before negotiating an end to the fighting, Najaf, Iraq, August 2004. © Carolyn Cole / Los Angeles Times
Anja Niedringhaus, A Canadian soldier with the Royal Canadian Regiment chases a chicken during a patrol in Salavat. Seconds later, the Canadian patrol comes under attack by militants who toss grenades over the wall, Salavat, Afghanistan, September 2010. © picture alliance / AP Images
Susan Meiselas, Soldiers search bus passengers along the Northern Highway, El Salvador, 1980. © Susan Meiselas / Magnum Photos
Susan Meiselas, Sandinistas at the walls of the Estelí National Guard headquarters, Nicaragua, July 1979. © Susan Meiselas / Magnum Photos
Gerda Taro, Man with child in militia dress, Barcelona, Spain, August 1936. © International Center of Photography, New York
Susan Meiselas, Traditional Indian dance mask from the town of Monimbó, adopted by the rebels during the fight against Somoza to conceal identity, Nicaragua, 1978. © Susan Meiselas / Magnum Photos