Marina Abramović's works, books and interviews sound like manifestos. Her life is like manifesto. She is an icon of performance art, whose works have become an important foundation for the development of contemporary art.
I had the pleasure of speaking with Marina Abramović. We met during her biggest retrospective exhibition in Europe, staged at the CoCA Toruń and organised in collaboration with the Moderna Museet in Stockholm, the Louisiana Museum of Modern Art in Humlebæk, and the Bundeskunsthalle in Bonn. From the beginning of her activity, the recipient has always been extremely important. What gives her this connection with another person?
"First of all, I am an artist. My duty is to use the language of art to communicate with my audience, and this is what I do. For me, the audience has always played an important role. […] I have the feeling that my public is extremely young. It is what I am looking for, because they are the ones that will stay. We are on the way out. They will give life to my work." Maybe that's why, on a basis of her own activity, she gives us a lot of ideas, tips, and declarations of the intentions, motives, or views of an artist or artistic life. Those of you who wrote "Walk Through Walls" knows a piece titled "An Artist's Life Manifesto" – 3 old-fashioned list of rules for artists. Below you can find 8 Marina's rules of life.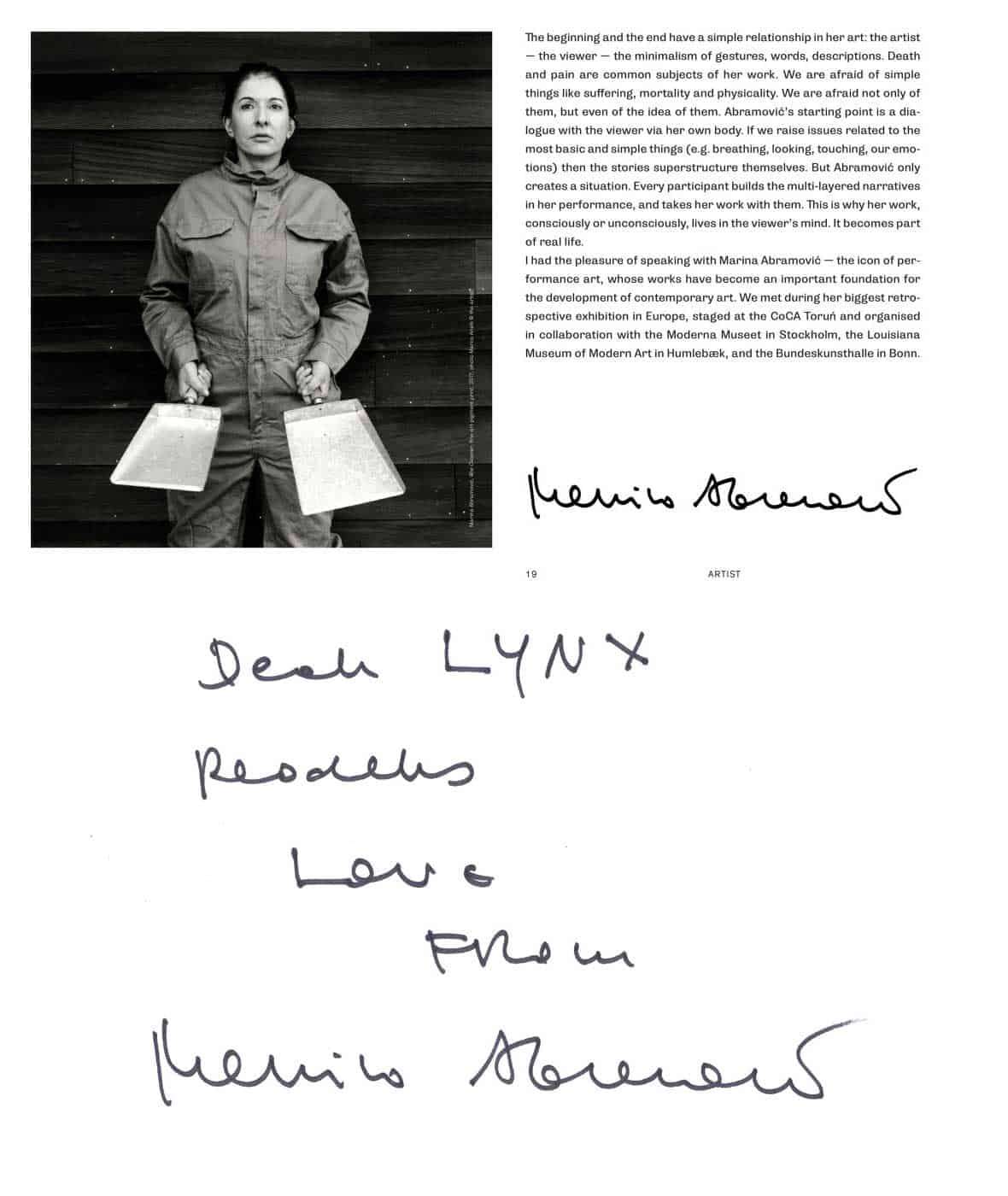 AN ARTIST'S CONDUCT IN RELATION TO WORK
An artist should avoid going to the studio every day
An artist should not treat his work schedule as a bank employee does
An artist should explore life and work only when an idea comes to him in a dream or during the day as a vision that arises as a surprise
An artist should not repeat himself
An artist should not overproduce
An artist should avoid his own art pollution
An artist should avoid his own art pollution
An artist should avoid his own art pollution
AN ARTIST'S RELATION TO SOLITUDE
An artist must make time for the long periods of solitude
Solitude is extremely important
Away from home
Away from the studio
Away from family
Away from friends
An artist should stay for long periods of time at waterfalls
An artist should stay for long periods of time at exploding volcanoes
An artist should stay for long periods of time looking at fast-running rivers
An artist should stay for long periods of time looking at the horizon where the ocean and sky meet
An artist should stay for long periods of time looking at the stars in the night sky
A LIST OF AN ARTIST'S ENEMIES
Enemies are very important
The Dalai Lama has said that it is easy to have compassion with friends but much more difficult to have compassion with enemies
An artist has to learn to forgive
An artist has to learn to forgive
An artist has to learn to forgive
AN ARTIST'S RELATION TO SYMBOLS

An artist creates his own symbols

Symbols are an artist's language

The language must then be translated

Sometimes it is difficult to find the key

Sometimes it is difficult to find the key

Sometimes it is difficult to find the key
AN ARTIST'S RELATION TO SILENCE

An artist has to understand silence

An artist has to dreate a space for silence to enter his work

Silence is like an island in the middle of a turbulent ocean

Silence is like an island in the middle of a turbulent ocean

Silence is like an island in the middle of a turbulent ocean
AN ARTIST'S RELATION TO SUFFERING

An artist should suffer

From the suffering comes the best work

Suffering brings transformation

Through the suffering an artist transcends his spirit

Through the suffering an artist transcends his spirit

Through the suffering an artist transcends his spirit
AN ARTIST'S RELATION TO HIS LOVE LIFE

An artist should avoid falling in love with another artist

An artist should avoid falling in love with another artist

An artist should avoid falling in love with another artist
DIFFERENT FUNERAL SCENARIOS

An artist should give instructions before the funeral so that everything is done the way he wants it

The funeral is the artist's last art piece before leaving

The funeral is the artist's last art piece before leaving

The funeral is the artist's last art piece before leaving