From the perspective of an artist, becoming a part of an established collection marks a crucial step in your career. It inevitably confirms quality of your work and ascribes it the market value. Once installed in the circulation of collected items, the works begin to "work for themselves" as collections are exhibited and presented by their owners.
Addressing an email to Ettore Molinario in which I shared my work, was an act of curiosity. Works he has gathered for over two decades seemed to me opulent – I could find among them artworks that vastly inspired and shaped my thinking on photography – and the subjects I have been working with – fetishism, queer, gender. As an emerging artist, I had little expectation to hear back from a man who collected Robert Mapplethorpe, Cindy Sherman, Roger Ballen, Claude Cahun, David La Chapelle and many others. Yet, I did. Moreover – not only I ended up seeing my works in the collection, but most importantly, I got an opportunity to know more about this collection – and its owner. And both seemed to me far from an average. In this interview – or rather a conversation between the collector and an artist, we discuss Ettore Molinario's personal project: his collection.
AW: You are a very particular collector – on one hand, you are a role model regarding the way you manage your collection: you promote it, take care of its visibility in media, make plans for curated exhibition and work on establishing a new space where the works will be permanently installed. But on the other hand, your approach vastly varies from many collectors – it is not only personal, but subconsciousness and memory-related. And even more – you treat it as a body of work itself. Could you please say bit more about your relation and approach towards your collection?
EM: I believe that collecting is a pleasure and a very personal issue. Every collector is unique as a person and in term of gathering and putting together "objects". Therefore, there is not a right or wrong way to approach this process. The real issue for me is the "genuineness or ingenuity" of the collection, the fact that it should be a natural process, driven by the emotions, interests, objectives, evolution of the collector taste. I think a good collection must represent the collector and not an artificial process driven by other people taste. In building up a collection you could make extraordinary acquisitions and you can make mistakes but, nevertheless, this is part of this fascinating journey. The collection should reflect euphoria and depressions, joy and sorrow, good and bad deals. A collection has to be coherent with the mind-set and personality of the collector. This is why I consider my collection a "mirror", in the sense that truly represent my identity and my life; a psychoanalytical journey through the images (parts of myself) collected, where there is no chances to sell pieces.
I often say that I buy "pieces of myself", in the sense that every artwork that I have acquired during these 25 years contains traces of my evolution of my aesthetic taste, my spirit, my relations with society, my interests, my state of mind, my objectives, my vision of the future.
At the beginning, I was buying photos only for personal pleasure. I had no idea how to build a collection, my acquisitions were random, and not systematic. I had no competences on Art, I was not bound by any prejudices, but I would always buy what I really liked and not what other competent people suggested me to buy. Investment, due to my financial background, has always been an important issue, especially at the beginning, a sort of "protection" from the low competence I had in this market. Investment in the sense of taking low risks to lose money, more than speculating on the future gains; it was already very clear to me that investing in art is a long-term constant "low" revaluation, with exceptions of course. As at today, the Internal Rate of Return (IRR) of the collection, based on 20/25 years of acquisitions is around 8% per year, boosted by few great picks of some international artist like Cindy Sherman or Robert Mapplethorpe. The very first buy of my collection was Joel Peter Witkin's transgender "Man with dog". When I saw this large, uncanny, elegant, impressive image with a retrò, decadent setting at Witkin's retrospective in Castello di Rivoli, I felt the absolute necessity to possess it. I mentioned this episode to my Freudian analyst at that time and his words after several minutes of silence was "What do you want it to be X millions of lire to buy a piece of yourself…"
That was the spark that led me to start investigating my buying process deeper and the beginning of my introspection voyage on myself, through images collected. The "identification" process in the images was starting to emerge from the subconscious and little by little became more evident and so the bulk of my future focus, as a collector, on "Gender Identity" research.
David LaChapelle, Shoe story, 1995, cm 60×40, vintage C-print, ed. 7/30, Courtesy Collezione Ettore Molinario, ©David LaChapelle
Nobuyoshi Araki, Untitled, 2007, cm 61×101 (diptych), hand painted vintage gelatin silver print, unique piece, Courtesy Collezione Ettore Molinario, ©Nobuyoshi Araki
Agata Wieczorek, Double Portrait, 2019, cm 100×70, archival inkjet print, ed. 1/4, Courtesy Collezione Ettore Molinario, © Agata Wieczorek
AW: While your relationship with the Collection is deeply personal, you haven't always been that much connected to the arts. Alike Aby Warburg who was born to a family of Hamburg bankers, you were initially connected to economy. Could you briefly tell about your background?
EM: I was born in a family where art was not a priority. I don't remember my parents taking me to museums or discussing about art. The environment of my adolescence was full of materialistic objectives, status, no cultural and spiritual drives. That led me to concentrate on economic studies, with great ambition to become a successful manager. I liked advancing in my finance and insurance management career, fueled by a strong component of creativity, determination and curiosity. My single life was made up of extensive working periods abroad, travelling, sports and enjoying passions. When I reached my mid-thirties, I was settled in Milan and started to feel the need of replacing "posters" on my walls and I found myself buying an Alexander Calder "gouache" in a Sotheby's auction, that after few days turned out to be false. This episode marked my first experience as an art buyer, but did not discouraged me. It rather made me aware that I could not approach this market in a superficial way. Years later, after almost thirty years of successful financial experience, at around 50 years old I felt the need to go for a second life in the Arts. I went for a University degree in History of Art in Milan and, once graduated, I decided to see in real what I have studied, and started a four years Grand Tour, visiting more than 200 museums around the world. None of my family understood my decision and they could not understand the synergy between the economic background and a sound competence as Art Historian. In today's world, where economy is a such a strong drive for the Art business, having the possibility to wear "both hats", is the real key success factor.
I would strongly advise young generation to dedicate thoroughly to study the History of Art and to visit physically museums, fairs, exhibitions, to register as many stimuluses as they can. Unfortunately, art market, is going nowadays dangerously into the incompetence, into fashion, events, business, brands, that are really far from the "reality and intrinsic value" of the work of art.
Prices are driven from the "new markets", generally incompetent, but eager to enhance their status and visibility. The intermediaries, such as gallerists, art consultants, curators, are generally led by immediate success and visibility instead of investing – with some exceptions – in the artist research and in their medium, long term grow. They prefer to go for somebody "easy sellable" to make quick profits. That connects again, as a collector, to the value of studying and researching, in the sense that, in this chaotic "no-limits" environment, you need to have a solid background in term of artistic competence that allows you to buy with more personal security; that allows you to project a vision of the future artistic trends and to be conscious of the originality, cultured, innovation of the research of the artist you like to buy.
AW: Your collection has a very defined structure. Was this a concept from the very beginning to structure the collection this way, or did it emerge in the perspective of years while you were welcoming new works to your collection?
EM: The concept of the collection was not an issue at the beginning, I was buying pieces instinctively, occasionally. Ten years later, I started asking myself about the future of these photographs. The only way was to sit and look at the images bought so instinctively, searching for a link between them. In the end, I went through a decomposition process, a sort of "cubistic" approach to the images, with a surprising result. I came across hidden parts of myself that intertwined in the different works with a fascinating regularity. I am an ambitious person and I was aware of the complexity to come up with a strong personal concept to sustain a future project and significant investment of money, so my "rational" came to help me. I wanted to create my own dream, based on my passion, a concept that would relate not only to myself, but to the contemporary social issues. Something original and innovative that would intersect philosophy, aesthetic, literature. A collection of masters, from the mid-nineteenth century to today, on the hottest and brave topic of the century, Gender Identity. No longer just men and women, but one nascent in the other, confused, struggling, reconciled, mask, truth. Gender Identity could have been the "polar star" of my research but I wanted to go deeper and dig to find out the main components of my personal and sexual identity, as the base for my research. Now, the collection gained the 5-themes structure:
– Eros & Thanatos, the polarity between life and death define identity as a tension between creation and (self)destruction, self-affirmation and self-negation.
– Neutral Identity results from pausing or not participating in the conflict between female and male identity. It is a condition of neutrality and fluidity that sets itself apart from gender dualism.
– Fetishism influences the construction of identity through processes of replacement and shifting, which concentrate on a surrogate of one's object of desire.
– Melancholy, an introverted feeling according to the ancient doctrine of the humors, betrays the lack of something that is identified with a part of the self, something that is believed to have been found yet that has been lost again.
– Uncanny is disturbing and reassuring altogether, it makes one alert yet increases one's self-awareness, allowing what was hidden and buried to re-emerge."
Brian Griffin, Siouxsie, 1984, cm 50×41, vintage gelatin silver print, unique piece, Courtesy Collezione Ettore Molinario, ©Brian Griffin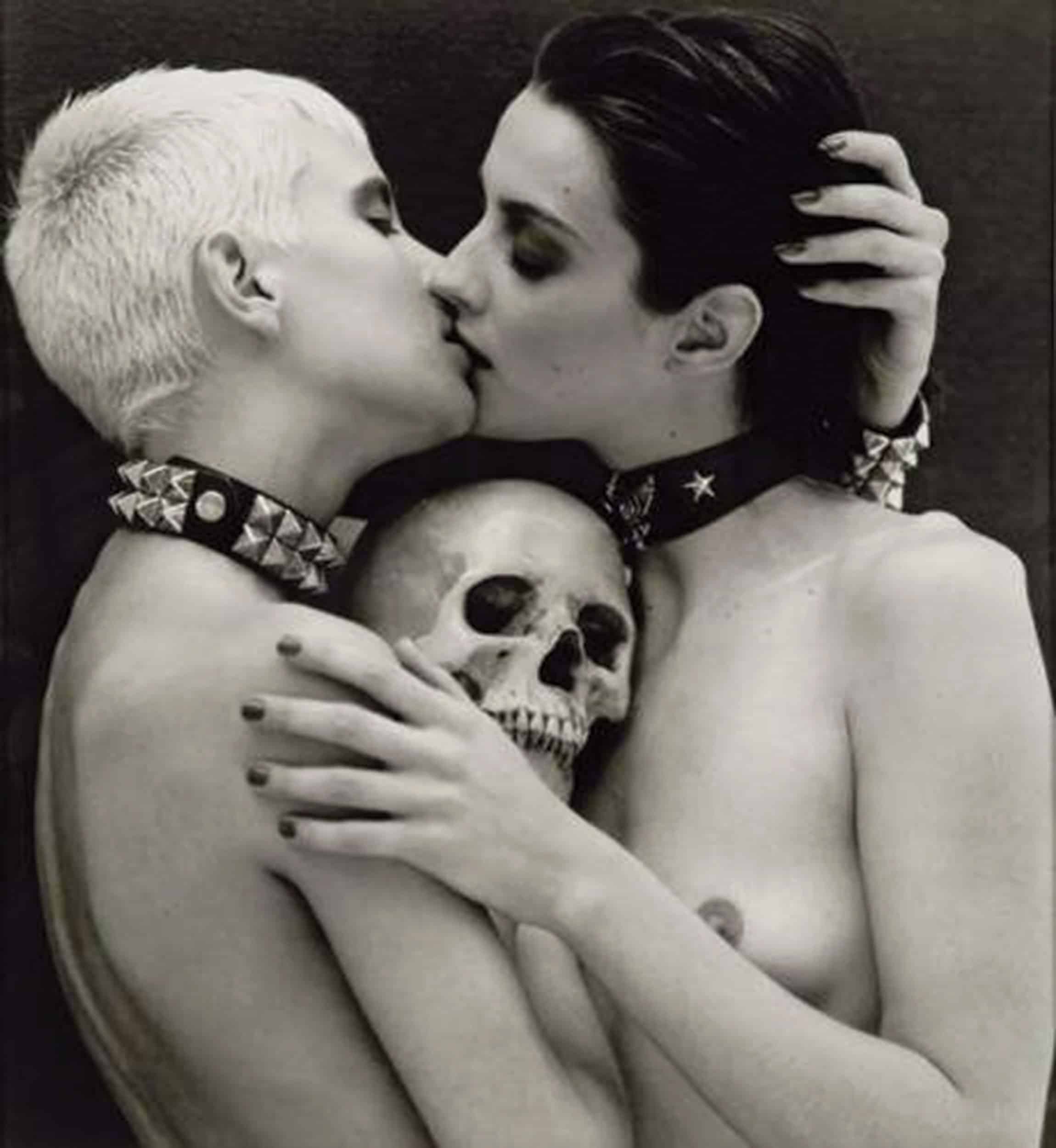 David Bailey, Angie Hill and Catherine Bailey Kissing, 1986, cm 48×46, vintage gelatin silver print, ed. 1/5, Courtesy Collezione Ettore Molinario, ©David Bailey
AW: The themes you are researching are the major "problematic" themes for the Western culture. The conflict of Eros & Thanatos, fetishism and desire, etc. – these are still, nowadays vastly tabooed subjects. What kind of reactions have you observed your collection evokes in other people? Is there any message you intend to address by presenting these selected works to the audience, or do you rather concentrate on personal research?
EM: The reactions are strictly related to the level of deepening and culture of the viewer; a superficial view of the images brings to a superficial reaction, simply "an erotic collection or collection of nudes". Nudes and erotic are popular issues nowadays, so no big deal! As soon as you go through the concept, that is clearly outlined in the web site, perception change and a "surprise" reaction is common from the viewer, due to the introduction of the 5 pillars that start to orientate the viewers on the Gender Identity research, that is the goal of the collection. I would say that Neutral Identity and Fetishism are the most tabooed within the pillars and therefore a bit uncanny at first sight. The next level is the marriage between the pillars and the images of the collection, that creates this fluid intersection between the collection and the concept. The last stage, that is the most difficult for the viewers, is the identification of the collection with the Collector, the "mirror portrait" that is, in my intention, my final work of art. Not only a static "portrait" but a constantly mutating one, due to the evolution of the identity of the collector over the time. This "evolution" of the collector's identity is replicated and runs parallel with the "timeline" of the collection, that shows how artists have maturated aesthetically and philosophically the representation of the "Gender Identity" topic, from the beginning of the History of Photography. The overall reading of the collection is considered, at the moment, a "strange outing", from a collecting process point of view and, I believe, it requires culture, passion, curiosity, time, from the viewers to get through. It all started from a personal need of introspection, but more and more my ambition is shifting toward sharing and implementing "socially", this kind of research.
AW: You stress your relation with the artworks. But how about the artists – are you interested solely in the works, or, as a collector, do you also take into consideration the silhouette of the artist and the possible connection you might have with the authors of the works?
EM: In the "magic triangle" of my collecting process, artist, work and collector, there is an identification process that is intertwined. Collector has an identification with the work of art, the work of art is a projection of the artist and therefore there is a natural identification, projection, between the collector and the artist. The whole becomes even more stimulating and fascinating because it is a dialogue among masks, masks of the collector, masks of the artist, that live crystallized in the work of art. For me, this is the fuel of the collecting process and the real "enigma".
At the beginning I was hit by images and then by the artists, today I am slowly shifting into a more balanced situation. My attention and drive comes nowadays more in discovering young talented artist that has my same or similar research, passionate people that are able and willing to fit in my future projects. People that can enrich and enhance the spirit of the collection with their innovative, young ideas, sparring partners with whom sharing a future path together. Artists that feel the interior necessity to open up these "problematic and niche themes" to a wider social audience."
Martijn Doolaard, Le jeune homme perdu, 2016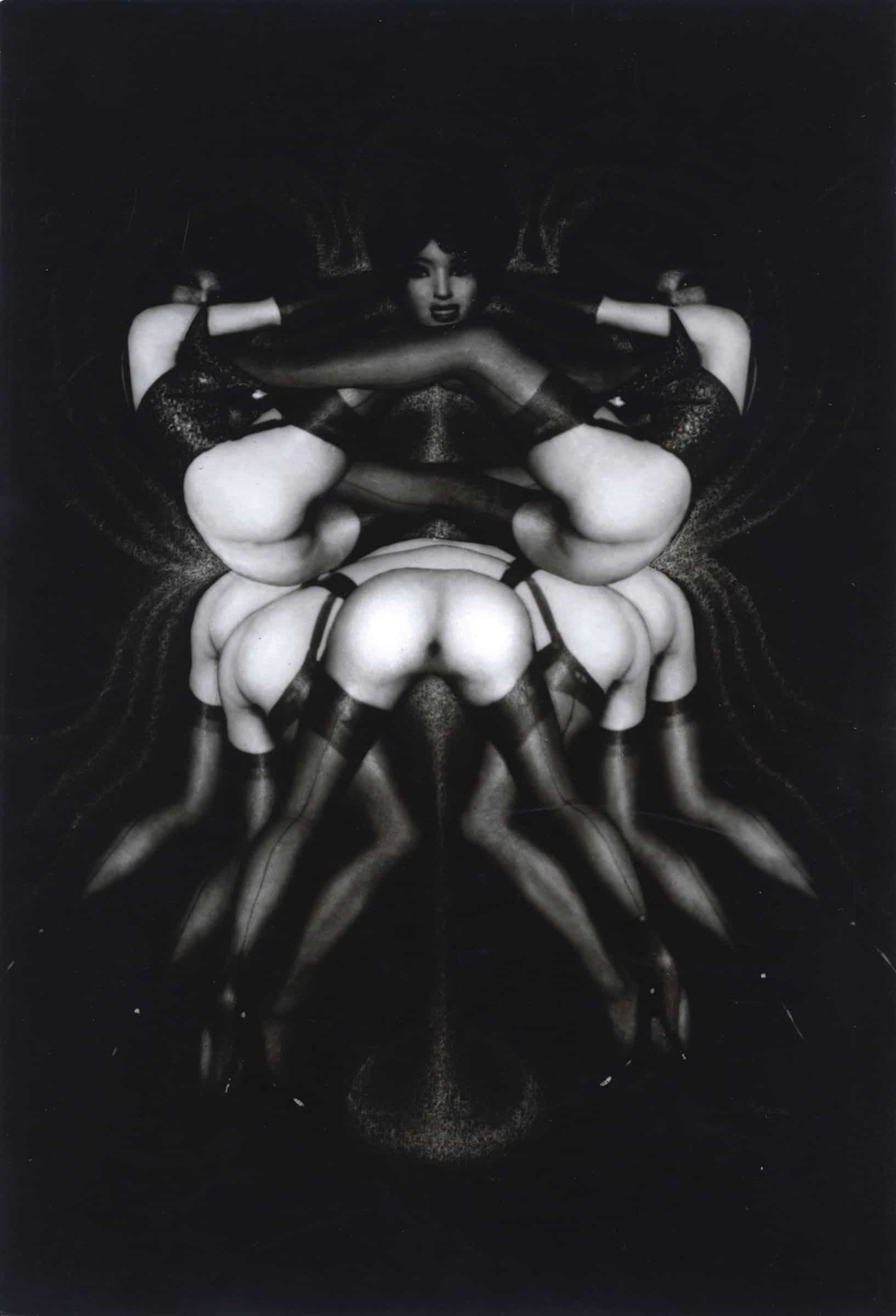 Pierre Molinier, Le triomphe des tribades ou sur le pavois, 1968, cm 21×15, vintage gelatin silver print (photomontage), Courtesy Collezione Ettore Molinario, ©Comité Pierre Molinier
AW: From the point of view of collecting art, photography is a considerably difficult medium. Although you also own a vast collection of sculptures and furniture, Ettore Molinario's collection is at first a collection of photographs. Why do you choose this medium? What are the challenges photographs pose as collection items?
EM: I started with photography at the beginning of nineties, in a very casual way; I felt it was a medium that best represents today's society, more circumstantial due to a shorter history, and where I could buy masterpieces at a reasonable price. On top, I did not have, at that time, a good knowledge of History of Art, so I was feeling less scared to make mistakes. From an investment point of view it was a bet, there was not a real market, especially in Italy, and the reproducibility was a real obstacle to the diffusion of the interest in this market, together with the lack of competence of the traditional intermediaries. Nevertheless it was a tremendous challenge and I went for my instinct. Only years later the market has progressed and it is a big satisfaction now to have been a pioneer, at least in Italy.
There are several issues in buying and collecting photographs, such as vintage or modern prints when you buy historic authors. I personally buy only vintage staff, when it's possible, or rare later prints. Rarity, quality, provenance, history of the print and symbolic value are the "must" in this kind of market. Fascinating "attributes" and very important for the standing of the Collection. What is crucial in case of the contemporary artists is the research behind the work, the quality of the prints, the consistency, the limited edition and the prices. I believe it's interesting to think about a reasonable number, as total edition, which includes a little number of large size for top collectors and museums, and the rest for the market. Prices has to be controlled and gradually increased according with institutional exhibitions, relevant reviews, collections presences. I believe what is dangerous for young artists, is the over-exposition to market trends, fashion, brands, whatever infrastructure that could detach the price from the intrinsic value of the work. Last but not least, framing, cataloguing, documenting and conservation of the collection is a major issue; activity that requires vision, precision, passion.
AW: You have been active when it comes to promotion of your collection. Could you please say more about your plans for the future regarding your collection?
EM: My ambition would be to continue to develop my collection and to become a hallmark of the Gender Identity subject, at international level. That would mean continuing and reinforcing the historic authors panel and to selective buying emerging, talented artists with an excellent research behind. The idea would be to go deeper and deeper into the focus of the collection exploring aesthetically and philosophically the 5 pillars of the concept, creating a dialogue among them and, hopefully, stimulate the research on this incredibly contemporary themes. The House Museum planned to open in 2022 in the center of Milan would gather the collection of photographs, my collection of paintings and Indian and South East Indian sculptures. The architectural space, powerful, confident but "elastic", would be a mix of modernism and decadent atmosphere, a sort of "theatre" where objects of art will be the actors of an always mutating scenography, inserted and wrapped into liberty, deco' and modernistic furniture. Open to public and donated to the collectivity, the House Museum, in my intention will be a living international cultural hub, open to conferences on the subject, temporary exhibitions to promote emerging artists, new ways of fruition, even virtually, of the collection, twinning with international museums, foundations, fashion industry, with the aim to create a global network to sustain the research on the fluidity of Gender Identity and, the dream of a "total work of art".
Written by Agata Wieczorek
Cindy Sherman, Untitled #127/A, 1983, cm 88×58, cibachrome print, ed. 5/18, Courtesy Collezione Ettore Molinario, ©Cindy Sherman
Gillian Wearing, Cahun and Wearing, 2017, cm 52×43, bromide print, ed. 1/6, Courtesy Collezione Ettore Molinario, ©Gillian Wearing