In this new series (appearing monthly) we discuss the basic legal aspects of working as an artist, freelancer or business owner in the culture sector. It has been drafted exclusively for Contemporary Lynx by Oskar Roesler — founder of Roesler Group, which offers tailor-made legal advice to clients including artists, collectors, galleries and foundations. Their lawyers bring years of experience in corporate law, copyright law and trade agreements pertaining to art dealership.
In this article we will discuss issues related to the transfer of economic copyright and licence, we will try to present a simple way of distinguishing between these two legal constructs, and present recommendations regarding the selection of the most appropriate solution for various types of contracts governing the trade in works of art.
Any activities related to the disposal of artworks include the issue of copyright to such artworks, which are treated as 'a work' within the meaning of Polish copyright law. This refers to both the lease and sale of artworks, e.g. for exhibition purposes or to showcase them in art galleries. As it turns out, where copyright to artworks is concerned, it is vital to differentiate whether we only want to grant a licence as part of a given activity, or whether we should strive for transferring out economic copyright. The difference might seem unimportant to those who do not deal with legal matters on a daily basis, but from the point of view of the rights we might potentially be vested in, it is one of the most fundamental issues that the parties to transactions should agree upon.
A mistake in drafting an agreement covering copyright could bear irreversible negative consequences for creators —for example, where the intention of the author of the work was only to grant a licence, retaining the economic copyright and authority to grant further licences to other entities, rather than transferring economic copyright.
What is a work?
First of all we should define the notion of a work. In the context of the Act on Copyright and Related Rights, a work is any manifestation of original creative activity, in any form, notwithstanding its value, intended use or means of expression. For example, a painting, a photograph, graphics, visual identification of a company prepared by a creative agency, and also various types of reports or fair stand arrangements can be regarded as a work — i.e. each outcome of creative activity which meets the criteria of a work provided above.
What is the difference between a licence and copyright?
Moving on to the differences between a licence and transfer of economic copyright, the simplest way to visualise these two legal constructs is to compare them to sale and lease. This comparison is not a perfect one, of course, as it does not take into account the specific nature of moral copyright which is inseparable from the author who cannot dispose of such rights freely. But this comparison allows us to make a simple and clear distinction. The transfer of economic copyright can be compared to sale, which means that the author disposes of all economic rights to the works, and the buyer acquires the rights, so this procedure should be applied in the sale of artworks. In turn, a licence can be compared to lease, which means that a licensee may use a given work, but the author retains all rights to it — this solution should be used for leasing works to exhibitions or under agreements with galleries in a situation where the works of a given artist are showcased in such a gallery (this does not include works purchased by the gallery).
From the buyer's point of view, the transfer of economic copyright is aimed at acquiring all economic rights to the work, which means that such a buyer may dispose of the work freely, as a rule at their own discretion, including the right to grant a licence to use the works to other entities.
In turn, under a licence agreement, the licensee (according to law, a person entitled to use a licence) will be able to use the work insofar as the licence agreement allows it, in particular for a term and on the territory indicated in the said licence agreement. In addition, licensees are not entitled to sublicense the work to third parties, unless such power has been expressly vested in them under the agreement.
read also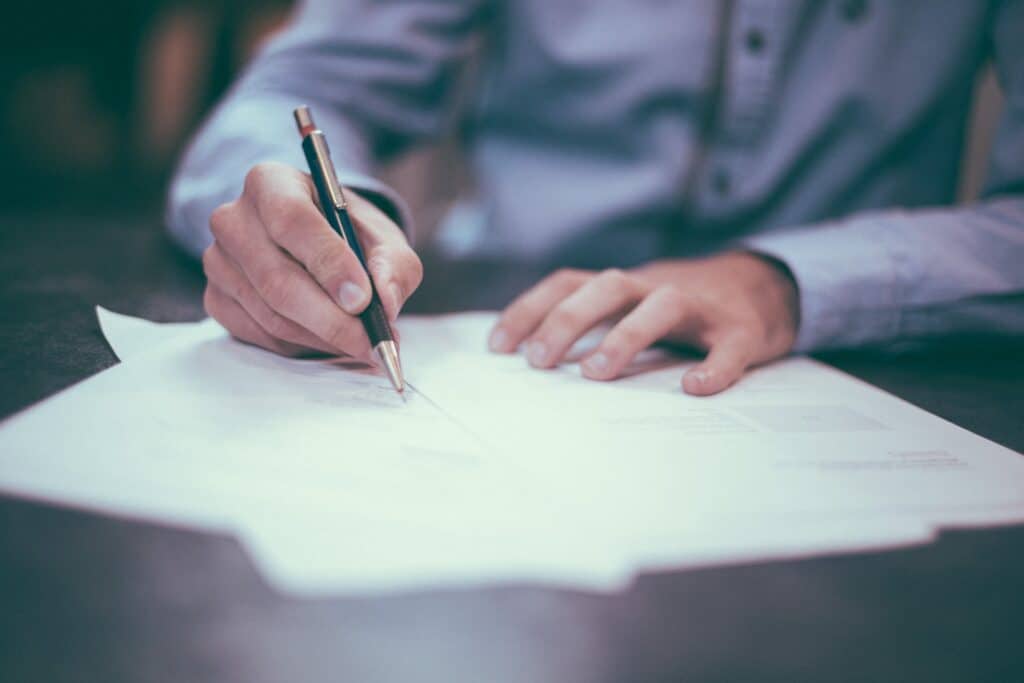 Art & Law — Part 3:
After we clearly define the parties within our agreement and select the governing law and the type of agreement, our next step is to draw up provisions which would best suit our purpose. 
In this new series appearing monthly, we discuss the basic legal aspects of working as an artist, freelancer or business owner in the culture sector. It has been drafted exclusively for Contemporary Lynx by Oskar Roesler
Exclusive and non-exclusive licence
As regards licences, it is possible to grant either an exclusive or non-exclusive licence. Under an exclusive licence, the author cannot grant a licence to another entity as part of the same fields of use, in the territory and for the term of licence for a given work. In contrast, the essence of a non-exclusive licence is the ability to freely grant a licence for the use of a given work to an unlimited number of licensees.
From the point of view of trade in works of art, only an exclusive licence can be taken into account, but we cannot totally rule out the occasional application of a non-exclusive licence — for instance, where an exhibition is organised by individuals representing a civil-law partnership.
It should also be stressed that unless it is stated otherwise in an agreement, despite the fact that an exclusive licence has been granted, the author is still able to use the work independently in the same fields of use and in the scope indicated in contractual provisions.
Furthermore, unlike an exclusive licence or transfer of economic copyright, a non-exclusive licence does not need to be granted in writing. This means that a work can be licensed by way of verbal arrangements or in a document form. For evidence purposes, it is recommended that you use a written form, for example by drawing out a confirmation of verbal arrangements concerning a non-exclusive licence made during a meeting.
Hungry for more?
Disclaimer:
All materials published on this website are made available for reference purposes only and as such mustn't be treated as tantamount to legal advice on any specific matter. We nonetheless make every effort for this information to be complete, accurate and up-to-date.
The owner of the website bears no liability for any statement made in the contents posted on this website, any potential mistakes and inadequacies in the materials, as well as potential results of actions undertaken on the basis thereof. The website's visitor should personally seek legal counsel in all matters pertaining to their rights and obligations.