In this new series appearing monthly, we discuss the basic legal aspects of working as an artist, freelancer or business owner in the culture sector. It has been drafted exclusively for Contemporary Lynx by Oskar Roesler – founder of Roesler Group, which offers tailor-made legal advice to clients including artists, collectors, galleries and foundations. Their lawyers bring years of experience in corporate law, copyright law and trade agreements pertaining to art dealership.
Entering into collaboration with a new art gallery/company/employer is a moment worth cherishing and this remains so at any stage of your career. Yet overwhelming euphoria, excitement and joy notwithstanding, there are certain things you should take care of first: remember to keep a cool head and lay the groundwork for the path you are to follow.
In the upcoming articles, we outline the proper structure of an agreement between, for instance, an artist and a gallery and the essential components whose absence would render it null and void. Furthermore, we demonstrate how artists and gallery owners could formulate an agreement which avoids significant imbalance in rights and obligations. This will ensure both parties draw equal benefits from their collaboration.
Hungry for more?
PART I — DESIGNATING THE PARTIES OF AN AGREEMENT AND ITS FORM
FORM OF AN AGREEMENT
Although many articles dedicated to the subject of art-related agreements clearly state they should be concluded in writing, other forms (such as verbal) are still considered legally binding. However, it is absolutely crucial that an agreement be concluded in writing or in document form from the perspective of a lawyer and the pursuit of any claims arising from a collaboration between artist and gallery. This is the case for any collaboration or transaction in which we partake: the same principle applies to borrowing one's works for exhibition, shipping or sale.
What does 'in writing' mean? To put it simply, that the statement is followed by a handwritten signature. Therefore, although one party might draft an agreement on computer or on a piece of paper, both parties must place their signatures underneath. Two common agreements are service and car sale agreements, in which the two parties decide on a content and sign the documents on their own behalf or on behalf of the entity they represent. First and foremost, concluding an agreement in this manner gives us certainty that the conditions discussed during negotiation have been reflected, which in turn confirms that such was the will of the parties on entering into agreement.
On the other hand, document form refers to statements submitted on a data medium that would allow one to identify the person submitting them. The medium could be email or text message. However, we suggest using email for this purpose in order to be extra safe when concluding or terminating an agreement or ensuring such a clause is indeed included. We conclude an agreement in document form only if the standard procedure poses considerable difficulties (due e.g. to distance, an extended turnover period or a need to expediate the process), though we are entitled to use this form when writing is not required by law.
Nonetheless, under no circumstances should a person enter into verbal agreement since the stipulations included therein are harder to prove.
read also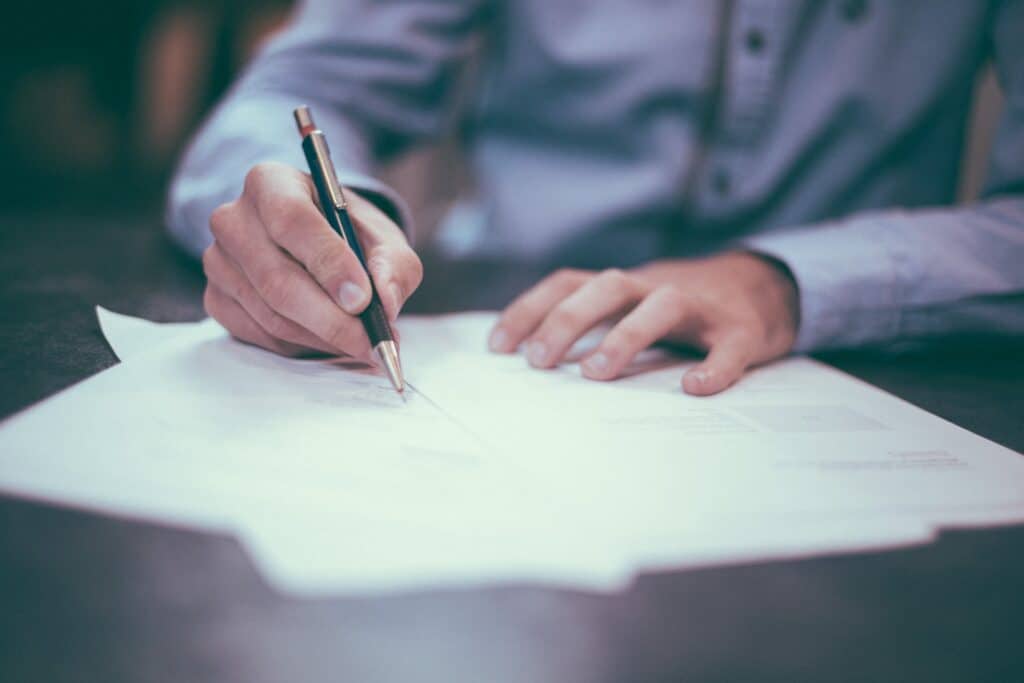 In the last instalment, we specified the types of agreements and related statements recommended by lawyers. Also, we described how to designate an agreement's parties properly and why this aspect is important. Another step in laying the foundations for a collaboration between an artist and gallery is designating the law applicable to our legal relation and deciding on the type of agreement we want to sign.
DESIGNATING THE PARTIES OF AN AGREEMENT
Proper designation of the parties (natural or legal persons) entering into an agreement is paramount since it decides whether the agreement is considered binding. In any dispute, mistakes in designation may provide the crucial argument for rendering the legal relationship null and void. Below, you can find the information that has to be included for different designations:
Natural person that doesn't conduct any business activity: name and surname, address of residence, personal identification number [e.g. the National Insurance Number (NIN) in the United Kingdom, the National Registration Number (NIR) in France, the Personal Identification Number (PESEL) or Tax Identification Number (NIP) in Poland, even a person's passport number (which are essential for identifying any individual)];
Company: full name of the company, address of the company's seat, designation of the registering entity, register number, designation of a person representing the company in the agreement [i.e. the person signing the agreement on behalf of the company];
If possible, the information provided by the other party should be verified in the corporate register of the country in which it operates, for instance Companies House in the United Kingdom, Company and Trade Register (RCS) in France, or the National Court Register (KRS) in Poland. In case of natural persons, one should verify their personal identification number in the first place. Access to the vast majority of digital registers in EU countries is free of charge. You can browse these registers online using the following websites:
In the next article, we will explain the potential models of collaboration between artist and gallery. For each model, we will show you the terms and conditions in the agreement that are essential for the collaboration to be deemed valid and binding.
Disclaimer:
All materials published on this website are made available for reference purposes only and as such mustn't be treated as tantamount to legal advice on any specific matter. We nonetheless make every effort for this information to be complete, accurate and up-to-date.
The owner of the website bears no liability for any statement made in the contents posted on this website, any potential mistakes and inadequacies in the materials, as well as potential results of actions undertaken on the basis thereof. The website's visitor should personally seek legal counsel in all matters pertaining to their rights and obligations.