Dia:Beacon, Photo courtesy Dia:Beacon, 2006
Ever since its foundation, Dia Art Foundation has supported artists' ideas and projects which, because of their scale or scope, might not be realised otherwise.
Big ideas, big projects, often ephemeral or related to a specific place in an open space are frequently impossible to implement without the support of a patron. Transient projects and land art are also a threat to the art collectors. How to buy an artwork that is a part of or is permanently bound with the land which could not be bought, that is disappearing, or its huge scale renders it impossible to be relocated…? What can they buy? The artwork itself or an idea? It is extremely rare for a patron to take full care of such an artist. To receive full creative freedom, a studio, funds for the execution, support in subsequent activities, space for meditation and reading – spiritual development, and be guaranteed purchase of the work, is almost like an artist's dream.
Dia Art Foundation gave such support. Full support and even a ban on any activity apart from your creative process.
Dia was founded in New York City in 1974 by Philippa de Menil (the daughter of a Houston arts patron, Dominique de Menil), her husband and an art dealer, Heiner Friedrich, and an art historian, Helen Winkler, to help artists actualise their visions. It initially patronised a group that included Donald Judd, Dan Flavin, John Chamberlain, Walter De Maria, La Monte Young, and Marian Zazeela.
Dia Art Foundation owns exhibition space in Beacon (Dia:Beacon), Chelsea in New York (Dia:Chelsea), and the Dan Flavin Art Institute in Bridgehampton. But what's important, Dia's early major projects were sited outside the museum or the gallery. These projects are open to the public and continue to be maintained by Dia today. Dia commissioned and still takes care of "The Lightning Field," completed by Walter De Maria in 1977 near Quemado, New Mexico. Additionally, De Maria's installations "The New York Earth Room" (1977) and "The Broken Kilometer" (1979) in New York City and "The Vertical Earth Kilometer" (1977) in Kassel, Germany, have been on view for over 30 years. In 1983, Dia inaugurated the Dan Flavin Art Institute in Bridgehampton, New York. In 1999, Dia acquired Robert Smithson's "Spiral Jetty" (1970) in Great Salt Lake, Utah, as a gift from the artist's estate. Dia also maintains several other long-term, site-specific projects in New York City, including Max Neuhaus's "Times Square" (1977) [we wrote about this piece in Contemporary Lynx Magazine 1(11)2019, pp. 70-71], and Joseph Beuys's "7000 Eichen (7000 Oaks)," introduced to the public at the documenta in 1982. In 2018, Dia acquired Nancy Holt's "Sun Tunnels" (1973-76), located in the Great Basin Desert in north-western Utah, from the Holt/Smithson Foundation.
Richard Serra, Dia Art Foundation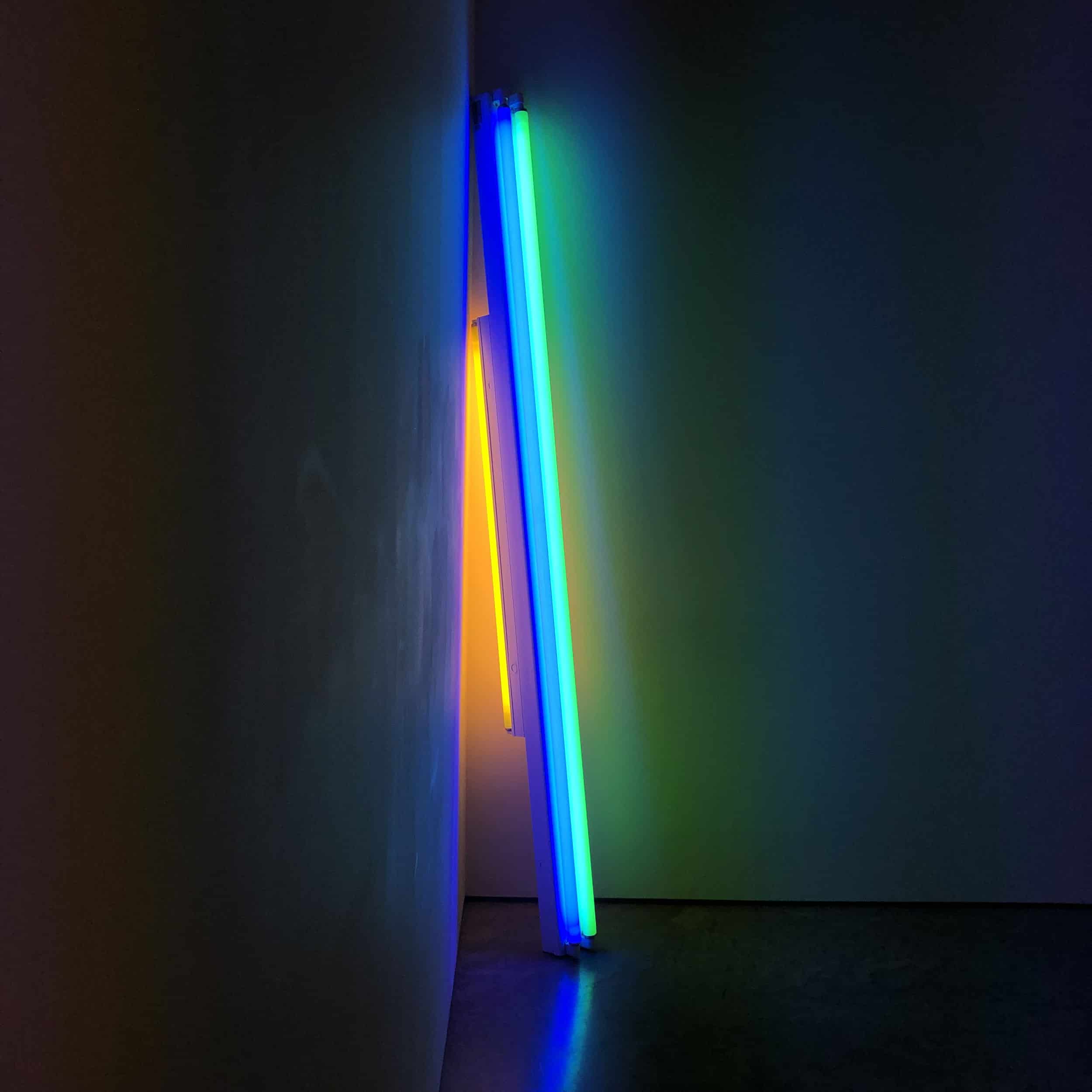 Dan Flavin, Dia Art Foundation
This autumn, we visited Dia:Beacon, a museum on the banks of the Hudson River in Beacon, New York. It was established in 2003 in a former Nabisco box-printing factory. The museum hosts Dia's collection of art from the 1960s to the present as well as special exhibitions and public programmes. Its collection, spaces and location are breath-taking. It's like a temple for art. A vast area in which each work has as much air and space as it needs. There is no electric light. The collection changes along with the migration of daylight. During our day-long stay there were only a few people. Sitting alone on the couch in the middle of a huge space, we could contemplate 72 equally sized canvases of Andy Warhol titled "Shadows" (1978–1979) hung edge to edge. There was nothing between the viewer and the artwork. Complete silence, total concentration…
An ideal situation for artists, and viewers.
A haven – "Walhalla" for the 20th century's warriors in the battle for a total art.
But, is this haven for all?
Let's take a critical point of view. In 1981, Louise Lawler made an audiotape recording of herself reading the scripted list of artists. Recorded and mixed by composer Terry Wilson, the work was titled "Birdcalls". At Dia:Beacon, Lawler installed the audio recording outdoors in the west garden along the Hudson River and the text panel of names at the exit leading there. It's a series of high-pitched sounds derived from the names of famous artists – male artists, all of whom came to prominence in the 1960s, and many of whom feature in Dia's collection. A woman can only sing their names.
Another artist – Rebecca H. Quaytman, prepared a video lecture for Dia Art Foundation in 2011. It was the response to an invitation to present a talk as part of the "Artists on Artists Lecture Series." But instead of focusing on one artist, she looked at the entire institution. "The video lecture is comprised entirely of the voices and opinions of white males – Quaytman said – with the exception of some tearful excerpts from Andrea Fraser's powerful lecture delivered on Fred Sandback as part of this same series in 2004. Dia's pounding masculine ideology seemed to demand my silence and I complied by not using the first person."
Meanwhile, we can hear the words "Dia is like Walhalla. This what you take for success is a funeral."
It's truly a wonderful mausoleum, but as all temples, it has its gods – white male gods. It's a testimony to the situation in the 1960s. Therefore, creating valuable temporary exhibitions and lectures in this place is a worthy endeavour. The scope of dialogue is widening. New voices can be heard.
Edited by Franciszek Bryk 
Andy Warhol, Shadows, Dia Art Foundation