Ksenia Malykh is an art historian, a curator, and a cultural manager. She's the Head of the Research Platform at the PinchukArtCentre and this year, she's also joining us on the jury panel of the Allegro Prize 2022. We've met with Ksenia to talk about her latest projects, how Ukrainian artists and cultural workers are responding to the Russian invasion, and about the importance of speaking up about the current situation. Are you planning to apply to the Allegro Prize? Then read on for some insider tips on how to make the most out of applying to art competitions…
Maria Markiewicz: You're joining me today from Hanover, where you're currently on a curatorial residency with Kestner Gesellschaft. How did you find yourself there?
Ksenia Malykh: Adam Budak, the Artistic Director of Kestner Gesellschaft, set up a 6-months emergency residency for Ukrainian cultural experts and I applied – the residency ends in August. As part of the residency, together with colleagues we've run a series of events entitled Ukraine. Art and Culture in the Shadow of War. This series was very important to me because it helped me to try to find the language to discuss what is going on in Ukraine at the moment. Here in Hanover, we can not only speak to cultural experts, but to Europeans in general and to see what the conversations about the war in Ukraine can be like. It's a very warm place that almost feels like our European home.
MM: Together with the PinchukArtCentre, you've set up two exhibitions responding to the Russian invasion of Ukraine, one was in Davos, during the World Economic Forum, another one is still on view in Venice as part of the Venice Biennale. Could you tell me a bit more about them?
KM: These two exhibitions were also emergency projects – we didn't plan either of them. Usually, as a collateral event in Venice, we're showing the exhibition of Future Generation Art Prize nominees. This time, however, a month before the opening of the Venice Biennale, we decided to change our plans completely. We knew that it's crucial to talk about the current situation and that it's crucial to do it in Venice because the Biennale is such an important cultural event that attracts a lot of opinion makers and government representatives from all over the world. I always say that Ukrainian cultural management is essentially crisis management – we're used to working under a lot of pressure.
For the Davos exhibition, we rented a building known as 'The Russian House,' and we transformed it into something that really reflects Russia today, a Russian Warcrimes House. It got even more media attention than our Venetian project… People were asking: But it used to be a Russian House? To which we answered: It's still a Russian House, only a more realistic one compared to the ones they've shown before.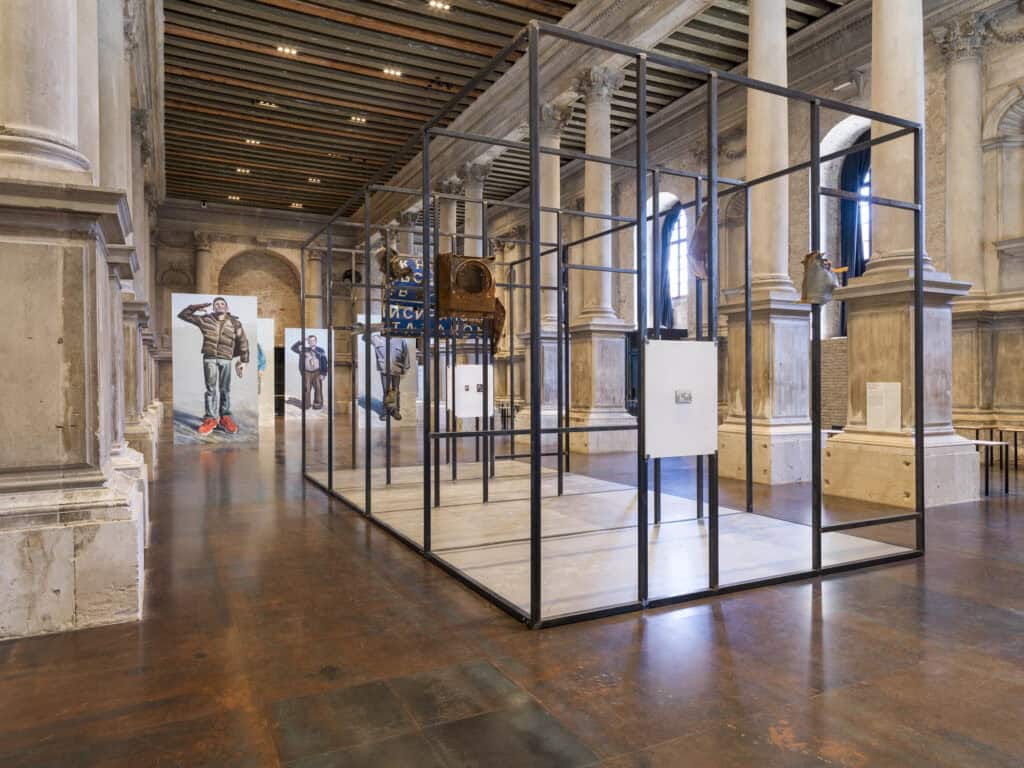 MM: What did you show there?
KM: Our whole team from the PinchukArtCentre was involved in gathering photographs, because they are the visual evidence of the war crimes committed by the Russians. We've selected nearly 40 photographs taken by photographers who risked their lives to document the war. The idea for this exhibition was to break apart the statistics, to show real people and real stories… This exhibition will now travel to different European cities: we'll show it in Brussels, in Berlin, in Paris, and in Amsterdam, hoping to keep the attention of the world.
MM: You say that Ukrainian artists are the voice of Ukraine's identity. How are they finding themselves in this new reality?
KM: Artists for me are the main thinkers of the country. They can afford to have an unpopular opinion and to think about some of the most difficult and problematic questions one could possibly ask. Art is like a laboratory, where you can experiment on how to live together in this changing world…
For all these years, the Ukrainian art world has been talking about fostering connections between people and building horizontal systems, about living with plants and non-human creatures, about ecology and taking care of the planet. Taking someone's life was not even a part of the question, that's why we were all so shocked by the horrors of the war.
We all grew up with the stories of the past wars, but everything was abstract about them. And now? All of that became our reality… That's why we now need all these cultural strategies that we've built over the years – strategies for how to live together and support each other.
MM: What projects are you working on at the moment?
Besides working on a new exhibition for Kestner Gesellschaft, I'm currently working on an exhibition that we plan to open in Kyiv in July together with the PinchukArtCentre. It's a message to the world that we're alive and a way of supporting people who stayed there. In October, there will also be a proper reopening and for that, we're preparing a huge exhibition of the PinchukArtCentre Prize nominees – it's a prize for young Ukrainian artists.
MM: And this now brings us to the Allegro Prize 2022, where you're part of the jury panel. Why should artists consider applying?
KM: I'm a big fan of prizes and competitions for artists. I like them because they are a very intense time that pushes artists to really think about their practice and develop it further. Such competitions are great in providing media coverage and giving artists access to new audiences, but also in networking: it's an opportunity to meet new curators and other art practitioners. It's also a great opportunity for us researchers and art historians – it allows us to observe the latest trends in contemporary art.
MM: Do you have any tips for those who are thinking about applying?
KM: Applying to prizes on its own is a very good practice and a great learning opportunity: it helps you to think about the focus of your practice and the direction in which you're going. Every time you apply somewhere, you should try to see yourself through the eyes of the selection committee – it's all about facing yourself and looking yourself in the eyes…
My tip is: please apply and don't try to fit in with everyone else… Just be honest; people who are on the selection committee will know if you're lying or not in the first 3 seconds of seeing your application. Oh, and try not to hurry – don't write your whole application in one evening, especially not the last one right before the deadline!
MM: We've briefly spoken about the Russian invasion and how the art world has responded to it… Is there anything you would like to add?
KM: It's not a sprint and the war is not over… Please try to keep this attention going and to spread the word.
JR Valeriia (2022). Original tarp from the Lvivaction 50 meter long. Courtesy of the Artist Photographs provided by the PinchukArtCentre © 2022. Photographed byPat Verbruggen.

"This is Ukraine: Defending Freedom @ Venice 2022" Collateral Event of the 59th International Art Exhibition – la Biennale di Venezia

Yevgenia Belorusets from The war diary. February-April, 2022. Kyiv (2022). Texts andphotos. Courtesy of the Artist. Photographs provided by the PinchukArtCentre © 2022. Photographed by Pat Verbruggen.

"This is Ukraine: Defending Freedom @ Venice 2022" Collateral Event of the 59th International Art Exhibition – la Biennale di Venezia
read also
Maria Markiewicz met with Joanna Kamm, director of Liste Art Fair Basel and one of our Allegro Prize jury members. The two spoke about Liste 2022, the importance of supporting young artists and gallerists, and what Joanna is hoping to see in Allegro Prize submissions.