The experiences of the last year have prompted many of us to reassess our attitude to reality. Similarly, artists express their feelings about the experience of the pandemic. This issue is so important that the organisers of this year's edition of the photography festival "W ramach Sopotu" decided to make "discomfort" the main theme of the festival. This slogan/motto, taken from the title of a project by photographer Sebastian Rogowski, links the projects presented in the exhibitions.
Residents' exhibition (Weronika Gęsicka, Elis Hoffman, Filip Ćwik) like the aforementioned individual exhibition of Sebastian Rogowski, and as well as the presentation of Martina Hoogland Ivanow's projects, are a commentary to extremely uncertain interpersonal relations and the difficulty of forming a uniform and stable concept of oneself.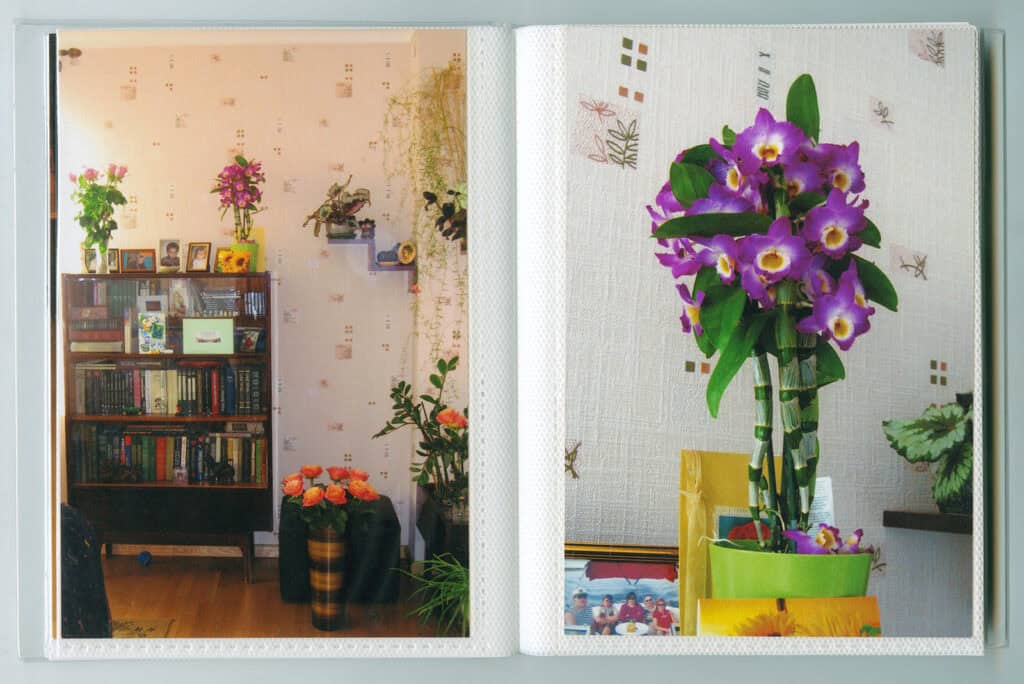 Our editor's attention was drawn to the "Flower Smugglers" exhibition, the title of which was inspired by an award-winning series of photographs and a book by Latvian artist Diana Tamane. This exhibition focuses on the search for beauty and new ways of seeing, at the same time referring to the nude and still life. In addition to the works of Diana Tamane, the exhibition also features works of Błażej Pindor, Violeta Bubelyte, and Artur Żmijewski.
We had the opportunity to talk to Diana Tamana about her artistic practice, the Flower Smuggler project, and what she is currently working on.
Patrycja Głusiec: How did you begin your journey with photography and what interests you the most in this medium of expression?
Diana Tamane: It all started in a black and white lab. I got fascinated by the process. I studied in the Art School in Riga and in the last years among the drawing, composition, sculpture, and more, we got photography classes. I remember, I would go the photography class, which was in the morning, and lose the track of time while developing and printing photographs in the darkroom. So I would miss following classes of Math and also the lunch breaks.
In my case, I love that often it involves interaction with people and there is some sense of vulnerability and trust in that process. It's also an interesting medium – from one side very common and available to all but also a challenging one. It's difficult to make something interesting as there are so many images around us all the time.
PG: Your primary medium is photography but you also work with video, sound, text, and found objects. How would you describe your artistic practise?
DT: There is a documentary approach regardless of the medium I work with. There is also a desire of expansion and learning. At some point I got comfortable in photography medium, so I switched to something else. For example, in the last show I was exhibiting a watercolour series "Sea is You". It was very interesting to work with a medium that I am not feeling that comfortable with, and to look for a new language once again. Like a child learning to crawl, falling and bumping on things, but also exciting, right? I tried to be very present in that process.
In terms of content, it's important for me that all the ideas come from the place of "under the skin". At the end of the day they can communicate on a broader social topics, but they come from a place where I want to confront myself of who I am, where I come from, and where I am at this moment. It's a very personal process and approach, in which I also want to surprise and first of all I want to surprise myself. I also often compare my approach to a conversation with a good friend, where you sometimes laugh, sometimes cry, sometimes make a joke, talk about politics or love, depending on the day.
PG: You represent the young generation of Latvian society, who has the opportunity to study abroad and become the world's citizens. However, your early works were focused on the women of your family, on collecting and creating memories. Then you decided to involve moving and migration in your work. But even after adding these themes and topics, you still focus on your family's experiences. What do your family stories symbolise?
DT: Family is a micro model of society. It reveals how we function as a society on a larger scale and it's always there in the system, even if not physically. I like how curator Martin Germann said in relation to my work, that family is as a matrix or a room which we will never leave and if we do escape it, we inevitably escape in relation to it. So it's good to start small, with ourselves and our family, in order to see bigger shifts in our communities.
PG: One gets the impression that you are not trying to impress the art world with your work and that you care more about your family's opinion. However, art critics notice your work and reward it. Would you like people from outside the art world to be included in it and become recipients of art?
DT: Indeed it's cool that I've been doing my thing without any compromises and that it's been received well by the art world. I can continue working on my own terms.
As artists we have to be as open and generous as possible. Of course it is a pleasure and it's important to receive a good review from the critics but when someone who is not necessary related to art is touched by my work, that gives so much inspiration to continue. I used to feel trapped in the art bubble but these days, I think that it's my own responsibility of making this bubble more loose and soft. There is this great freedom in being an artist and having the ability to mold the reality.
PG: One of the exhibitions of this year's edition of the "W ramach Sopotu" photography festival in Sopot called the "Flower Smugglers", curated by Adam Mazur, was inspired by your project "Flower Smuggler" (2016-2019) and the book with the same title which was the winner of Author Book Award 2020 Les Rencontres d'Arles. Could you please tell us more about these projects and how you refer to the theme of still life, which is one of the themes of the exhibition?
DT: The "Flowers Smuggler" is a story about my grandmother who became a flower smuggler by crossing the Latvia-Russia border with two small pots of flowers. You were not allowed to cross the border with seeds, so she was arrested and got a fine. It's an interesting metaphor – you can bring flowers across the border as long as you cut their roots.
She intended to put flowers on the grave of her grandfather who is buried in Abrene. It used to be a Latvian territory. But today it belongs to the Russian Federation and you are required to have a visa to get in.
But actually, I started that project by getting interested in what my family members take pictures of. Everyone had their own thing but with grandma, it was clear that the favourite subject of her photo album was flowers which she gets for her birthdays or grows in her garden. So it came together nicely – her loving and taking photos of flowers and becoming a flower smuggler.
The book "Flowers Smuggler" includes not only this project but most of my works related to my family. It's been more than a decade that I've been interested in what a family album is and what it can become. It's a book about relationships within one family but also about the use of photography itself.
PG: The smugglers in the title of the exhibition are artists who use photography to search for beauty. Are you one of these artists? What is beauty for you?
DT: There was this beautiful quote of Marion Godman in Bessel van der Kolk's book "Body Keeps the Score": "We can hardly bear to look. The shadow may carry the best of the life we have not lived. Go into the basement, the attic, the refuse bin. Find gold there. Find an animal who has not been fed or watered. It is you!! This neglected, exiled animal, hungry for attention, is a part of yourself."

I think the beauty and strength is often hidden in the broken, in the places we fear, in the things we reject in ourselves or others. In those imperfect and vulnerable places, I look for beauty. And more often I want to be brave enough to step there. I feel there are some shifts happening in my practice and life right now but perhaps I haven't got words yet to communicate them.
PG: Could you please tell us what you are currently working on?
DT: For the last few years I've been working on a documentary/artist film "Under the Same Sky". I have just finished it this week. It will be shown in Narva Art Residency. Narva is the city on the Estonia-Russia border, and it's a good place to show this film. It's about a Russian speaking family (three generations of women) from Latvia, who've lived together for the last 15 years in Costa del Sol in Fuengirola. And again it deals with the themes of belonging and how we are affected by geographical, cultural, and language boundaries, what does it mean to be at home nowadays and what it means to be a stranger.
Another photography project I am preparing for the next year show in Tartu Art Museum is a long term project about my 12 year old half-sister and our summer house place in Kursishi where I also spend my summers as a child.
In a sense both of them are about an attempt to find a home, which can be so many things – a physical place, a family, childhood memory, a spiritual search or faith, nature, our own body. But you can also find home in art. Tracey Emin put it well: "Art is like a lover whom you run away from but who comes back and picks you up."
---
THE PHOTOGRAPHY FESTIVAL "W RAMACH SOPOTU"
03.09 – 19.09
The Photography Festival "w Ramach Sopotu", 2021, photo by Anna Bobrowska

The Photography Festival "w Ramach Sopotu", 2021, photo by Kacper Skoczylas

The Photography Festival "w Ramach Sopotu", 2021, photo by Kacper Skoczylas

The Photography Festival "w Ramach Sopotu", 2021, photo by Anna Bobrowska

The Photography Festival "w Ramach Sopotu", 2021, photo by Kacper Skoczylas

The Photography Festival "w Ramach Sopotu", 2021, photo by Kacper Skoczylas

The Photography Festival "w Ramach Sopotu", 2021, photo by Kacper Skoczylas

The Photography Festival "w Ramach Sopotu", 2021, photo by Anna Bobrowska

The Photography Festival "w Ramach Sopotu", 2021, photo by Kacper Skoczylas

The Photography Festival "w Ramach Sopotu", 2021, photo by Kacper Skoczylas