Pat Guzik is a sustainable fashion designer with a brand by the same name. The brand combines streetwear and high fashion with its signature fusion of Slavic and Asian cultures as seen in the print patterns. Read up to see what Pat cherishes most about her work and what things can happen the day before your collection premieres at the London Fashion Week.
What is your morning routine?
First, a glass of warm water and coffee. After that I check my mailbox and plan my day. I wait for my boyfriend to wake up to eat breakfast together. I like this moment of the day a lot.
What is the first thing you do when you arrive at your studio? My studio is in our apartment, so it's more like changing from pyjamas to a workwear outfit. First thing I do is clean up a little bit and make a short list of what I plan on doing.
Do you prefer Instagram, Facebook, or no social media at all?
I prefer Instagram. But I'm still clueless with social media.
Which magazines and books do you read?
Most of them I read online: Wysokie Obcasy, Dwutygodnik, Szum Magazine. I love to read Swell's (www.swell.damewellness.co) articles. It is my last discovery. And books…I started to read "Motherhood" by Sheila Heti and I'm also in the middle of reading "Wzgórze Psów" by Jakub Żulczyk.
Which three objects would you say are essential to your work?
A notebook, computer, sewing machine
What are your favourite tools to help you get the job done?
Adobe Photoshop and Illustrator 🙂
What inspires you and motivates you to get your work done?
The process between the first idea in my head and the final piece. I'm always so excited to bring them to life and afterwards see someone who is wearing my project. I always want to come up to them and say how happy I am… but hmm… it is a bit creepy so I'm just happy on the inside. 🙂
Can you tell us a funny story from your work?
It's funny now but It wasn't at the time. We were at the airport in Kraków, on our way to London and this guy from the U.S. was telling us that he always has some kind of a problem with the Polish Airlines flights (delays, etc.). So I thought to myself "Well, I'm glad we are just going to London, and not any further. And of course: it worked like a wish. The airline lost the luggage with my collection and it was the day before my premiere show at Fashion Scout during the London Fashion Week (I worked almost 4 months on that collection). In the end, they found it and sent it just before the fitting, literally 2 hours before the show.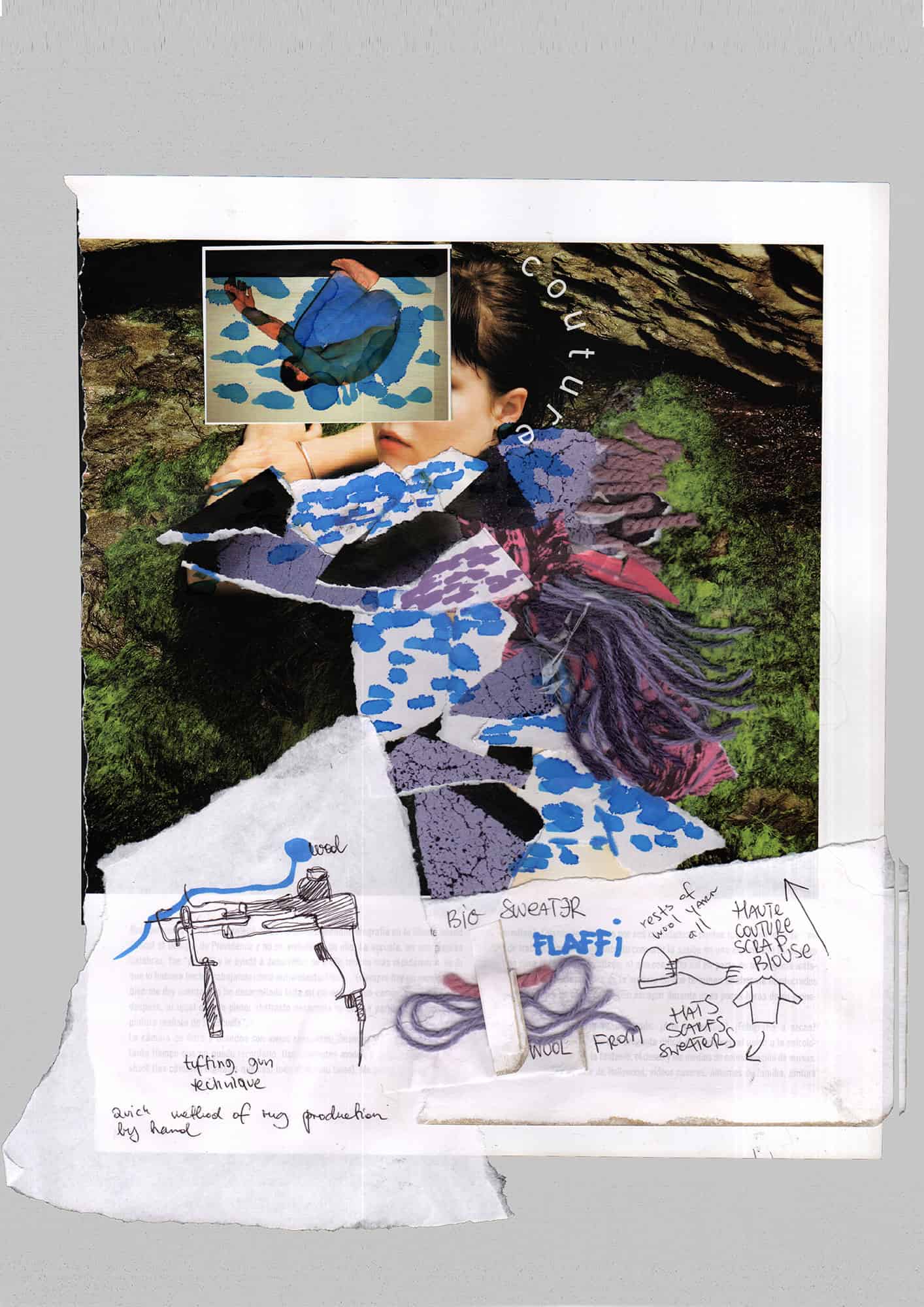 What is the project you are working on right now?
I'm still producing some of the pieces from "There Were Never Flowers There Was fire" collection. In the meantime, I've been working on some new stuff for a mini collection. I've just finished the first sketches and mood boards of costumes for Marta Ziółek's new project (we'll see if she likes it:)). I'm also working on a collection for Unsound Festival – we are continuing the "Solidarity with the past" festival's sustainable collection.
What do you love about your job? What don't you like?
I love being independent. It is the most important thing for me. I worked so hard for the past few years in two other jobs to make my brand self-supporting, so that now I can work with no pressure. I don't like the industry's pressure. We should slow down the production and, in my opinion, we should be focus more on the circular fashion. That's the future!
Do you prefer hand-made or mass-produced?
I love hand-made. I used to study in Spain in Escuela de Diseno y Alta Costura. During my scholarship there I spent so much time with handmade sewing. That time was amazing. In my collections a part of the garment is always made by me, using handmade sewing, tufting or weaving technique.
Do you work individually or with a team?
I work individually through the design and sewing pattern process. For the prints, illustration and other visual stories I work with Mateusz Kolek. Together, we talk a lot about what the collection is about, and what story we want to tell. Mat creates a labyrinth of symbols that leads you through our storytelling. After that I start work with the production line. I produce garments locally in cooperation with local producers, small sewing factories and dressmakers, whom I want help re-activate professionally.
How do you rest and relax after work?
We love to escape to the countryside. We walk in the woods, we talk a lot, sit by the fire, cook. Looking at the sky and the stars.
Do you have a piece of advice for anybody who wants to work in your field?
Be patient, doubt yourself less. Find yourself inside of you, be honest. Drop the social pressure.
The article was created thanks to the Arts Council Emergency Response Fund: for organisations (non NPO). Contemporary Lynx organisation is supported by Arts Council England.