The dates of the art fairs have been updated because of the COVID-19!
Global art sales reached an estimated $67.4 billion in 2018 – an increase of 6% on 2017. Early evaluations show that this number has only increased for the 2019 season. Due in part to the introduction of internet auctions and the emergence of a new segment of buyers – global millennials, art sales have been rocketing upwards over the last couple of years. This does not however mean that traditional art fairs are a thing of the past, quite the contrary – art fairs are only getting bigger and better, with people travelling all over the world not only looking to buy art but also looking for the experience that these events bring along with them.
In order of starting date, here's a list of upcoming art fairs we're looking forward to in 2020:
ART BASEL HONG KONG – CANCELED
March 19 – 21, 2020 Hong Kong, China
On its eighth year, Hong Kong Art Basel is one most important art fairs in the Asia-Pacific region. This show presents a vast array of work from established and emerging artists. More than half of the galleries participating in this event have spaces in Asia and the Asia-Pacific, spanning from Turkey all the way to New Zealand. Some of the gallerists include Taipei-based Chi-Wen Gallery, Chemould Prescott Road from India and Romanian Plan B. Despite big expectations for this year's event many worry that it may be called off as some dealers have called to cancel the show due to the fast-spreading coronavirus which has affected the area, with Hong Kong authorities confirming 10 cases as of the beginning of February. Contemporary Lynx is proud to be a media partner of the fair.
---
ART DUBAI – NEW DATES: 17-20 March 2021
March 17 – 20, 2021 Dubai, UAE
Art Dubai gives a unique inside look into the world of Middle Eastern art as well as the surrounding regions of North Africa and South Asia. The fair is comprised of four gallery sections – Contemporary, Modern, Bawwaba and Residents, with the latter two playing a key role in cultivating a culture of discovery and engagement with the rich cultural heritage and contemporary art practices of the region. Bawwaba meaning gateway in Arabic invites us to view contemporary art from regions less present in the western art scene. Residents on the other hand, curated by Johannesburg-based Kabelo Malatsie, shows us the work of African artists who have had the chance to partake in UAE-based residency programs. Contemporary Lynx is proud to be a media partner of Art Dubai.
---
MIART – NEW DATES: 11-13 September 2020
11-13 September 2020, Milan, Italy
Organised by Fiera Milano, miart returns in 2020 for its fourth consecutive year. Directed by Alessandro Rabottini it brings together almost 200 galleries from across the world which balances a wide range of art from across the XX century to contemporary and emerging artists. A big part of miart art fair are miartalks – round table discussions on a common, central theme that will explore the different areas of culture and of modern and contemporary creativity.
---
ART BRUSSELS – NEW DETES: 22-25 April 2021
22-25 April 2020, Brussels, Belgium
Founded in 1968, Art Brussels is one of the most renowned contemporary art fairs in Europe and a must-see in the international art calendar. Its main focus is the aspect of discovery, showcasing the works of up and coming local and international artists. The fair takes place in the famous Tour & Taxis building based in the heart of the European capitol. Like many other events it is divided into thematic parts – DISCOVERY (young and emerging artists / works from 2017-2020), PRIME (established modern and contemporary artists), REDISCOVERY (20th century works) and new as of this year – INVITED, which challenges the well-established gallery model and as the name suggests, is invitation only. Contemporary Lynx is proud to be a media partner of the fair.
---
ART COLONGE – NEW DATES: 19-22 November 2020
19-22 November 2020, Cologne, Germany
Boasting itself as the oldest fair of its kind (being only one year older than Art Brussels), Art Cologne brings together over 180 galleries to display the works of over 2000 artists from across the world. With a rich history spanning over half a century, Art Cologne never disappoints with what it brings to the table. This a must-visit fair for serious collectors.
---
FRIEZE NEW YORK – CANCELED
May 7 – 10, 2020 New York, USA
The second fair brought to us by Frieze takes place on the eastern coast of the US, Randall's Island Park in New York City to be exact. The two highlight events of this fair include Electric – an exhibition devoted to artworks in virtual reality and The Doors of Perception organized with Outsider Art Fair and curated by Javier Téllez. Contemporary Lynx is proud to be a media partner of the fair.
---
ARCOLISBOA – DATES WILL REMAIN UNCHANGED
May 14 – 17, 2020 Lisbon, Portugal
The fifth edition of ARCOLisboa is set to take place between the 14th and 17th of May at the Cordoaria Nacional. Revolving around the history and atmosphere of the city of Lisbon it presents new artists, new places and new people through the dialogue between Portuguese art and international submissions from a group of 50 galleries.
---
ART VILNIUS – NEW DATES: 27–30 August 2020
27-30 August 2020, Vilnius, Lithuania
ArtVilnius is the only contemporary art fair in Lithuania and the largest art fair in the Eastern Europe region. ArtVilnius, which had its start in 2009, was one of the most important events in the Vilnius – European Capital of Culture project. Over the last eight years, the art fair has expanded and become firmly established on the local and international art scene, as well as on the list of must-visit events for art lovers.
---
LISTE ART FAIR BASEL – NEW DATES: 14-20 September 2020
14 – 20 September 2020 Basel, Switzerland
This year's Liste Art Fair will be a special one – 2020 marks the 25th anniversary of the festival in Basel, Switzerland. The fair caters to young galleries promoting the work of up and coming artists. It gives them the chance to network on an international level. Many now well renowned gallerists started off in Liste – Air de Paris (FR), Galerie Neu (DE) and Zeno X (BE) are just a few examples. The interesting venue of Werkraum Warteck pp located in a retired brewery features five floors full of branching corridors, hidden corners and a multitude of rooms. Liste is more than just an art fair, it has created a culture around it full of parties, food, projects and performances. This is a must-see show for those not only looking to buy art, but for everyone who is looking to have a good time. Contemporary Lynx is proud to be a media partner of the fair.
---
ART BASEL – NEW DATES: 14-20 September 2020
September 14 – 20, 2020 Basel, Switzerland
Overlapping with the Liste Art Fair is Art Basel, the main event of Art Basel group. Here some of the world's leading galleries display the works of over 4000 artists. The region-wide art event supplies a plethora of art-related events and exhibitions. The fair is made up of eight different sectors – Galleries, Featured Works, Statements, Edition (for editioned works and prints), Unlimited (a new and experimental sector for innovative and large-scale pieces), Parcours (a series of sculptures throughout the city), Film and Magazines. Contemporary Lynx is proud to be a media partner of the fair.
---
ART FAIR MALLORCA – DATES WILL REMAIN UNCHANGED
September 18 – 20, 2020 Palma de Mallorca, Spain
Also called the International Mediterranean Art fair, Art Fair Mallorca is set to take place mid-September in the newly designed Palma Congress Center based on the project of award-winning Navarrese architect Francisco Mangado. The passionate and dynamic art collectors who live in the area make this art fair an attractive platform for dealers and curators. Art Mallorca's debut will be coinciding with the most popular local event, Nit de l'Art (Night of the Arts), which puts the vibrant contemporary art scene of the island under the spotlight and engages over 20 000 international visitors every year.
---
VIENNACONTEMPORARY – DATES WILL REMAIN UNCHANGED
September 24 – 27, 2020 Vienna, Austria
Led by polish-born Johanna Chromik, Viennacontemporary offers a unique inside look at the Central and Eastern European art market. With almost 110 participating galleries from over 26 countries this art fair attracts around 30 000 visitors each year to the capital of Austria. Contemporary Lynx is proud to be a media partner of the fair.
---
CONTEMPORARY ISTANBUL – DATES WILL REMAIN UNCHANGED
24–27 September 2020, Istanbul, Turkey
Contemporary Istanbul is the leading annual art fair in Turkey, situated at the meeting point of Europe and Asia in one of the great cities of the world. Contemporary Istanbul takes place each September and offers a platform for the city's thriving art scene, growing art market and collector base, as well as an access point to the best contemporary art from the wider region.
---
FRIEZE LONDON & FRIEZE MASTERS – DATES WILL REMAIN UNCHANGED
October 8 – 11, 2020 London, UK
Frieze London & Frieze Masters despite being advertised as two separate events both take place in London's Regent Park from October 8th to 11th. Like in past years, Frieze London's programme will include Frieze Artist Awards, Frieze Music (an off-site music programme) and Frieze Talks. Some of the guests include activist William Skeaping and Los Angeles-based curator Erin Christovale. Frieze Masters on the other hand directs its spotlight at some of the biggest names in the art world – including a sit-down talk with Ai Weiwei and displaying the work of Hervé Télémaque and Edward Krasiński among others. Contemporary Lynx is proud to be a media partner of Frieze London.
---
ARTISSIMA  – DATES WILL REMAIN UNCHANGED
November 6 – 8, 2020 Torino, Italy
Taking place at the edge of the Italian part of the Alps in scenic Torino is Artissima art fair. Composed of four sectors – Back to the Future, Design, Present Future and Middle East Hub, lead together by a group of 6 curators it is one Italy's top art fairs. Contemporary Lynx is proud to be a media partner of Artissima for the 5th time.
---
ART BASEL MIAMI BEACH – DATES WILL REMAIN UNCHANGED
December 3 – 6, 2020 Miami Beach, USA
The crème de la crème, the cherry on top, one of the most iconic art fairs in recent years – Art Basel Miami Beach. Quoting Noah Horowitz, member of the Executive Committee at Art Basel – Art Basel Miami Beach 2002 is where the art fair as a phenomenon really took off. For the 2020 edition, which will take place in the first week of December, exactly 204 galleries will present some of the best work on the market from every continent. Last year's fair gained a lot of media attention due in part to Maurizio Cattelan's Comedian (more commonly known as banana duct-taped to a wall). More information is yet to be announced as this event is almost 11 months away from now. Contemporary Lynx is proud to be a media partner of Art Basel Miami Beach.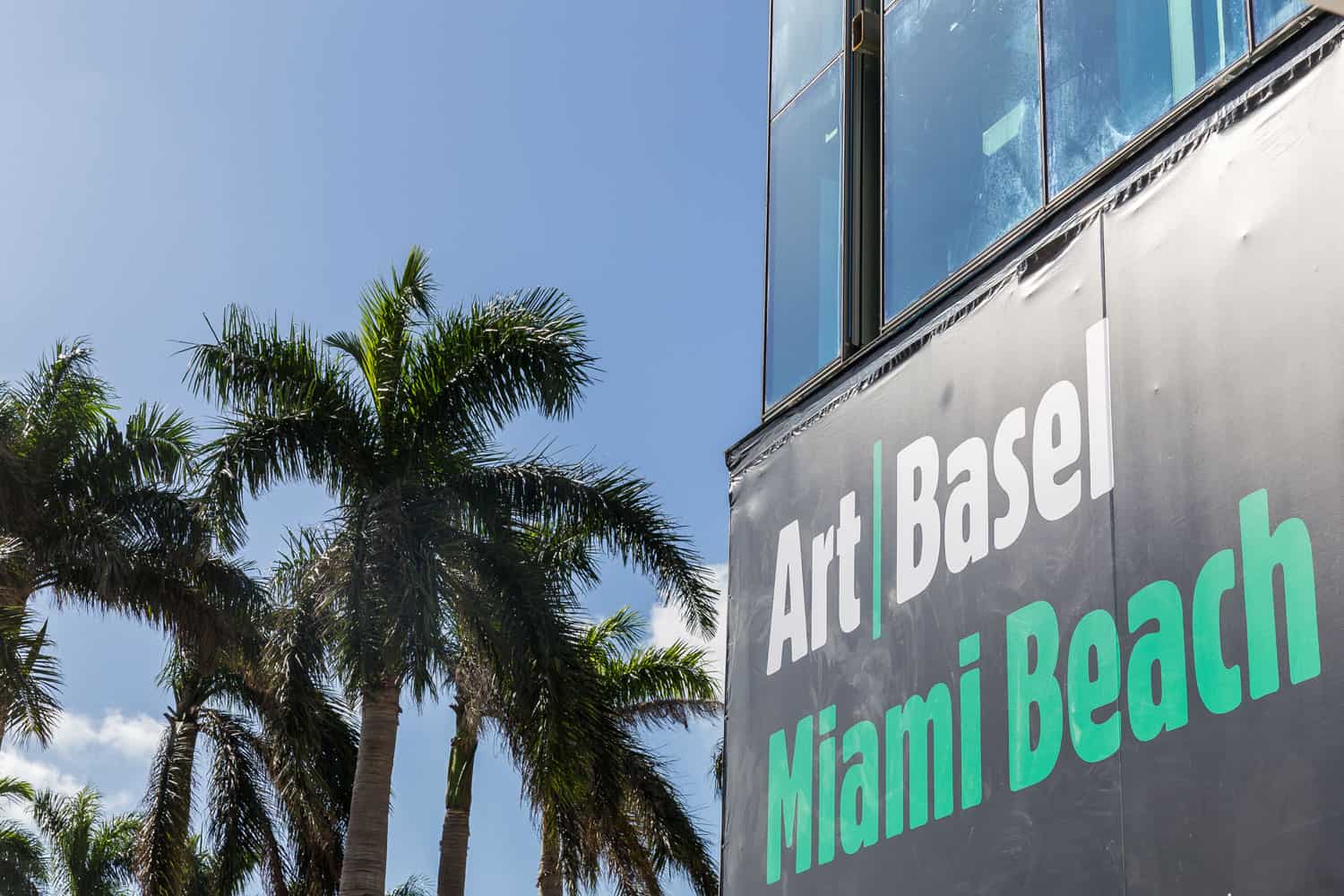 ---
ART FAIRS IN 2021: 
ZONAMACO – February 2021
Mexico City, Mexico
ARCO MADRID – 24– 28 February 2021
Madrid, Spain
NOMAD CIRCLE – February 2021
St. Moritz, Switzerland
FRIEZE LOS ANGELES – February 2021
Los Angeles, USA