Gathering so many of the painter's works for the exhibition in Palazzo Reale in Milan was a remarkable effort itself. Organizers borrowed them from the Metropolitan Museum of Art in New York, the Tate Modern in London, the Center Pompidou in Paris, Italian museums such as the Pinacoteca di Brera, the Museo del Novecento in Milan, the MART in Rovereto, the GAM in Turin, and the Peggy Guggenheim in Venice, as well as other private collections. Quotes by de Chirico and other artists and theoreticians, that were put on the wall, are presumably one of the best inventions of the exhibition. There are also educational texts and fascinating stories from the artist's life that can be listened to through the audio guides. Novelties end here. Apparently, this time around de Chirico hasn't met like-minded people in the field of creativity, but we can surely dig into his captivating stories on his metaphysical paintings. It all boils down to the idea that "painting can entrust its development, its search for modernity, not to the evolution of language, style, form, but above all to the communication of philosophical content"1.
De Chirico (1888-1978) was born in Volos,Greece. He studied art in Athens, Florence, and Munich at the Academy of Fine Arts, where he was influenced by the writings of Nietzsche and Schopenhauer. In 1936-1937 he lived in New York, where he was acknowledged as the father of Surrealism and treated as a celebrity, with a solo show at Julien Levy Gallery and mentions in Vogue and Harper's Bazar. During the 1973 Triennale in Milan, his project "Bagni Misteriosi" ("Mysterious Baths") created during his residence in the USA was exhibited in Milanese Parco Sempione. Later on, it became an extraordinary, iconic attraction of the city, still to this day available to admire. What's worth knowing, de Chirico was an Italian painter, born in Greece, who studied all around Europe and once when giving a reason for his preference of France over Italy, summed up this preference with words "I love more advanced and newer things" ("Io amo le cose più avanzate e più nuove"). He exhibited his works in Paris at the Salon des Independants for the first time in 1913, where he sold his first painting titled "The Red Tower". With such a cosmopolitan background, plenty of travels and people from different cultures that he met in the meantime, it's not surprising that his world views were multifarious and changing over time. De Chirico was an extremely prolific artist until old age (he painteduntil his 90th year).
Chronologically, Metaphysical Painting precedes Dadaism and Surrealism. De Chirico's paintings are, as experts say, proto-Surrealistic. The Surrealist manifesto was a result of what Breton (the movement's leader) described in November 1922, with the following words: "One knows what my friends and I mean by Surrealism. (…) to designate a certain psychic automatism that corresponds rather closely to the state of dreaming, a state that is today extremely difficult to delimit."2
 Later on, because of the yearning for a more formal definition, they came up with: "pure psychic automatism, by which one intends to express verbally, in writing or by any other method, the real functioning of the mind. Dictation by thought, in the absence of any control exercised by reason, and beyond any aesthetic or moral preoccupation. In philosophy – Surrealism is based on the belief in the superior reality of certain forms of association heretofore neglected, in the omnipotence of dreams, in the undirected play of thought".3
Breton lists down important figures belonging to the movement, among others: René Magritte, Hans (Jean) Arp, Salvador Dalí, Hans Richter, Yves Tanguy, Max Ernst, Philip Guston, Giorgio De Chirico, and Francis Picabia; some of whom were later excluded.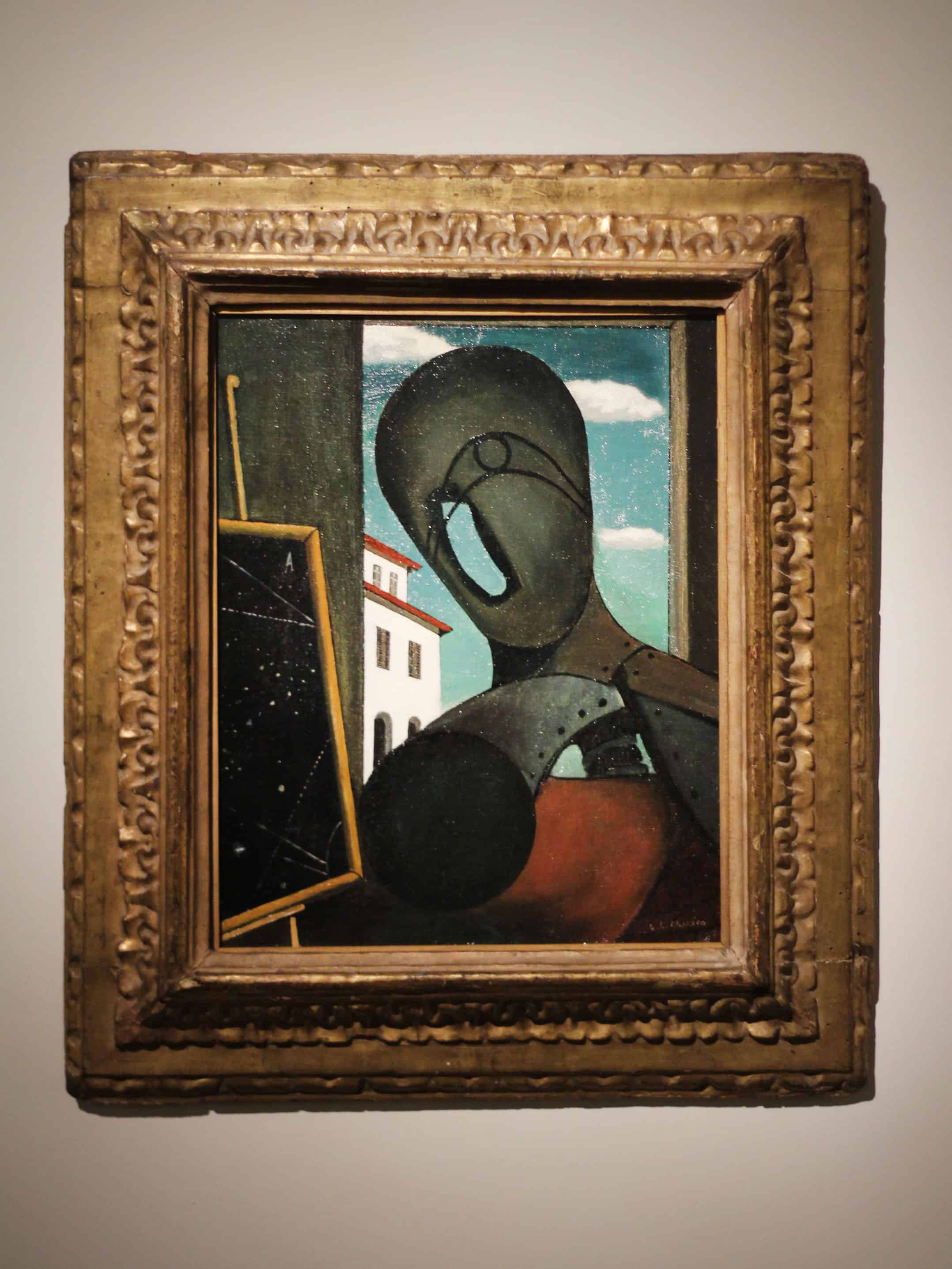 Although de Chirico, strongly enriched the group, established its position as well as its achievements, he left the Surrealists in 1928. He described them later as a "group of degenerates, hooligans, spoilt brats, loafers, onanists and wastrels."4 
"Return to craft! It will not be an easy thing. It will take time and hard work." 5 It is with these words that de Chirico, at the end of 1919, publicly declaimed against values of the avant-garde in the Italian art magazine Valori Plastici by Mario Broglio. The new movement, known in Europe as the Return to Order (Retour à l'ordre), was a great come back of the admiration of formal values in art. It took off with figurative arts right after the First World War. "Pictor classicus sum': I am a classical painter" – says de Chirico on the pages of the magazine.
It wasn't the first turn in de Chirico's approach towards what seems "right" in art. By segregating and analyzing all stages of the painter's career, the Milanese exhibition underlines that this preeminent artist was a rather turbulent soul. Always profoundly believing in what he was doing, he was, most of all, an inspirer. Until he passed away in Rome in 1978, his capricious personality brought him as many enemies as it did friends. When it came to his art he invariably and unswervingly stood his ground. One of the quotes that we find in the Palazzo Reale along the way is "Wanting to have a style is the only way to never have one. Style is a mysterious divinity. Wanting to offer sacrifices to it and seeking to penetrate its temple is a waste of effort. The less you think about it, the more it needs you."
Written by Dobrosława Nowak
Edited by Maria Sołyga 
---
De Chirico: Metaphysical Painting, influencing Surrealists, and admiration for classicism
Palazzo Reale, Milan
25.09.2019 – 19.01.2020
---
1. Giorgio de Chirico: la Metafisica, by Regola d'Arte, YouTube: https://www.youtube.com/watch?v=fkANRlkva2k&feature=emb_title
2. Dada, Surrealism and their Heritage, by William S. Rubin
3. Dada, Surrealism and their Heritage, by William S. Rubin
4. The Chirico. Long way down by Marin Gayford, The Telegraph
5. Scritti di de Chirico, La Fondazione de Chirco